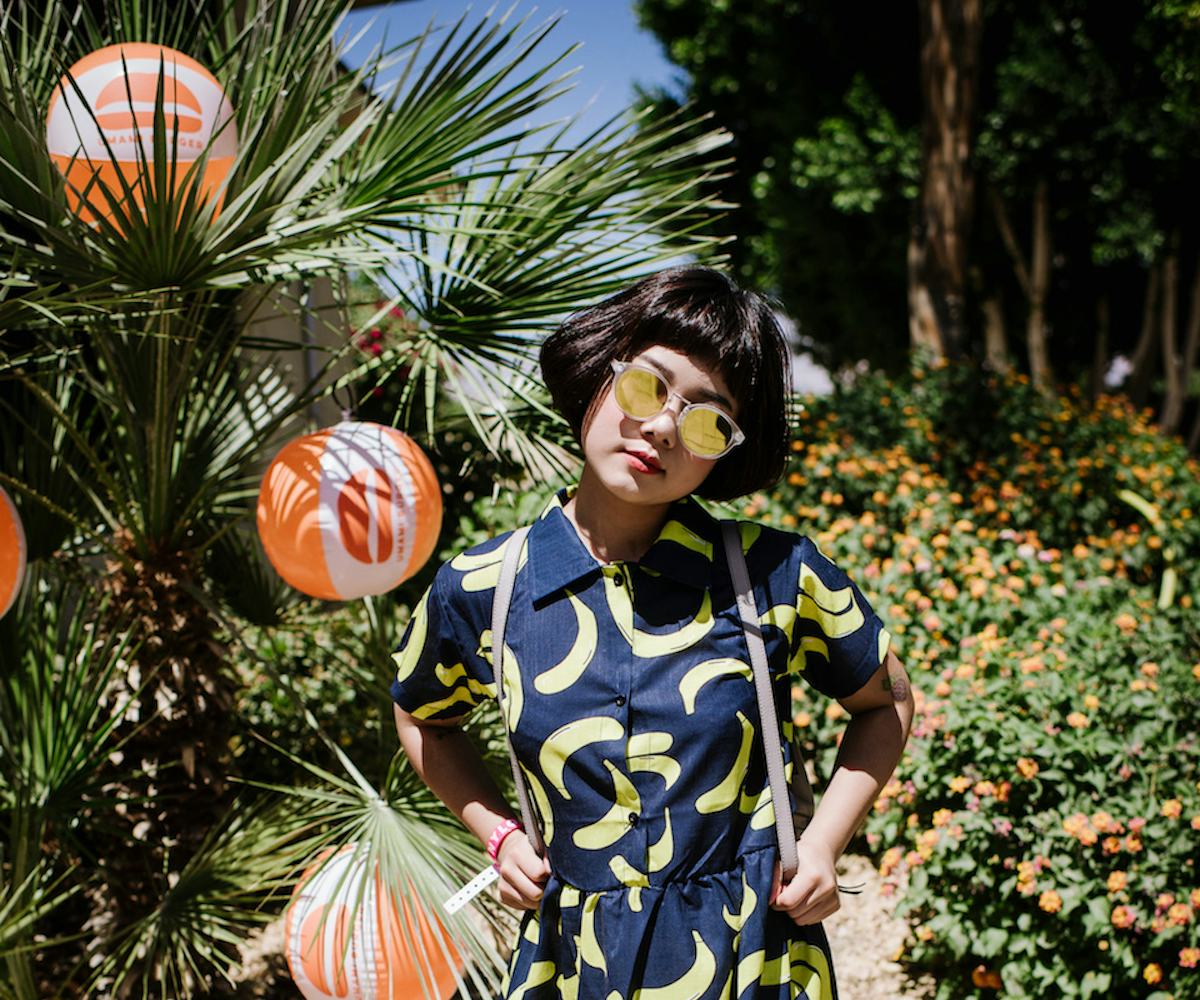 Photographed by Nina Westervelt
Coachella's Best Dressed: Weekend One
Check out all the standout looks
When we think of Coachella street style, the first thing that pops into our minds is the typical (though, extremely well-curated) bohemian festival wear, complete with body chains, flower crowns, and a ton of eyelets and paisleys. However, over the weekend, we saw a change in what the best-dressed attendees opted to wear to this year's event.
Shying away from the overdone styles we're used to seeing, the festival's most fashion-forward ladies—from those who performed onstage to some of our favorite actresses, bloggers, and models, elected to go for more unique looks. Some channeled some serious tough-girl rocker looks (ripped jeans, fringed leather, and combat boots) while others rocked some really wild and eye-catching boho prints.
There was also a rainbow of inspiring beauty looks. For hair, we saw everything from candy-colored shades of pink and blue to super voluminous, '70s-inpired looks. While many festivalgoers opted to keep their makeup to a bare minimum (the only way to survive the sweltering heat), some were brave enough to sport bold, bright lips—and even, bedazzled eyes. 
Overall, each look was far from the expected and ordinary. Click through the gallery below to check out the best-dressed ladies at Coachella's first weekend.
Hair and makeup artist Evy Power kept it colorful and spring-y in her floral romper—but what makes the outfit are her jelly sandals.
We adore this attendee's retro '70s look, from her floral blouse down to her bell-bottoms.
Can the cartooned eyeball print on this dress be any more adorable? Her coconut drink is the perfect matching accessory.
Post-punk, four-piece band Savages keep their look monochromatic in black and white.
Blogger Jayne Min kept it cool and casual in distressed boyfriend jeans and combat boots.
NYLON's very own VP of digital, Leila Brillson, and staff writer, Hayden Manders, absolutely slayed in these sporty goth looks.
French model
Sonia Ben Ammar
nailed the '90s-meets-boho look, pairing a fringe vest with a black velvet choker and a high-neck crop top.
Yasmine Kittles of Tearist looks super glam, with full, voluminous hair and polka-dot flared trousers.
Michelle Wang rocked this colorful structured knit dress with a neon yellow choker.
How to make an all-black look more interesting? Take note from Jillian Hervey of Lion Babe, and throw on a bright accessory, like her yellow platform wedges.
The secret to dressing up a casual festival look? Throw on some easy-to-wear accessories like a neck scarf, like Alexa Losey.
Kat Graham nailed the boho-chic look with high-slit, cutout floor-length dress paired with a floppy hat.
NYLON's director of e-commerce, Katherine Martinez, rocked this amazing red fringe jacket by Missy Skins. Just as obsessed with it as we are? It's available for purchase now at NYLONshop.
There's no better accessory than your bandmate. Icona Pop's Caroline Hjelt and Aino Jawo tend to agree. We love the subtle pops of neon green and fiery red in the otherwise neutral palette.
We don't know what we love more, this festivalgoer's bright magenta hair or the come-hither denim jacket.
Nina Las Vegas decided to bare her shoulders on top of her ruffles-on-ruffles look.
Girlpool kept their Coachella style casual and relaxed. We're obsessing over Harmony Tividad's electric blue hair and Cleo Tucker's Neil Young baseball cap.
Fashion and lifestyle YouTube star Nicole Tran accented her printed shirt dress with pops of metallic: shiny gold oxfords and some super-reflective sunnies.
Artist Ava Berlin kept it cool in an all-black ensemble, down to her sleek haircut.
Can Suzie Riemer's braid/rhinestone-accented-eye combo be any more perfect?
Cleopatra Coleman keeps her look interesting with pops of bright colors, from her turquoise bikini top down to her red socks.