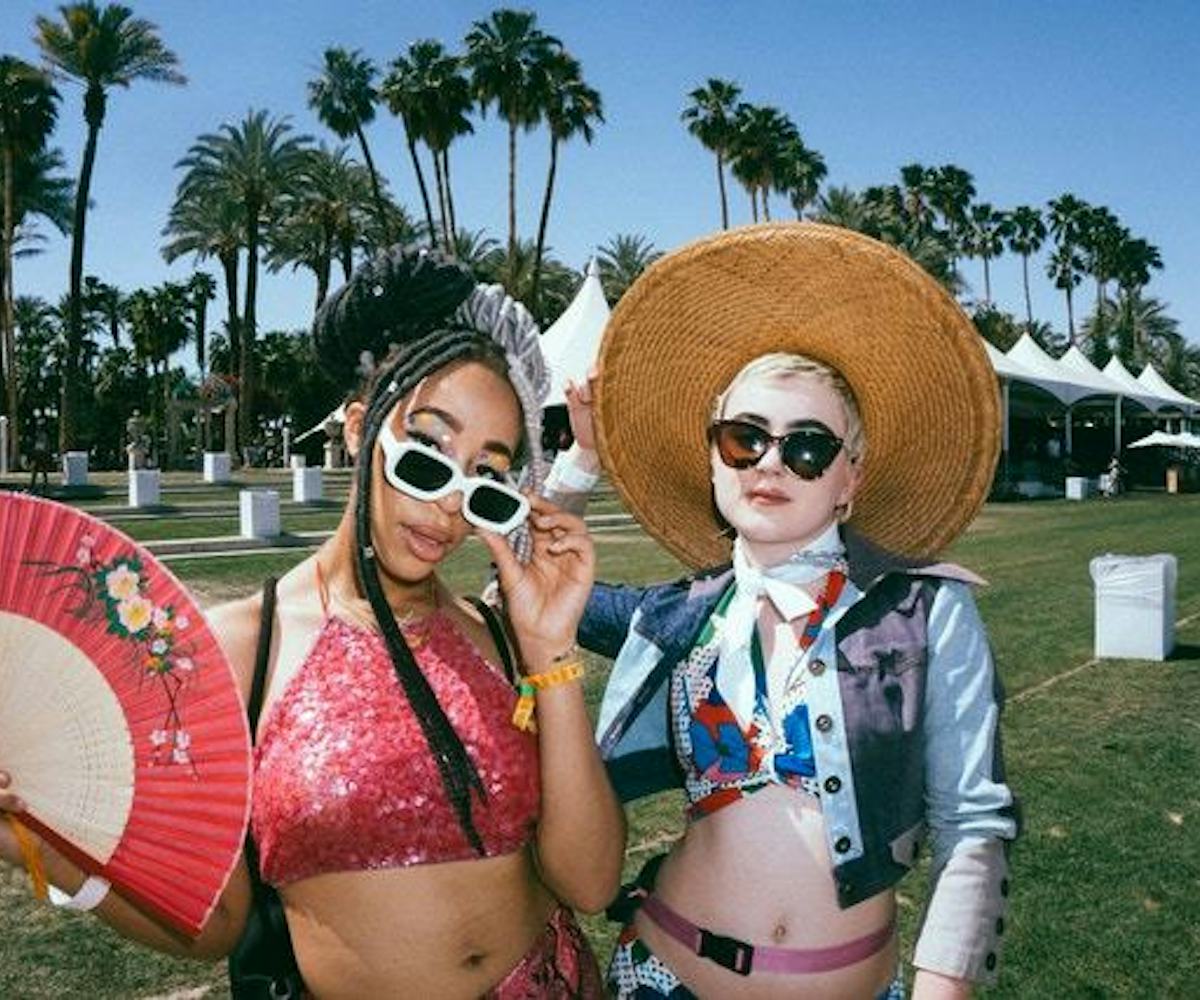 photo by lindsey byrnes
Here Are The 5 Best Non-Music Things Happening At Coachella Week 2
Who needs music when you've got killer parties, good food, and beauty services?
Coachella is, as we all know, a music festival. There's no debating that. But, aside from seeing your favorite artists perform live and flexing your street style 'fit on Instagram, there's actually a ton of stuff to do. When you take away the music aspect, you're not just left with a bunch of fashion kids in flower crowns partying in the desert. It's a place where you can bear witness to some of the coolest (and largest!) art installations in the world, eat incredible food, bask in the heat, and so much more. And if you're going to spend the money to attend a bucket list-worthy festival like Coachella, you might as well take it all in. 
In time for the festival's second weekend, we've done you the favor of rounding up five of the coolest non-music activities you can do. Because, in order to truly do a festival the right way, you have to experience all its offerings.
The Beauty Services
Making sure your hair and makeup last through the sweltering heat of the desert is no easy feat. But luckily, this year's Coachella features a ton of beauty services that'll keep the sand out of your eyes and hair.
Sephora is one of the festival's beauty partners this year. The beauty giant set up a tent for both weekends for festival-goers to get their hair and makeup serviced. While at the tent this weekend, you can step up your braids game with amika's Bad AF Braid Bar, add color to your hair with HUSH's DIY Prism Color Bar and Counter, and get makeup touch-ups using products from Sephora Collection. 
The Food & Drinks
Sure, athleisure may have been the star of this year's Coachella, but the food is what truly should have gotten the attention. Don't get us wrong—we're all here for our fanny packs and track pants, but will those things make your mouth salivate like this fried non-chicken vegan sandwich from The Herbivorous Butcher? How about these supple dumplings from Ms. Chi? Or these ice cream tacos from Sweet Rolled Tacos? We didn't think so. 
You can see the full list of food and drink offerings here. 
The Art Installations
Many street style photos are often taken in front of, next to, or behind some of the festival's large art installations.
Among the new featured installations is Spectra by New Substance, which pretty much looks like an enormous rainbow dome. Standing tall at 23 meters high, it produces 16 million (yes, million) colors throughout the day. Also new to the festival is Roberto Behar and Rosario Marquardt's Supernova star, which features 12 individual stars that reach 40 feet in every direction. We're also really excited about Randy Polumbo's Lodestar installation because it looks like the best swinging chairs ride we have ever seen in our entire lives. Of those art installations returning this year, are the Do LaB stage, Robert Bose's Balloon Chain, and, of course, the glow-in-the-dark spaces created by Raices Cultura. 
You can see a full list of the art installations at the festival here.
The Parties
Even if we don't attend any parties at the festival this year, we'll still be content. Why? Because we now know that gatherings like this one with Timothée Chalamet, The Weeknd, Shania Twain, and other celebrities happen at festival parties. We're here for it even if we're not, you know, physically there for it.
The Weather
East Coast folks know that the weather here for the past few months has been nothing short of a complete and utter mess with at least three back-to-back nor'easters; when it's not snowing or raining uncontrollably, it's too cold to be outside. And while some people may not be able to handle the sweltering heat in the desert, we say, "Bring it on." Now... that's not to say that we won't complain if we're out in the sun for too long, but, considering we haven't been outside without a heavy-duty coat for over five months, we'll take it.