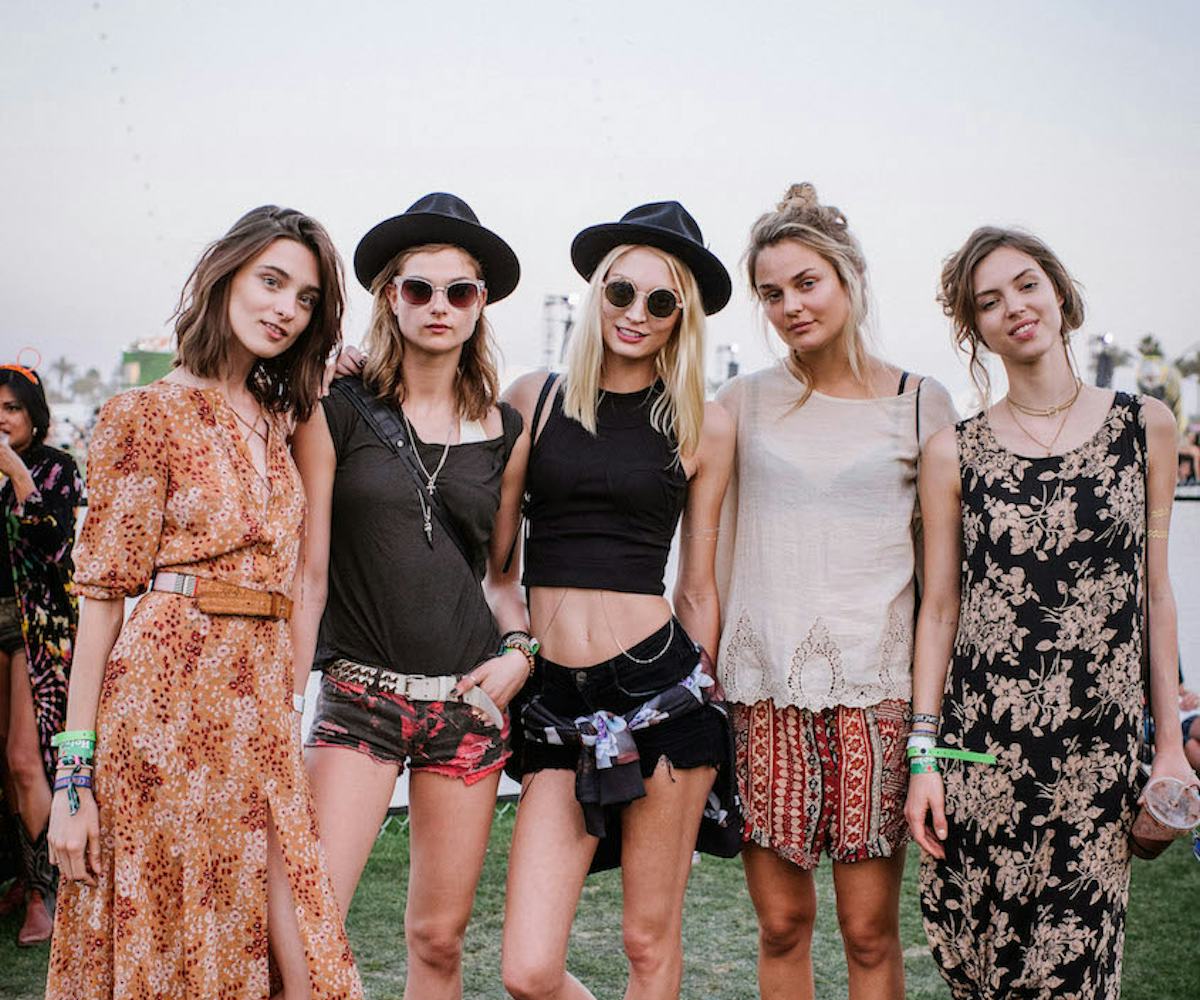 All photos by Nina Westervelt
26 coachella looks that are perfection
the street style is stunning
At music festivals, where free spirits of all kinds come together to skip showers and frolic in fields, it can be surprisingly easy to blend in. After all, there are only so many variations of flower crown/peasant top/fringed-everything you can wear without being twinsies with just about everyone.
So this year at Coachella, we decided to seek out the girls doing things a little bit differently: From statement-making dresses to pastel hair that catches the sunlight, our favorite street-style outfits are completely unique—while still looking totally festival appropriate. 
Click through for some serious inspiration, whether you're going to an upcoming festival or just want your spring fashion game to get a dose of boho magic. 
Our favorite couple ever: Rachael Finley and Blake Anderson, in wild and crazy prints!
When you are a shoe buyer for rag and bone, expect your look to be effortlessly on point.
Marina And The Diamonds is living the onesie-leisure life.
Oh, you know, just the breathtakingly beautiful Gigi Hadid, Shanina Shaik, and Jasmine Tookes.
Braid crown, wacky glasses, and a septum piercing. Sounds like a uniform, but this look feels so fresh!
What is this glorious denim jumper, and how can it be ours immediately?
Not just mermaid hair, and not just pastel, but it is pastel mermaid hair in two different hues. Also, props to seeing this color on short hair.
Daisy Lowe, fo' sho'.
Now, this is a classic festival look that will never, ever get old and should be entered into the annals of history as Festival Perfect 101.
At first, this string situation was confusing. But then, it became delightful!
Phox's Monica Martin is actually a perfect human being, from the sun hat to the apricot lipstick to the denim jacket with her name on it. This, folks, is what perfection looks like.
Can this be our entire summer, embodied by one single photo?
This is a great exercise in finding an incredible dress that fits you like a glove and wearing the crap out of it.
How happy are you that backpacks are the accessory du jour?
Guess what band Nini Fabi is in?
Our inner seventh graders are so happy to be finally let out to play.
*Sings in Rihanna voice* "Capes capes capes capes capes capes..."
Amazing summer-style inspo: Take a jaunty Hawaiian print and tie it into a crop top.
What is this hair made out of? Unicorn tail? Silk of magical spiders?
New rule: Always match your sunnies. How can it go wrong?
Okay, thanks Lizzy from MS MR, for stealing our idea to wear that head-to-toe ADIDAS print forever.
Loving the vintage two-piece vibe, but the real winner here is zooming in on that ring game.
And, of course, loads and loads of models.
THOSE EARRINGS ARE IT.