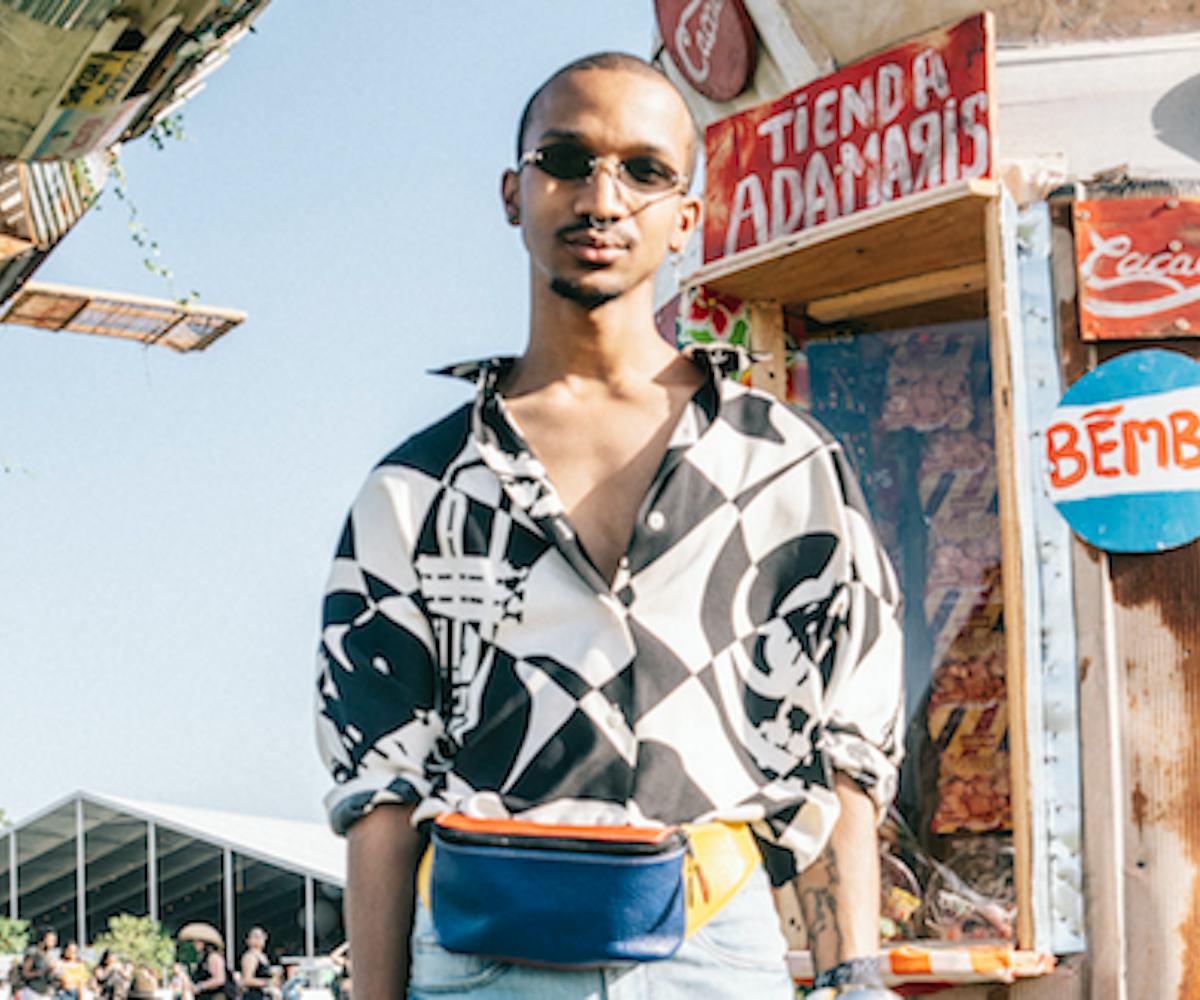 photo by lindsey byrnes
Athleisure Was The Star Of This Year's Coachella
Chances are, when you think about Coachella or festival-inspired fashion, you probably envision space buns, galaxy-inspired makeup, or ensembles full of glitter, fringe, and feathers. But, if you were to look at outfits from this year's fest, you wouldn't guess you were at California's most popular music festival. You'd probably think you were on the streets of downtown Los Angeles or New York, because the first weekend's attendees this year opted for trending styles and accessories, like athleisure, fanny packs, and '90s-inspired fits. Flower crown, who?
If you thought last year's Coachella-goers were cool, wait until you feast your eyes on our favorite street style stars, below.
This safari-inspired getup is made even better with the casual keyboard accessory.
Can you say ombré braid goals?
TFW you've got a festival at 2pm but a business call at 4pm.
Orange Is the New Black, but make it fashion.
This A+ color coordination has us feeling anything but blue.
Ain't no party like a PVRIS party!
We're getting serious '90s sitcom vibes with this brilliant cropped tank.
Sunset nails are all the rage.
These lace shorts are everything.
We're not sure what's better: this color-blocked fanny pack or these brilliant ports?
Hi, we'll take about 20 of these Tommy overalls, thanks.
This Gen Z yellow is everything.
Matching your satchel bag to your shoes? Iconic.
Let's have a round of applause for this glorious baby pink romphim.
PVRIS' Lyndsey Gvnn is serving us a healthy dose of tattoos and vitamin C.
These prints are as eye-catching as their wearers' smiles.
TFW your smile is your best accessory.
Lyndsey Gvnn's eyes are as mesmerizing as those cool shades.
We're getting Debbie Thornberry vibes from this flannel look.
We are obsessed with this IRL cheerleader pom-pom look.
Now THIS is what we call a look.
Your squad could never.
Sequins and body glitter?! Yes.
A bit of island paradise goes a long way.
Hayley Kiyoko can pull off the bucket hat look like no other.
Coachella 2001 never looked cooler.
These DIY Air Force 1's paired with this baby pink ruffled top is a match made in street style heaven.
We love us a good track pant!
Sometimes you gotta spread your wings and fly.
When in doubt, cry it out.
When you wanna have a moment but bae wants to flex.
Stella Maxwell is a lady in red.
The '70s called and said you can keep your shades because you are killing it.
Carly Rae Jepsen, you are a vision in floral.
Is that LION BABE or the fire emoji?
Merman hair is definitely a trend.
True friendship means making sure your friend's braids are on point.
Look at all these prints! We're swooning.
When food is your most fashionable accessory.
Squad goals.
Real friends wear matching sandals.