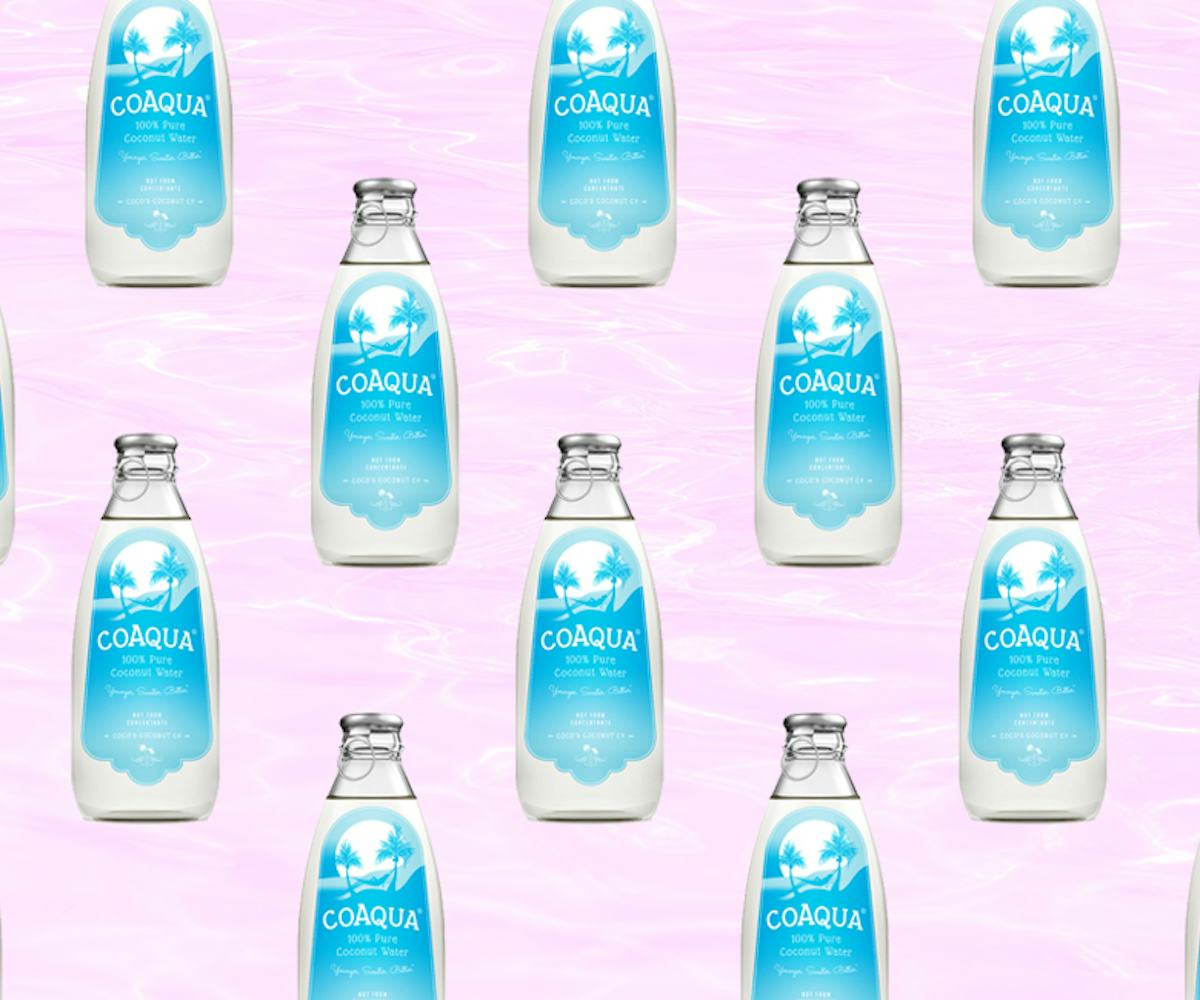 I Found The Only Coconut Water That Actually Tastes Good
It's coconut water for people who hate coconut water
Friends don't let friends miss out on all the cool, under-the-radar things they know about, like where to buy ultra-fashionable clothes at decidedly non-runway prices or which little-known beauty brand is low-key making the best highlighter around. And because we consider our readers to be like friends, we decided to gather together all our best tips in a new series: Don't Sleep on This. Check in every week to see what things we can't wait to share with you.
I have a complicated relationship with coconut water. On the one hand, I know it's good for me—the hydration you can get from the water of a coconut can even put H2O to shame. On the other, I absolutely despise the taste and smell of it.
But people are always trying to convince me it's good. "Do you also know that if you drink coconut water after a night out, you will not have a hangover the next day?" one college friend asked. I didn't know, but, rest assured, I soon found myself chugging Zico, which at the time was the most readily available coconut water in stores, with my fingers pinching my nose before going to bed. And, while she was right—it's truly amazing how it can save you the next day (even if you only remember to drink it the morning following the night out, by the way)—I quickly abandoned that practice. The smell and taste were too intolerable to me, prompting a gagging response not unlike the one I get when my mom forces me to down a shot of vodka filled halfway with cayenne pepper when I feel like I am getting a cold (no bacteria—or person, for that matter—can survive that combination).
In the past few years, the coconut water scene has changed drastically. The Zicos have been relegated to the back shelves, and brands like Harmless Harvest, as well as in-house concoctions at juice shops, are leading the way on this new coconut tree-flanked path that favors organic, natural, and sustainable practices. Looking to get their fill of the potassium and electrolytes that prevent dehydration (which is not only good for hangover prevention, but also for replenishing post-workout) without the huge amounts of sugar of, say, a Gatorade, consumers have become more discerning about what they're imbibing. Still, not even the most prettily packaged coconut water had made a convert (or even an occasional drinker) out of me.
Then, along came CoAqua, the self-proclaimed "world's super-premium coconut water." And by super-premium, they mean super-delicious. At first glance, aside from the aesthetically pleasing glass packaging, it looks like any bottled coconut water. But the difference is apparent upon a closer look at the label; for one, it advises to drink the water "chilled." For two, it is the best tasting coconut water I have ever had. It is sweet, like a liquified version of a freshly cracked coconut, and has no smell. After I finished my first one, I immediately reached for the second one. It is coconut water that you want to drink regardless of its health benefits—it just tastes good, fresh and sweet.
If, when you hear "sweet," you instantly assume it's a sugar rush in a bottle, or full of artificial sweeteners, know that CoAqua is 100 percent pure and natural. The reason for its sweetness is that, unlike most coconut water brands on the market, CoAqua uses young coconuts, that are six-to-seven months into the maturation cycle and whose natural sugar content is at its peak. For reference, a young green coconut holds the sugar in the water, which is why its flesh is notoriously bland; an older coconut's natural sugar have already transferred from the water to the coconut flesh, which is why its water can be off-putting, but the flesh desirable.
At first glance, CoAqua founder Grier Govorko, doesn't seem like one to find an all-natural coconut water brand. Having previously worked as a photographer and designer (he was the senior production designer for the Red Hot Chili Peppers in the '90s), he discovered the taste of young coconuts while traveling all over Southeast Asia. Not wanting to cross to a different continent (he splits his time mainly between New Zealand and L.A.) to get a decent glass of coconut water, and unfazed by the fact that no one else was harvesting young coconuts for their mass-produced coconut waters, he eventually found Ben Tré in the Mekong Delta of southern Vietnam, "a labyrinth of waterways and literally billions of coconuts," and CoAqua was born. When I tell him that I've never liked coconut water before this, he shrugs: "You're not the first person to tell me that." 
But while Govorko founded CoAqua to make a coconut water that everyone can enjoy, he wanted to make sure that he wasn't adding to the landfills with single-use plastic bottles, because, as CoAqua's website states, that's "a bummer." As such, CoAqua is bottled in recyclable glass, which is not only sustainable but also keeps the water tasting fresh and delicious.
Maybe I wasn't such a tough nut to crack after all. Or maybe, CoAqua is just that good.
CoAqua, Super Premium 100% Coconut Water, $48 for 12, available at CoAqua.