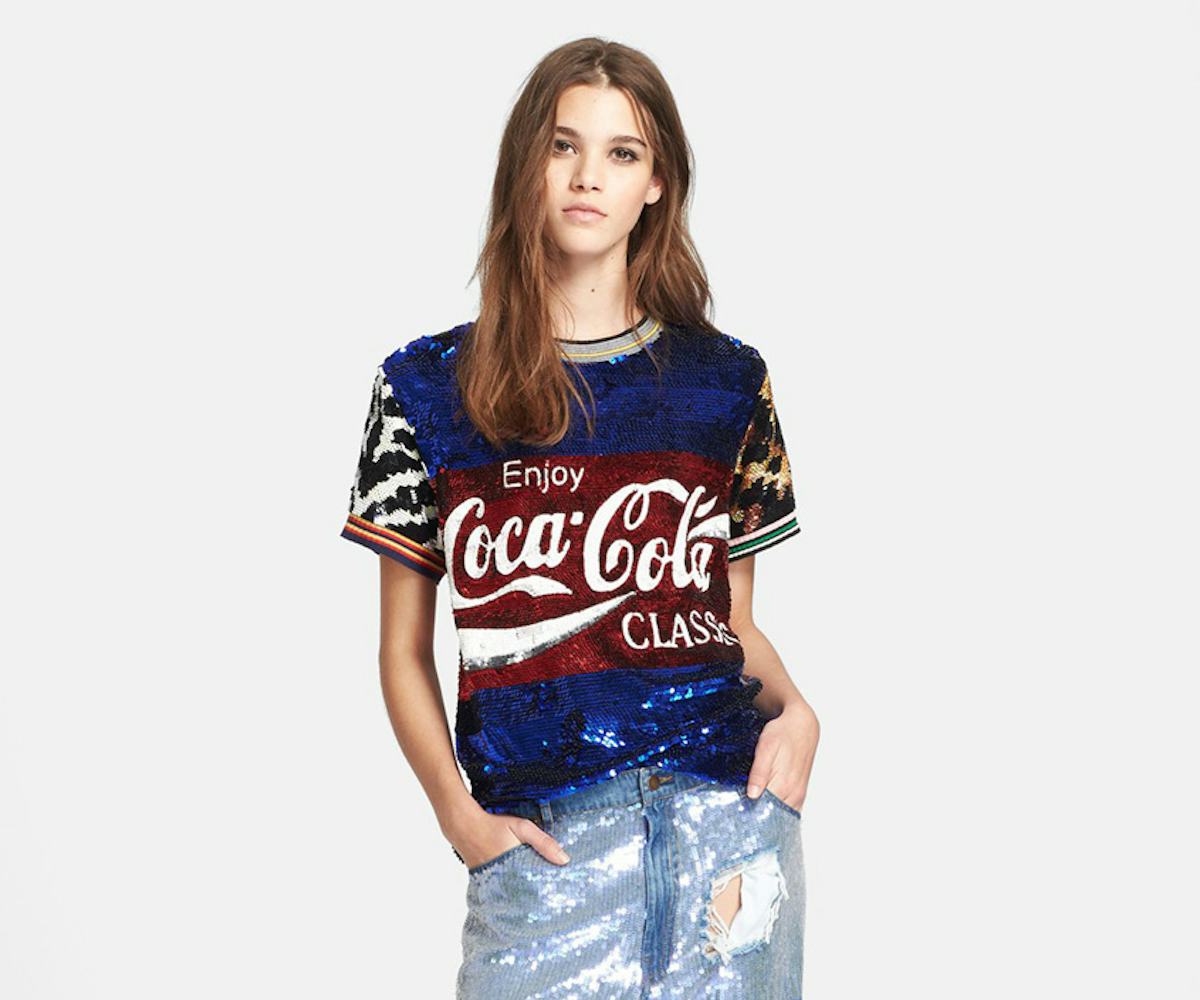 buy the world a coke
or a coca-cola t-shirt instead.
Way back when, on March 12, 1894 a drink was bottled and served that would change the world--or at least our soda love--forever. That drink was Coca-Cola.
First served in Minnesota, Coca-Cola has since become a staple of American pop culture. From the brand's iconic "I'd Like to Buy The World A Coke" 1971 commercial, to its cute polar bears ads of the '00s, to the great spot that ran during this year's Super Bowl of the National Anthem being sung in a multitude of languages, Coca-Cola has a longstanding tradition for good branding. 
The company is so cool that designers everywhere are clamoring to get their hands on it, from Marc Jacobs' spring '13 sequin sweatshirt with a Coca-Cola swoosh on the front to Ashish's similarly-sequined T-shirts. So if you want to celebrate Coke's birthday right, sit back, pour yourself a cold one, and shop the coolest Coca-Cola fashions. Cheers!
Marc Jacobs Sequined Coca-Cola Sweatshirt -- $1,500
Uniqlo Coca-Cola Short Sleeve T-Shirt -- $19.90
Topshop Coca-Cola Sweatshirt -- $64
Delia's Coca-Cola T-Shirt -- $24.90
Topshop Coca-Cola T-Shirt -- $46
Ashish Coca-Cola Fleece Sweatshirt -- $540
Uniqlo Coca-Cola T-Shirt -- $19.90
Topshop Coca-Cola Sweatshirt -- $60
Asos Boyfriend T-Shirt with Japanese Coca Cola -- $33.87
Romwe Coca-Cola Bottles Sweatshirt -- $25.71
Marc Jacobs Coca-Cola T-Shirt -- $985