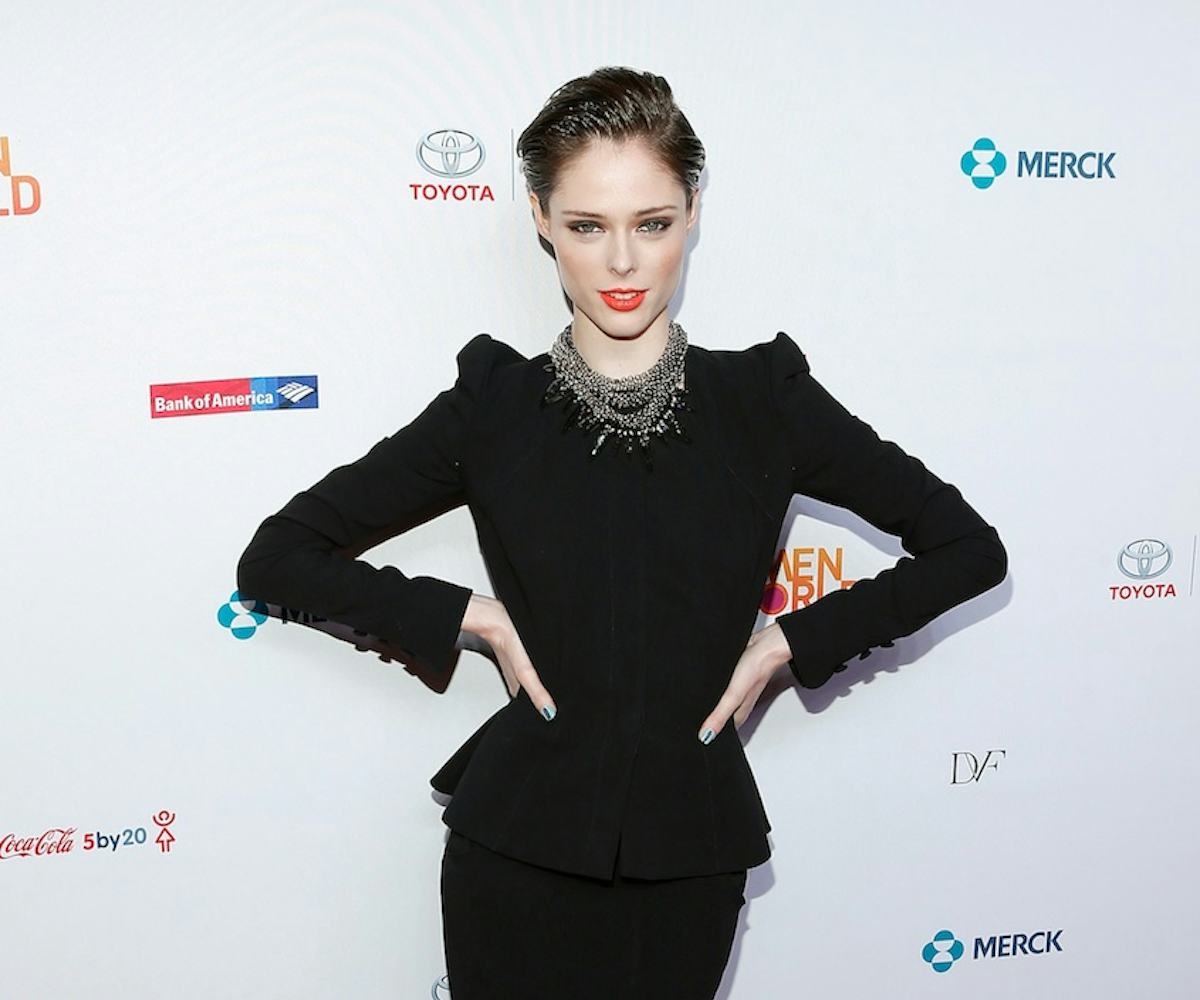 first look: coco rocha x baublebar
the supermodel fills us in!
It doesn't matter whether she's leaping across the sidewalk in couture or stepping out of a taxi in jeans: Coco Rocha is a fashion chameleon. As one of the most animated models in the business, it was a no brainer that BaubleBar wanted to do a collab. The accessories company has teamed up with Rocha on a collection that's a little bit rock and a little bit Old Hollywood glitz, with coiled chain-linked rings and studded necklaces. And raddest part of this collection? It's a tie between the fact that you can customize one of the pieces yourself, and the super-affordable prices ($24 to $68). We chatted with Rocha to find out more about the inspiration behind the jewelry and her personal take on bling.
What's the inspiration behind your new collection?
Sometimes I think the fashion world can seem a little untouchable and out of reach to many people.  I'm not a big fan of excluding people and I don't think that money or price tags should dictate style. In creating this collection, I wanted to create jewelry that has a high-fashion editorial feel at a price most people can afford.  I'll be wearing this collection to gala's, fashion shows and to go get gas in my car and go grocery shopping! I can't wait to see where others wear it too!
What's your favorite piece from the collection? How would you style it with pieces already in your closet?
I really love all the pieces in this collection and we worked hard to get them right. In general I tried to create pieces that really stand out and can be the focus of an entire look. I'd pair most of these pieces with a very simple staple outfit like a black button down shirt or a white T-shirt. I created the line to go with the wardrobe that I know every girl has already. You don't need to wear a gown to look glamorous!
Are you more of an earring, a necklace, or a bracelet person--why?
I definitely lean more towards statement necklaces. An earring or bracelet can be covered by clothing or hair but the necklace is always out there, always a conversation piece. 
If you could pick a muse for this collection, who would it be?
I've always been obsessed with Elizabeth Taylor's style. I got to see her jewelry collection a few years back and it was completely unbelievable. She had amazing style and I can only hope to one day be THAT glamorous in my everyday life.
One of the reasons why jewelry is so great is because many items tend to have a personal meaning behind it--which piece of jewelry is most treasured out of all the ones you own? 
My wedding ring will always be my most treasured piece. My husband James designed it himself and I had no idea what it would look like. He created a really classic timeless ring which makes me think of him every time I look down at my hand.
Describe your new BaubleBar collection in a song:
Great question! Maybe Matthew Wilders "Break my Stride". It's a song that gives you an instant confidence boost and I think this jewelry line will too. 
Out of all of your friends, who has the best jewelry?
Hillary Rhoda always comes with her 'A' jewelry game. I still remember when she got to wear the Hope Diamond in honor of the 50th anniversary of Harry Winston donating it to the National Museum of Natural History.  All of us models were so jealous!
Wanna shop Coco's collection early?