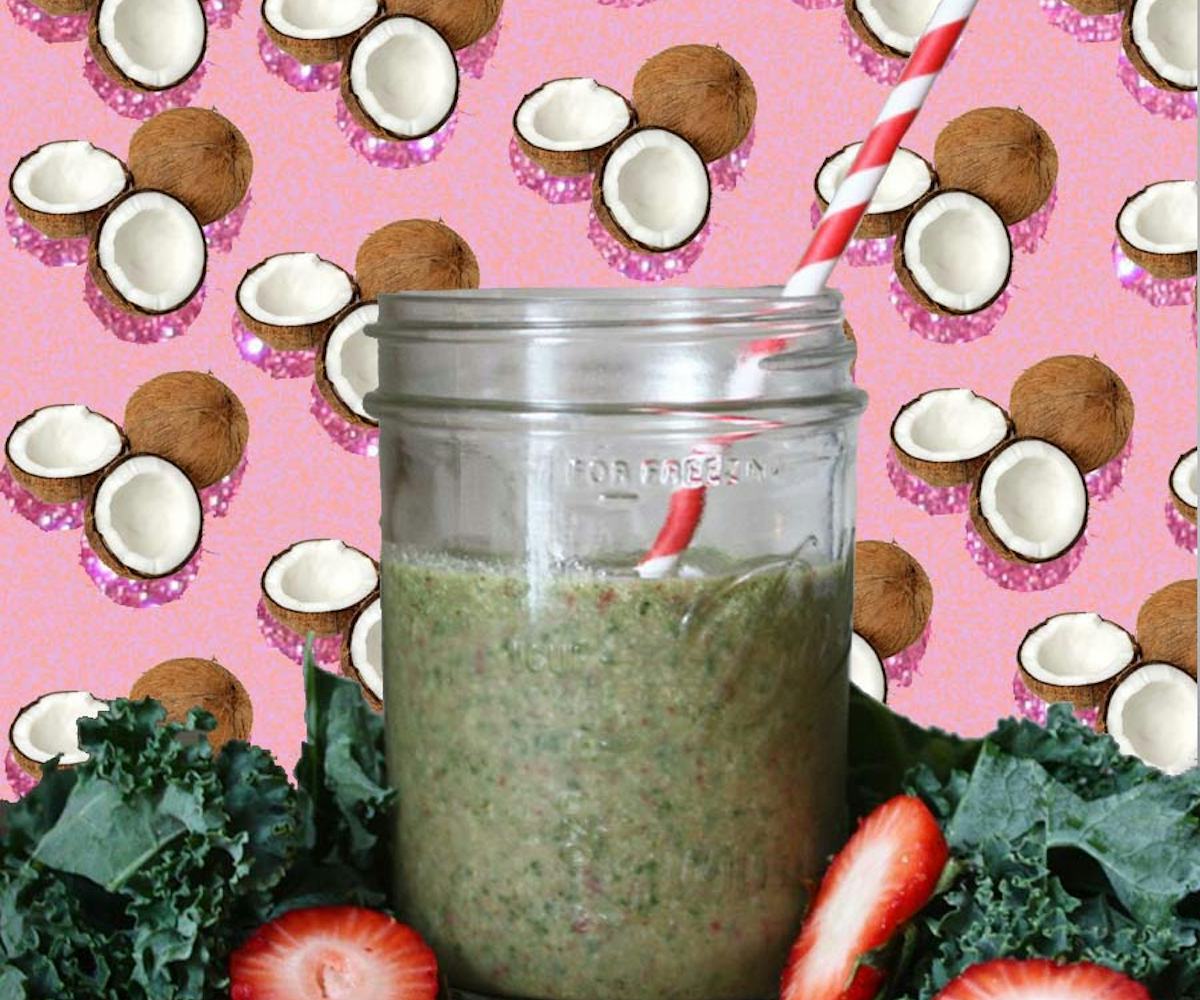 5 Easy Ways To Eat More Coconut Oil
Coconut oil can take the heat, so always keep a jar in the kitchen.
From looking good on a deserted island to being an essential ingredient in DIY deodorant, coconuts are the world's natural gift to us all. Its water cures the ails of last night's round at last call and its shell can be used as a cup (#SurvivalSkills). And coconut oil, while great for a myriad of beauty uses, has some serious and healthy culinary prowess.
When butter in a recipe makes you wince, substitute it with coconut oil at a simple 1:1 ratio. That means there's no need for math to calculate conversions. (Thank you again, all mighty coconut.) Rumor has it that coconut oil is good for weight loss. I mean, don't sit with a jar in your lap in front of When Harry Met Sally, spooning it into your mouth in place of a pint of ice cream—it is a fat, after all. But in moderation, the fatty acids in coconut oil will equip you with energy. So you'll be more inspired to log that run on your Fitbit instead of sulking in front of Meg Ryan. The oil is also known to help with digestion and deflate inflammation. 
Search the shelves for unrefined "Virgin" or "Extra-Virgin" non-hydrogenated coconut oil. These buzzwords mark a jar that will bring the most benefits. Remember: The next time you DIY a deep-conditioning hair treatment with a jar of coconut oil, make something to nosh on while you're at it.
1. Lemon Chia Pancakes
Pucker up for your new favorite breakfast. The citrus adds a tart twist to the classic dish. These suckers could become a Saturday morning staple.
1 ½ cups all-purpose unbleached flour
3 tbsp sugar
1 tbsp baking powder
zest of 1 lemon
1 tsp salt
1 ¼ cups coconut milk
2 large eggs
3 tbsp coconut oil, melted
1 tsp vanilla extract
2 tbsp lemon juice
2 tbsp chia seeds
Directions:
In a medium bowl, combine flour, sugar, baking powder, lemon zest, and salt.
Melt coconut oil in the microwave, about 30 seconds.
In another medium bowl, combine milk, coconut oil, eggs, vanilla extract, and lemon juice. Pour the flour mixture into the liquid mixture, and whisk. A few lumps are okay. Fold in chia seeds.
Heat skillet with vegan butter or oil over medium heat. Ladle 1/3 cup of the pancake mixture into the pan. When bubbles appear, about 3 minutes, flip, and cook the other side for 3 more minutes.
Continue until the batter is gone. Makes approximately nine pancakes.
2. Coconut Oil Banana Bread
There's no dread in making bread. This easy to conquer loaf will make you fast friends if you bring it into the office. Promise.
Ingredients:
1 ½ cup all-purpose unbleached flour
1 tsp baking soda
½ tsp salt
½ tsp cinnamon
1 cup light brown sugar
¼ cup whole milk plain Greek yogurt
¼ cup coconut oil, melted
2 large eggs
2 large ripe bananas, mashed
Directions:
Preheat the oven to 350 degrees F.
In a medium mixing bowl, combine flour, baking soda, salt, and cinnamon.
In another medium mixing bowl, whisk the brown sugar, Greek yogurt, and coconut oil until blended and smooth, about 4 to 5 minutes. Add the eggs one at a time and combine.
Add flour mixture and mashed bananas to the liquid, and combine. 
Line a 9x5x3-inch loaf pan with parchment paper, with a little paper hanging over the edge. Pour in the batter and bake for 45 to 50 minutes. The loaf is ready when you stick a toothpick in the center and it comes out clean.
3. Parmesan Thyme Popcorn
Netflix and no chill. Why? Cook pop kernels in coconut oil and sprinkle with parmesan, thyme, and salt to experience the madness. It's the upgraded, healthier movie theatre-style popcorn of your adulthood dreams.
Ingredients:
3 tbsp coconut oil
1/3 cup popcorn kernels
½ tsp salt
½ tsp thyme, minced
Parmesan, to taste
Directions:
In a saucepan, melt the coconut butter over medium-high heat.
Add the kernels and cover until they've all popped, about 8 to 10 minutes. As they are popping, swirl the kernels around to avoid burning.
Pour popcorn into a serving bowl, and toss in the thyme, parmesan, and salt.
4. Roasted Maple Cauliflower
Beware: If you decide to taste test before serving, you might down the entire pan. We would know. We've done it.
Ingredients:
1 head cauliflower, chopped into florets
2 tbsp coconut oil, melted
1 tbsp maple syrup
¼ tsp salt
1/8 tsp ginger
1/8 tsp nutmeg
¼ tsp cinnamon
Directions:
Preheat oven to 400 degrees F.
Place cauliflower florets in a large bowl.
In a small bowl, combine coconut oil and maple syrup. 
Pour liquid mixture, sprinkle salt, ginger, nutmeg, and cinnamon over the cauliflower, and toss together.
Line a baking sheet with tin foil and spread the coated cauliflower evenly over. Bake for 20 to 25 minutes, flipping the cauliflower once halfway through.
Serve as a snack, in a salad, or in an omelet.
5. Kale Strawberry Smoothie
Okay, so, it's not the prettiest smoothie ever blended, but it tastes good and it's good for you. Add a tablespoon of coconut oil to your favorite smoothie recipe and you'll be a few slurps closer to a healthier heart.
Ingredients:
1 cup kale, stems removed and chopped
1 cup frozen strawberries
1 tbsp coconut oil, melted
1 tsp honey
¾ cup coconut milk
Directions:
In a blender, combine all ingredients. Mix on high until well-blended. Serve in a mason jar.