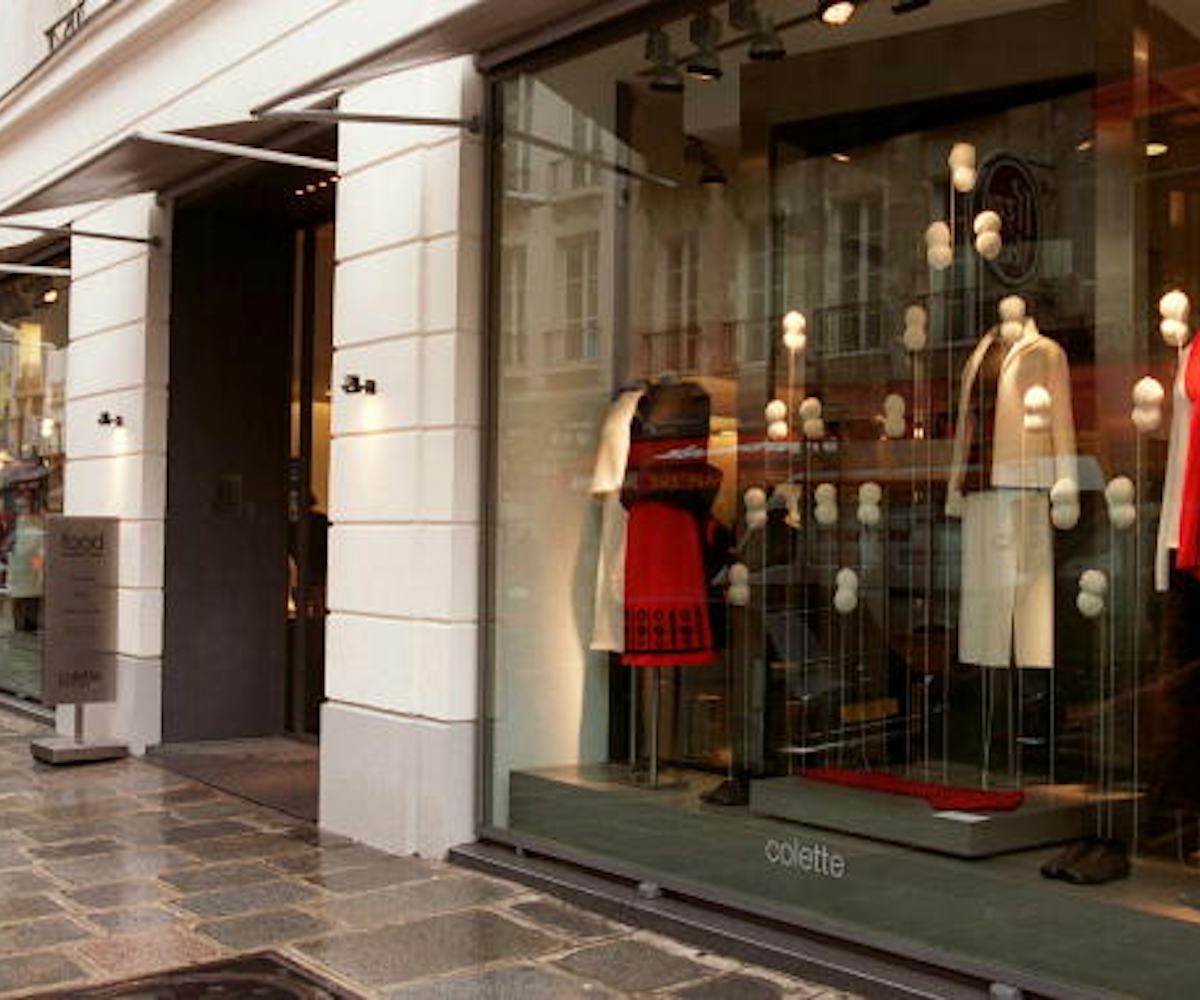 Photo credit should read DANIEL JANIN/AFP/Getty Images
Renowned Parisian Boutique Colette To Close After 20 Years
Saint Laurent is looking to take over the location
After 20 years, the renowned Parisian boutique Colette is closing its doors. "As all good things must come to an end, after 20 wonderful years, Colette should be closing its doors on December 20 of this year," the company said in a statement on Instagram. "Colette Roussaux has reached the time when she would like to take her time; and Colette cannot exist without Colette."
Founded in 1997 by Roussaux—who lived above the retail space with her daughter Sarah Andelman, the current creative director of the store—the three-story space has hosted the hottest up-and-coming designers and continually cemented its reputation for spotting the next big thing. "Until our last day, nothing will change," the statement continued. "Colette will continue to renew itself each week with exclusive collaborations and offerings, also available on our website colette.fr."
Saint Laurent is looking to take over the Rue Saint-Honoré location, according to the company. "Negotiations are under way with Saint Laurent and we would be proud to have a brand with such a history, with whom we have frequently collaborated, taking over our address," the statement read. "We are happy of the serious interest expressed by Saint Laurent in this project, and it could also represent a very good opportunity for our employees."
Andelman is known for showcasing an eclectic mix of high fashion and edgy street labels. She was one of the first to stock collections by Proenza Schouler, Mary Katrantzou, and Rodarte. Her discerning fashions edits and eccentric mix of lifestyle products have transformed the store into one of Paris' cult boutiques; it's been a destination for fashion aficionados for two decades. The location features fashion capsule edits with more niche items including books, souvenirs, and filming equipment. There's also the legendary "Water Bar," serving more than 100 brands of bottled water. Roussaux and Andelman have hosted book signings, concerts, and panel discussions in the space, as well. 
"It's the only shop where I go because they have things no one else has," Chanel's Karl Lagerfeld told the Business of Fashion last year. "I buy watches, telephones, jewelry there—everything really. They have invented a formula that you can't copy easily, because there is only one Colette and her and Sarah are 200 percent involved."
Colette was also one of the first shops to embrace the fusion of high-end fashion with a streetwear aesthetic. "We started to work with people like Virgil [Abloh] before he started Off White, as well as OAMC's Luke Meier when he came from Supreme, and with the whole wave of designers like Hood By Air," Andelman told BoF last year. "At a certain point it didn't make sense to have them on the ground floor anymore, so they went up with the designers."
Earlier this year, H&M announced a collaboration with Colette, the H&M Studio x Colette line. It's expected to launch August 21 and will be stocked in stores and online at Colette for two weeks. Along with the closing of the brick-and-mortar location, Andelman says that Colette.fr will also close. She says she'll be focusing on "turning the page."