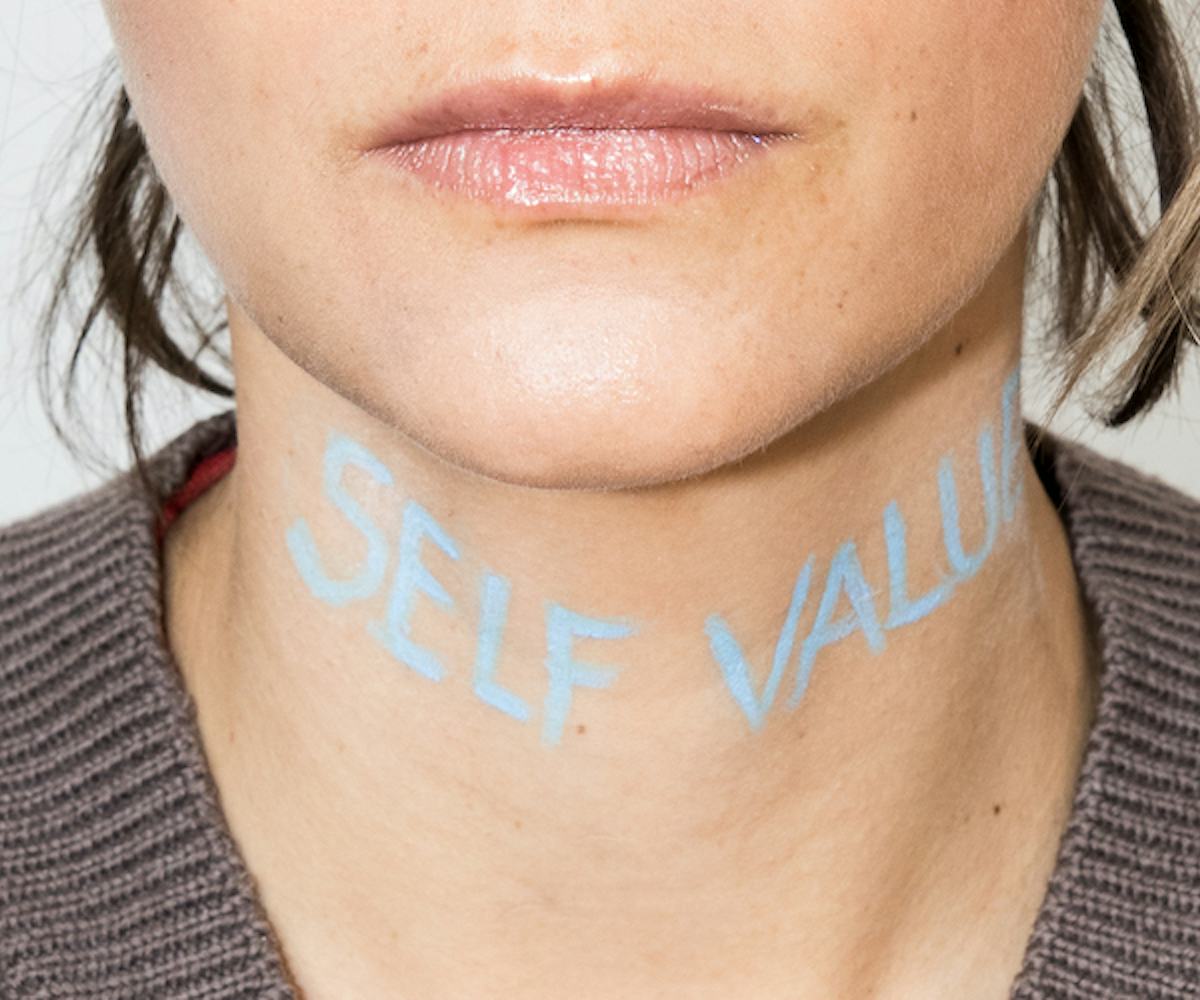 Photo by Andrew Blumenthal
The Collina Strada Runway Show Was A Love Letter To A "Higher Self"
With a marriage ceremony and all
Over the past few seasons, it's become apparent that beauty has become much less of the focus of a runway show, at least for most designers. Nowadays, most models are prepped very minimally, with makeup artists highlighting the unique features of each. While this is without a doubt empowering, it tends to read a bit on the plainer side, editorially speaking.
With that said, when we went backstage at Collina Strada to see what was in the works for this season, it was refreshing to see color—and lots of it. Makeup artist Colleen Runne for 100% Pure and Plantioxidants swept baby blue shadow on the lids of each model, a pop of pastel color not usually associated with a season known for its earthy neutrals and subdued hues. This same icy blue shade was used again, in the form of hand-drawn "tattoos." Powerful qualities, such as "self-value" and "self-love," were scribbled across some of the models' necks, with others donning hearts outlining their eye sockets.
This beauty look tied into theme of the fashion show—or rather, the wedding ceremony. The models, er, wedding attendees and bridesmaids, wore an ethereal variety of satins, organzas, and crushed velvets in a muted color palette—with a pop of vibrant orange and leopard print here and there. According to designer Hillary Taymour, this collection was an ode to love, following a time of anger.
The wedding wasn't a ceremony between two people, but rather us to our higher selves. "You cannot start to love another until you love yourself, so why not marry your higher self?" read the show notes. After flower girls came out to throw confetti in preparation for the ceremony, artist Bunny Michael (who served as the "wedding officiant") read a powerful spoken word poem before the bride—actress Sasha Frolova—began to read her wedding vows, a promise to love herself. "I want to use fashion as a platform to lift up humanity in general, change perspectives and give a voice to those without one, or those who feel invisible. This should be a daily practice, not just during Fashion Week. Let us all take this moment to unite in the loving consciousness of our higher selves," says Taymour.
All in all, it was a powerful start to a week of fashion where, amidst the #TimesUp and #MeToo movements, we're bound to see much more of this inward focus on ourselves—our higher selves.