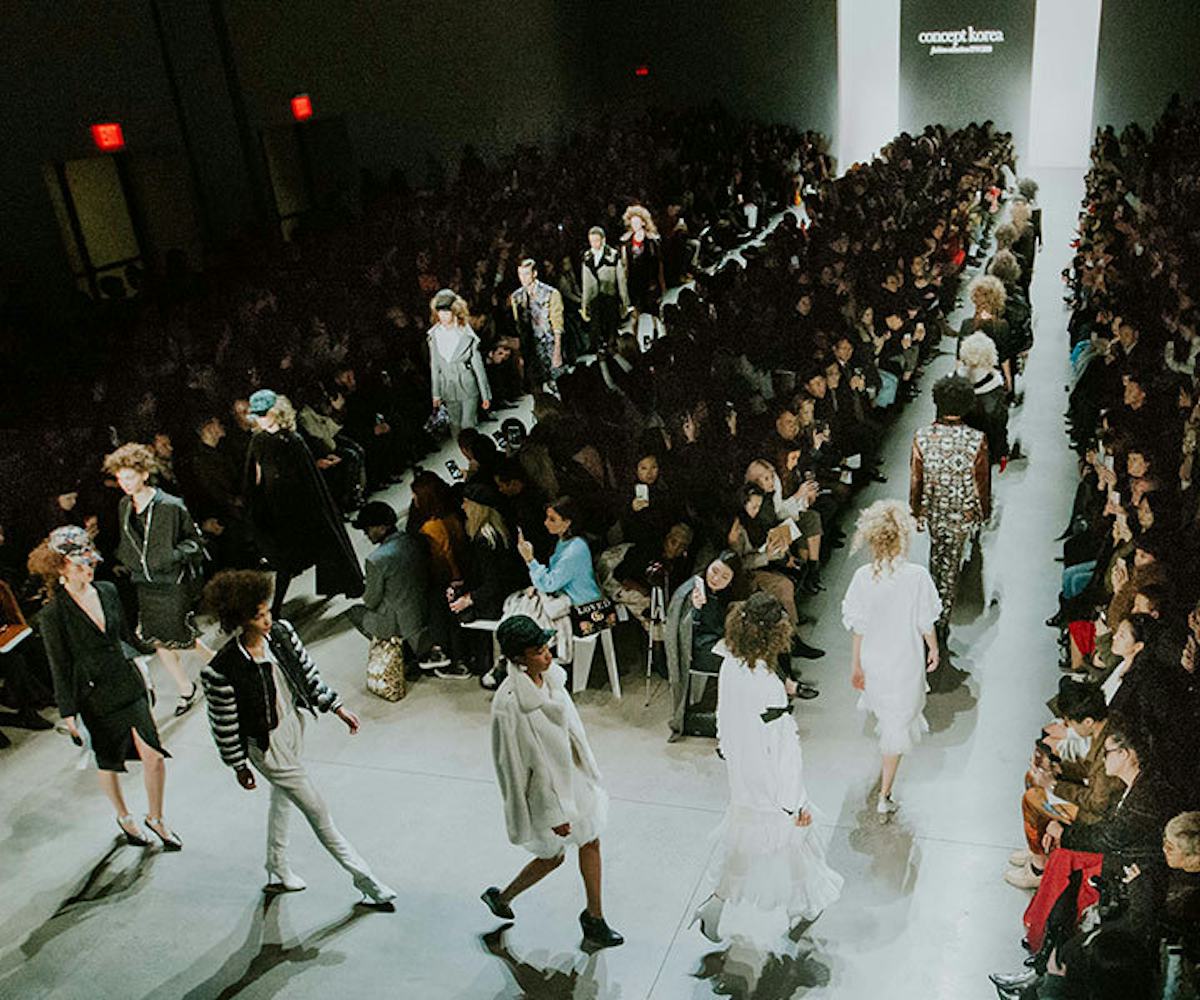 Photo by HaleLee Seoyeon
LIE And GREEDILOUS: Two New Designers Bringing K-Fashion To The States
Meet Concept Korea's newest lineup
Korean beauty is on the tip of everyone's tongues, sure, but Korean fashion is about to rock your world. This current season saw two of Korea's most promising and respected designers take the runways in New York City: LIE and GREEDILOUS. With the help of Concept Korea, a collaborative project bent on breaking Korean designers into the U.S. market, both LIE and GREEDILOUS' Fall 2018 collections became front and center of the womenswear conversation.
Though both collections were inspired by vastly different things (LIE being global warming, and GREEDILOUS being the glamour and romanticism that's come to replace the not-so-pleasant reality of Marie Antoinette), they represent a new guard of fashion, one that's, as GREEDILOUS' Younhee Park says, "very trend-forward" and affordable despite it being made with "such great quality." Both Park and LIE's Chung Chung Lee are at the forefront of the proliferation of Korean fashion, highlighting their culture's incredible marriage of technology, style, and wearability. Through their respective collections, the all-things-Korean trend is elevated beyond being just that, a trend. Instead, LIE and GREEDILOUS bring a movement with their work, one that's as livable as it is resilient. 
Get to know the two designers in our exclusive interviews, below.
LIEFor LIE's Fall 2018 collection, Chung Chung Lee's main message was "It's not justICE." The play on words is meant to bring awareness to global warming—more specifically icebergs. He tells us that fractured icebergs were point of inspiration for many of the collection's prints, patterns, and details in addition to colors of the Arctic Northern Lights and blue skies. "They serve as a reminder that this beautiful environment could ultimately disappear," Lee says.
The challenge in design came with "having to connect multiple important elements together into one cohesive collection while maintaining LIE's signature feminine and athleisure aesthetics." Lee feels proud not only of the work but that the collection speaks to a larger global issue and has the power to change minds. Lee has made it that much easier to incorporate the Korean fashion idea of risk-taking, like "bringing in colors, layers, a soft-edge, and a lot of drama," into anyone's wardrobe. "Korean style is highly trend-driven and fast-changing," he says. "We are inspired by the understated of details across the industry and maximize that into a trend itself."
GREEDILOUSGREEDILOUS' Younhee Park attributes the rise of Korean style to the increasing desire to "[see] things in new ways and not fearing for changes." With that in mind, she looked to the aesthetics of "a beautiful and luxurious Marie Antoinette in the Palace of Versailles." (Think: Sofia Coppola's version only with more punk elements than frills.) To Park, those aesthetics pair wonderfully with the "glamorous and unique identity" of GREEDILOUS. "As a Korean designer," she adds, "I want to give a great confidence and power to women when they wear GREEDILOUS." And that comes with inspiring to think a little outside of the box and their comfort zone in favor of bold pattern, teased hair, and a whole lotta color. "Through this collection," she says, "audiences can experience how GREEDILOUS uses our brand's own unique aesthetic to interpret iconic luxurious concepts, like Marie Antoinette."