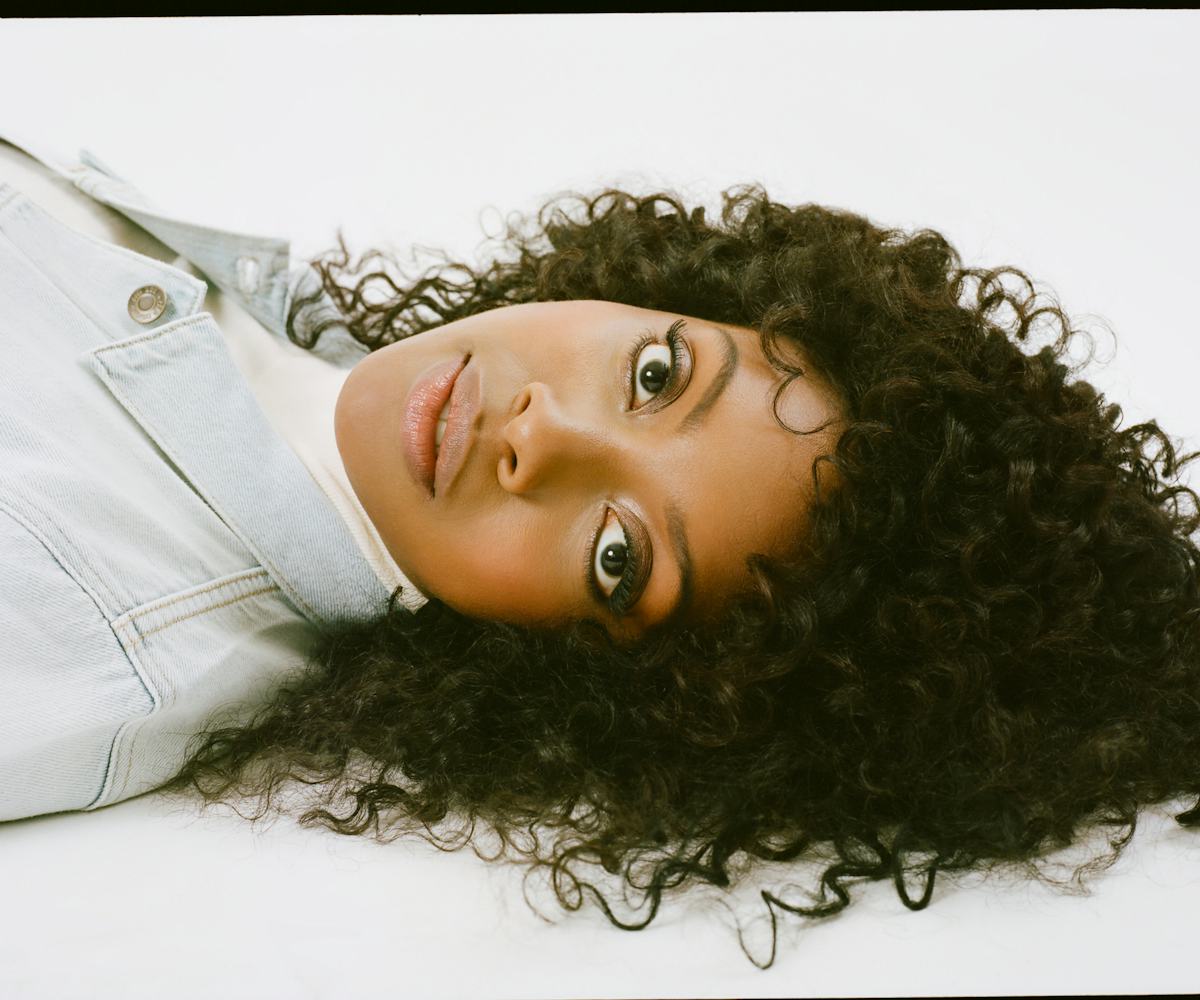 Photographed by Tiffany Nicholson. Styled by Thomas Carter Phillips. Jacket by Gap, turtleneck by Jil Sander.
Condola Rashad Talks 'Billions' Season Two, How Acting Changed Her Life
The actress discusses her latest projects
The following feature appears in the February 2017 issue of NYLON.
Condola Rashad spent the majority of her high school years feeling adrift. "I remember I would be in a classroom," she says, "and the class would start and I'd look out the window, and then in the blink of an eye the class was over and I was like, 'Wait, I don't know what happened.'" Rashad re-enacts the moment, sitting up with a start. "We would go home with homework and it would take me hours to finish. I would work and work, and I would remember it, but I didn't know how to understand it. It was like I was learning for memorization, not for comprehension." She found it demoralizing.
While Rashad's classmates at her prestigious New York prep school, Fieldston, pursued Ivy League ambitions, her goal became "just not failing." She later learned she had attention deficit disorder, but at the time, she says, "I just didn't think I was very smart."
Rashad, who recently turned 30, is talking about how she came to understand how her "brain just computes things differently" in a café in her Brooklyn neighborhood of Bushwick. It's a frigid winter day, and whatever warmth the herbal tea she's drinking offers is no match for the draft that courses through the former industrial space.
It's perhaps ironic that the young actress who never felt eligible to be smart is currently best known for playing a character who is defined by her intellect. This month, Rashad returns to television screens in season two of Billions, the Showtime drama that follows a politically ambitious U.S. Attorney (played by Paul Giamatti) and a conniving hedge fund manager (Damian Lewis) as each struggles to vanquish the other. Rashad plays Assistant District Attorney Kate Sacker. The show is one part liberal wish-fulfillment—it imagines a world where, after the 2008 financial crisis, the government had actually gone after Wall Street—and one part study in the darkness of the male ego. Sacker is whip-smart, independently wealthy, and not prone to the same moral compromises her boss makes— but she's also timid. "Me and Kate Sacker are very, very different," Rashad says with a laugh. "I'm a lot spunkier than Kate Sacker is."
Rashad was raised in Mount Vernon, just north of New York City. Her parents are the actress Phylicia Rashad—known to television audiences around the world as Clair Huxtable on The Cosby Show—and Ahmad Rashad, the former NFL player and sportscaster. Growing up, she often accompanied her parents to work. Observing her mother's many roles on Broadway was particularly instructive. "I was able to watch all of the stages of what it takes to have a theater piece come together, from table read to working in rehearsal, to tech rehearsals, to previews," she says. "My mother's way of including me was basically treating me like an assistant. She would always take a nap right before the show. I was in charge of making sure her nap was the right amount of time, and when the alarm went off, I would wake her up and I'd have tea ready."
Rashad knew she wanted to be an actor as a child, but she also knew she didn't want to be a child actor. After Fieldston, her goal was to study acting, and to do it as far away as possible. "The first school I looked at was the University of Melbourne," she recalls. "My mom was like, 'Very funny.'" Eventually, she opted for the California Institute of the Arts, a nurturing environment in which she flourished. After graduating, Rashad worked jobs in restaurants and bars before landing a role in Lynn Nottage's 2009 Pulitzer Prize-winning play Ruined. While Rashad says that she wasn't afraid of inviting comparisons to her mother, she was nonetheless relieved by something Nottage said after Rashad had been chosen for the play. "She told me later, 'You know what was so great? We didn't know who your mom was until after the casting.' That meant the world to me," says Rashad.
Before shooting Billions last fall in New York, Rashad, who has been nominated for two Tony Awards, wrapped filming on the forthcoming independent film Bikini Moon. Directed by Milcho Manchevski, the story follows a troubled Iraq war veteran who goes to live with a documentary filmmaker and his wife. Rashad plays the veteran. "Bikini is young, she's a vet, and she also suffers from MST, military sexual trauma," explains Rashad. "And she has very bad PTSD from an accident that happened where lives ended because of something that she did." In the film, Bikini struggles to regain custody of her daughter.
When Rashad got the script, she was immediately attracted to the challenges of the role. "A lot of the things she would say sounded nonsensical when you first look at it," she says. "But she's actually trying to communicate. It only sounds nonsensical because of the way her brain works." Rashad researched bipolar disorder, addiction, MST, PTSD—and then "allowed them all to dissolve a little bit, and find out who Bikini was," she says. "She's a woman and these are the circumstances that she's working around. But that's not who she is."
Right now, Rashad, who will soon be starring opposite Chiwetel Ejiofor in the Netflix religious drama Come Sunday, is working on a surprising side project: She's teaching herself screenwriting in order to write a fantasy series. "My favorite genre growing up was always fantasy," she says. Rashad loves "anything Narnia, anything Harry Potter," and has seen the Lord of the Rings films so often she can quote them by heart. "Fantasy stories affected my imagination, and are part of the reason I became an artist in the first place," she continues. "But as a young person of color, I remember watching these films and thinking—and I love them still—but I remember thinking, 'Hmm, there's nobody in here who looks like me.'"
"I feel like if more young people saw people who looked like them in those films, it would affect the way that they see themselves," she says. After all, if a fantastical world has elves or goblins or dragons, why shouldn't it have some black people? Rashad is now mapping out the story line; she intends a screenplay for a pilot to follow. "I'm in the process of creating a world. A world that doesn't exist," Rashad says and smiles. "I think that's something that's needed."
Coat by RedValentino, top by Dior, jeans by J Brand, earrings by Alexis Bittar. Hair: Jeanie Syfu at Atelier Management using Tresemmé. Makeup: Holly Gowers at Atelier Management using Diorskin Nude. Retouch: Kassie Jackson.