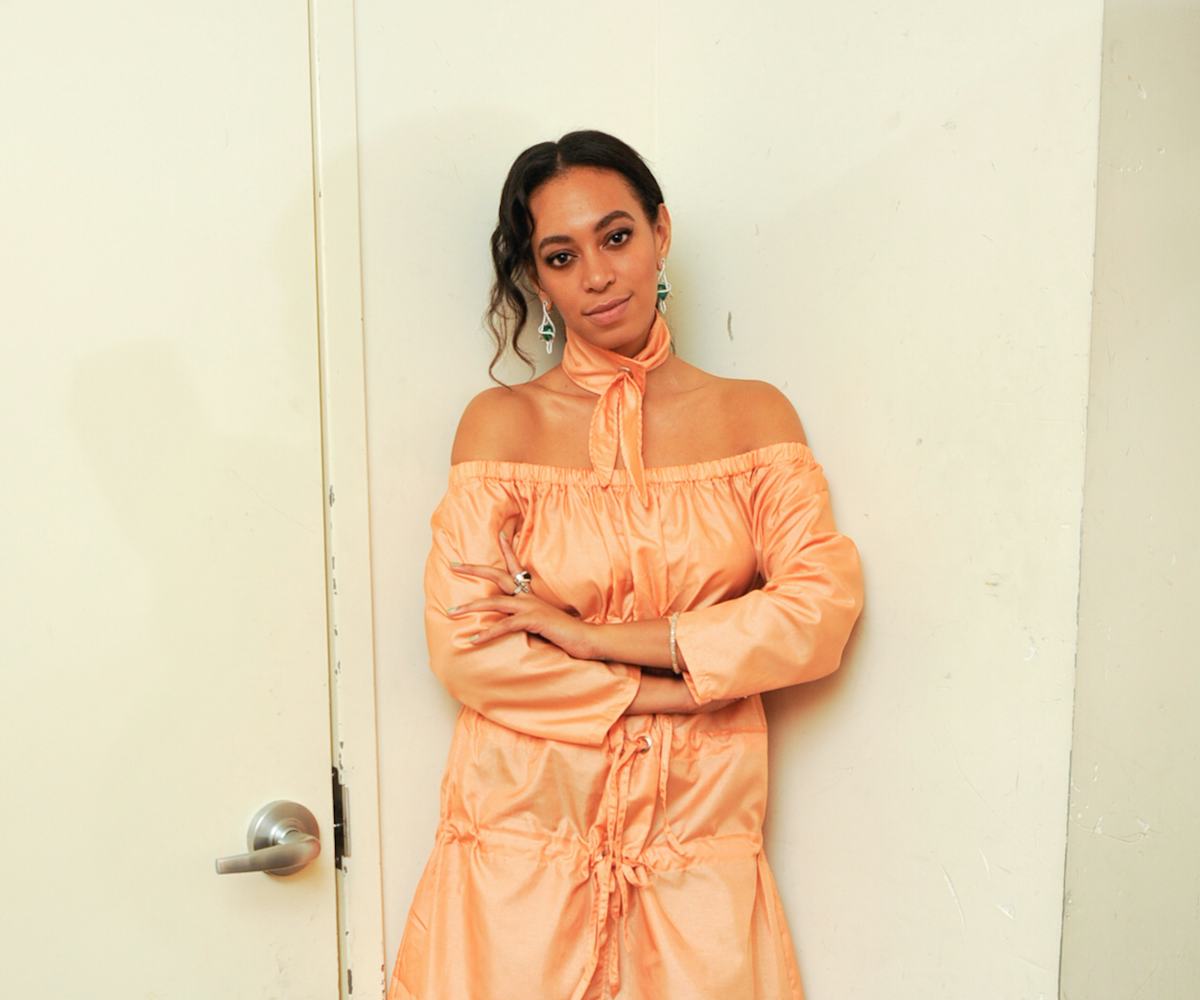 Photo courtesy of BFA
This Is What Happens When You Party With Solange
Last night, Solange Knowles co-hosted a benefit for the Contemporary Arts Center of New Orleans (CAC) with poet Cleo Wade and artist Adam Pendleton at Minton's in Harlem, New York. The historic jazz club—founded in 1938 and known as the birthplace of Bebop—was the perfect setting for a cocktail party to support the arts. Guests could participate in a silent online auction via Paddle8, and bid on selected works donated by CAC curators and artists Rashaad Newsome, James Hoff, and Pendleton until April 7.
Knowles glowed in a pink Phlemuns grommet shoulderless dress and necktie designed by James Flemons (and carried exclusively at the Saint Heron shop) as she took the mic to say a few words before introducing Leyla McCalla. "One thing that I love about New Orleans is the respect for music. It's not just a love or admiration, it's a true kinship and fellowship of music," she said. "And I ask that us New Yorkers show some Southern hospitality to this wonderful musician, and that we listen to her and we really enjoy ourselves and soak in the moment of music."
When it was Wade's turn to take the stage to introduce the crowd to CAC Director Neil Barclay, she spoke about the fond memories she had growing up as a New Orleans native and how she always looked forward to visiting the Contemporary Arts Center on field trips. For the past 40 years, the multidisciplinary art center has showcased a diverse body of visual and performing arts, as well as educational programs. (Pendleton's largest solo exhibition, Becoming Imperceptible, will be on view at CAC April 1 through June 16.) 
Between the shot glasses of Chef JJ Johnson's famous gumbo being served, and the live performances from authentic New Orleans musicians, it was easy to forget that you were in the Big Apple and not the Big Easy. McCalla sang in French, Haitian Creole, and English while alternating between cello and banjo, which had many people up on their feet and grooving on the dance floor. A few notable famous faces at the intimate invite-only event were Dev Hynes, Adam Bainbridge (a.k.a. Kindness), Phoebe Collings-James, and Jillian Hervey and Lucas Goodman of Lion Babe. 
The fact that everyone in attendance wanted to help preserve this museum's legacy deserved a toast in itself. Flip through the gallery below to check out some snapshots from the occasion.
Cool kids Dev Hynes, Phoebe Collings-James, and Adam Bainbridge catching up in the corner.
Cleo Wade channeling her inner green goddess.
Leyla McCalla taking a moment to tell everyone about the magic of New Orleans, and her 19-month-old daughter.
Solange Knowles, Neil Barclay, and Cleo Wade are all smiles in the company of friends. 
The crowd going wild on the dance floor.