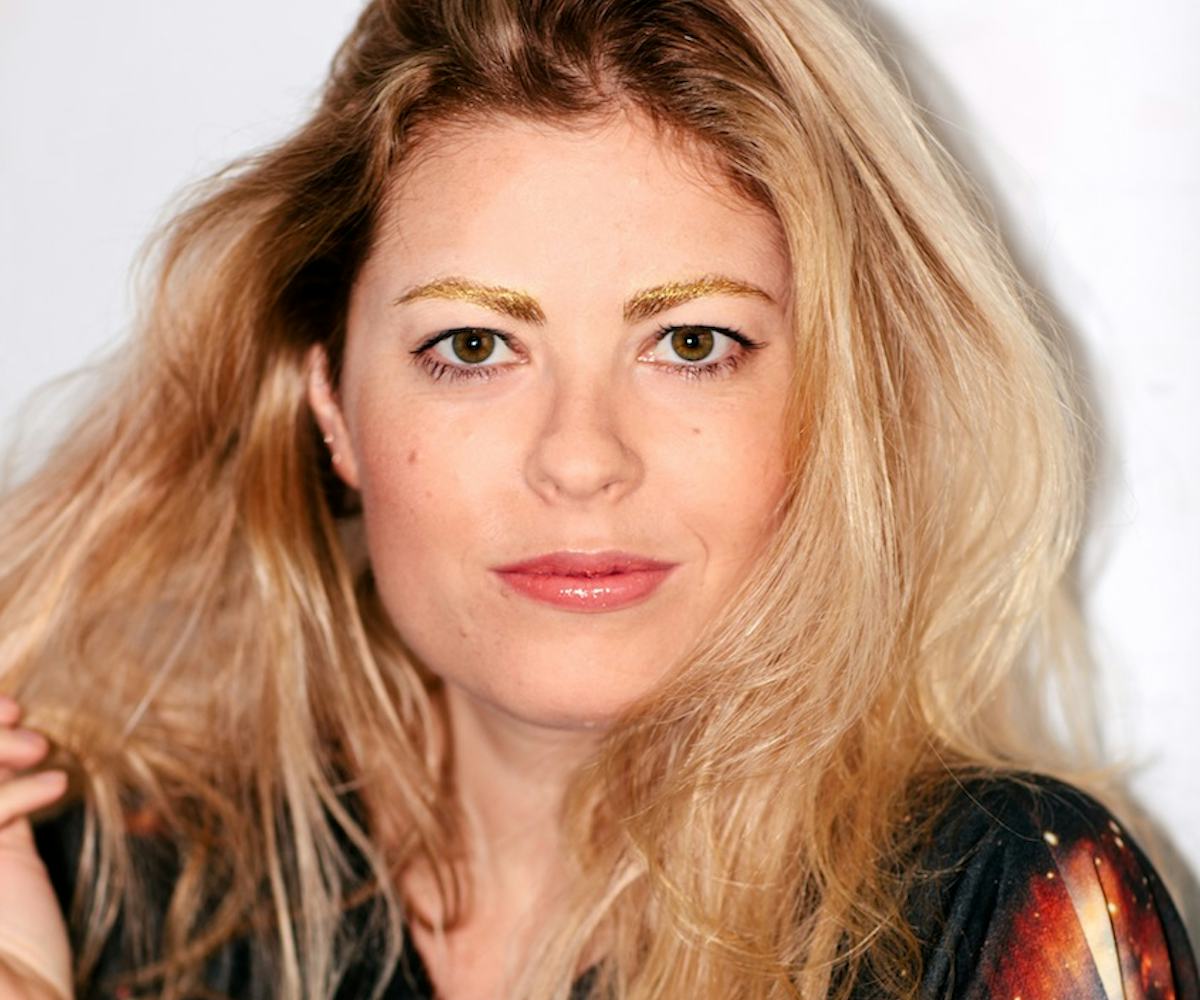 photo by atisha paulson, makeup by lauren o'jea
6 crazy new ways to do your brows
why stop at just filling them in?
We have a feeling that your brow game is—for lack of a better word—on fleek. But how often do you actually change it up? We've been plucking, shaping, brushing, and drawing in our brows since the beginning of time, but once we figured out how to get 'em to look awesome, we stopped experimenting. Yet, since brows are like the final frontier of beauty creativity, we decided to shake things up. New year, new brows, if you will.
With the help of makeup artist Lauren O'Jea, we tried out six mind-blowingly awesome new ways to do our brows, from gold to spiky to ombre and everything in between. Read the how-tos and see the gorgeous looks on our editors, ahead. 
photographed by atisha paulson, makeup by lauren o'jea, modeled by beca alexander, yasmeen gharnit, and marissa smith
Faux-Bleached
By now, we could all create bold brows in our sleep. But does it even count as bold anymore if everyone is doing it? In order to keep our brows edgy, we're going the opposite route: No brows. But, no don't worry: There's no bleach involved in this look.
Grab a concealer or foundation that's two or three shades lighter than your skin tone so that it looks a true bleached-brow rather than making your brows just blend into your face. Take a spoolie brush dipped in the foundation/concealer and pull it through your brow going in the opposite direction that the hair is growing in. This way, you can really saturate each hair with color. Once that's achieved, brush the hair back the right way to set your brow in place.
Kevyn Aucoin Beauty 'The Sensual Skin Enhancer' Makeup, $48.00
Since this brow is so understated, any boldness on the rest of your face will take attention away from it. So, keep the rest of your makeup as minimal as possible—concentrate on flawless skin with a pretty, natural cheek.
Spiked Up
Who says brows have to be soft? If you're looking for something a little edgier but still super-subtle, try spiking them up. "This is just about the easiest thing to do to make your brows stand out," Lauren says. Sign us up.
Make sure your brows are clean (no other makeup in 'em) before you start. Then, grab a clear brow gel and brush them straight up towards the sky.
Anastasia Beverly Hills Brow Gel, $22.00
If your brows don't want to stay spiked in place, try using a teeny tiny bit of hair gel or hairspray directly on your spoolie, and then brushing it through your brows once or twice, quickly. After that, they won't budge.
Ombré Brows
Okay, we know ombré hair is like so five minutes ago. But what about ombré brows? We were game to try it.
You'll need two different brow powders for this: one slightly darker than your darkest brow hair, and one a shade darker than that. Imagine that your brow is in three parts. Leave the inside third alone. On the outer two thirds, fill in the hairs with the lighter shade. Then, take the darker shade and fill in the outer third. You can even extend your brow out at an angle for a more vivid statement.
This is truly a fashion brow if ever there was one.
Golden Grrrl
Feeling a little bit futuristic? Instead of wearing metallic eyeliner, try a metallic brow.
The trick here is finding the right shade of metallic to wear. Our makeup artist suggests looking at your jewelry to figure out which direction to go in. If you wear a lot of gold jewelry, go with a gold brow, and same for silver. Then, find a cream eyeshadow in that hue and brush it through your brow hair.
Make Up For Ever Aqua Cream in 11 Gold, $23.00
This look is clearly for bad babes only—which is why we're so obsessed with it. Pair it with a galactic t-shirt during the day and a swingy black dress at night.
Bold Accents
If you want a super-strong brow without using twelve different products, this is an awesome, eye-catching trick.
If your brows are naturally sparse, fill them in with a brow pencil just to even them out. Then, take a brow powder that's the same color as the darkest hue in your hair. Using an angled brush, draw a line right on top of your brow. This will give it structure and definition.
Anastasia Beverly Hills Brow Powder Duo, $23.00
If you picked the right color, you shouldn't have to do any blending—just let the clean, structured line speak for itself.
Navy Brows
This is a super-daring look—perfect for anyone who has ever wanted to be described as a chic alien princess (which is all of us over here).
To pull this off, pick a bold color with an undertone that works with your skin. This blue works particularly well with Yasmeen's skin because of her peachy undertones. Once you have your color picked out, grab a soft eyeliner pencil in that shade, and fill in your brows. You'll want to do as crisp and flawless of a brow as possible—since the color is already so intense, having the shape be clean is what keeps this looking intentional.
Make Up For Ever Aqua Eyes in Iridescent Navy Blue 3L, $19.00
You'll have people doing double and trip-takes all day. And isn't that what a strong brow game is all about?