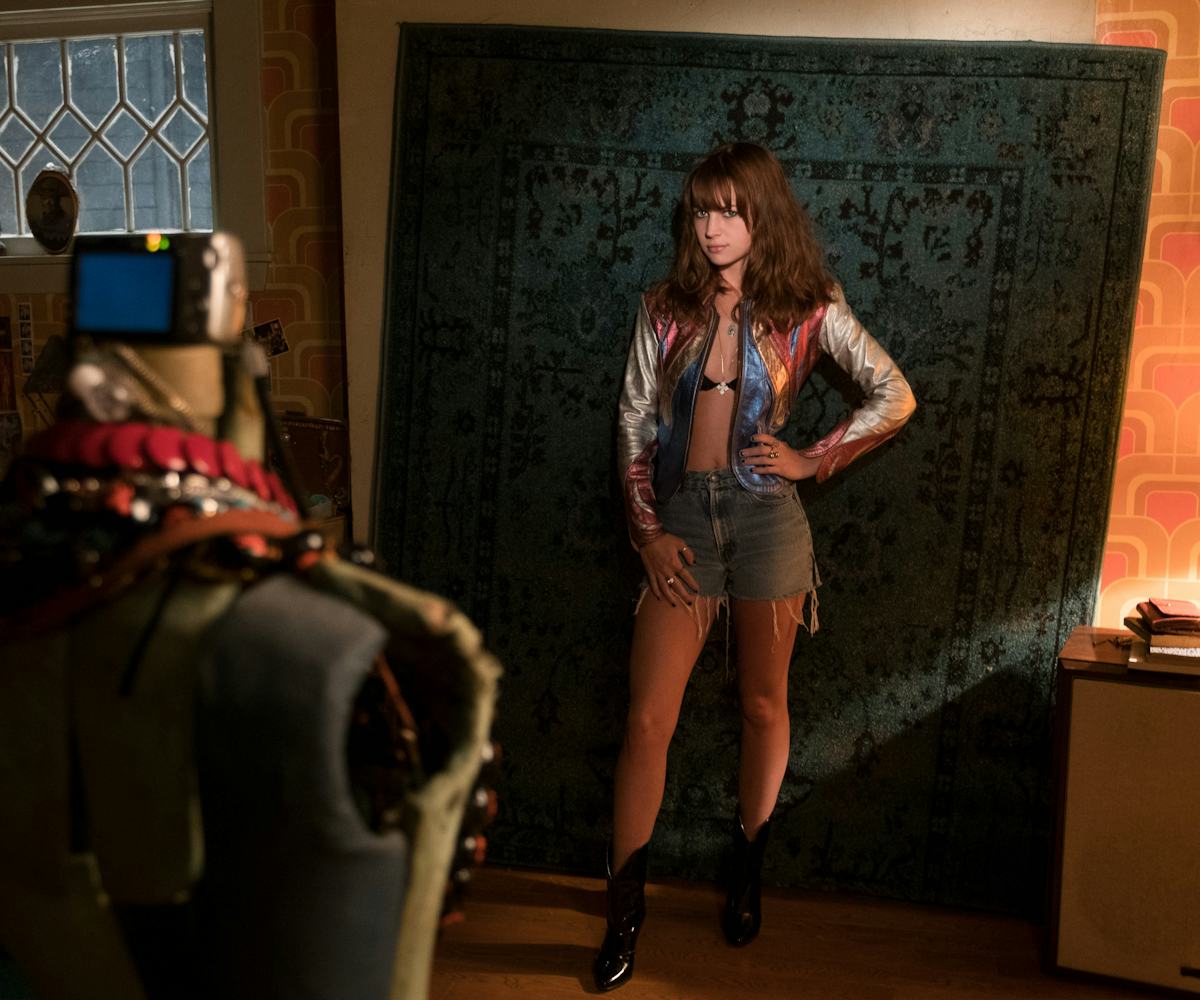 Photo by Karen Ballard / Netflix
Why Costume Designers Are The Coolest Storytellers In Hollywood
Talking to some of the best
Storytelling is a team sport. This holds especially in the worlds of television and film, where everyone from the lead actor to the music editor has a role in constructing different pieces of the narrative that work together to form one fully realized story. Costume designers are a large part of that puzzle.
From designing looks that reflect the nuances of a character to subtly introducing viewers to new people and places through their character's apparel selections, costume designers are the visual storytellers who ride alongside the vision of the writers and directors to help craft the perfect show. We spoke to three of television's hottest designers—Ayanna James from Insecure, Audrey Fisher from Girlboss, and Alix Friedberg from Big Little Lies—about their creative inspirations, the art of storytelling through costumes, and their individual career paths.  
How did you get your start in costume design? Ayanna James: I was a fifth-year chemistry major at Florida A&M and didn't really know what I wanted to do. I ended up starting a blog that really took off. From there, I moved to Los Angeles, started working as an assistant, and then began working on a few web series where I met Issa [Rae], before getting the job on Insecure. Alix Friedberg: As long as I can remember, I loved clothes, I went to the Fashion Institute Downtown L.A. and Otis Parsons for fine art. Shortly after school, I started as an assistant in the costume department and met some really wonderful designers that taught me a lot.Audrey Fisher: My career started in literature and theater, and I became obsessed with telling stories through costumes inside of large narratives arcs. In college in Los Angeles, I studied English literature and German, and interned at various DTLA theaters in the literary department, writing synopses of stacks and stacks of plays. But I needed to get to the heart of American theater at that time, so I moved to New York City, worked at the Wooster Group and the Women's Project, then dove into MA coursework in Performance Studies at NYU's Tisch School of the Arts. It was there I started designing costumes for avant-garde student shows. It was synchronicity: I was making crazy hats in an elective art class, and my German friend Ulla asked me to create the costumes for her production of Medea in an abandoned public school in the East Village. Creating a second skin for those actors in that story was exhilarating. That was my first show, and costume design became my passion since then. 
This job requires a lot of creative energy. What are some of your creative inspirations? Ayanna: Traveling is definitely a big inspiration for me. I'm Jamaican and have spent time in Toronto, NYC, L.A., Miami, and London, so I have all of those different influences. In terms of music, I like old-school reggae when I need to get into the zone. Right now, I really really love Virgil's Off-White, I like a lot of Nigerian designers. I love Liza Folawiyo and Andrea Iyamah. I'm inspired by a lot of the indie brands, and I'm really interested in the next generation of designers. I admire anyone who's going for it. Rejection is tough, and it's a very saturated market. It's very difficult to get your voice out, so I respect anyone who's making a wave.Audrey: Inspiration is all around: the street, the galleries, my library of art, photography, and costume books, music, TV, films. My challenge is finding the crucial time during my work schedule to recharge and rejuvenate my creative brain. Driving around L.A., shopping and shooting, I often stop to snap photos of real characters walking the streets. That growing album of "street looks" always delights. Artist Cindy Sherman's work is a deep well since discovering her in grad school. Her photographs synthesize what I strive to create: memorable, haunting characters, spun from recognizable stuff that's made magical in her mix. Anne Litt, Liza Richardson, and Garth Trinidad of KCRW keep me in my music; I need a soundtrack. And when I need a quick jolt of surreal brilliance to fire my creative juices, I leaf through Alexander McQueen: Savage Beauty.Alix: I find endless inspiration from photography and art books. For Big Little Lies specifically, I used a lot of reference from the Sartorialist series, Richard Avedon, and Peter Lindbergh. Big Little Lies was also inspired a great deal by music. Jean-Marc Vallee made each character their own playlists, which was so helpful with informing who the characters were and what they gravitate to aesthetically. 
Take us through your process of costume design? Do you shop with the characters in mind when you're not shooting? Ayanna: I don't shop first. I get the script first. It's all about the script. Audrey: The script is always my roadmap and gives me the direction I need, but I often need more backstory and detail to really get to what the writer envisioned, and that's my job, to discover that vision and present it. Through research, inspiration boards, and sketches, then conversations with writers, directors, and actors, I slowly uncover the secret style of each character. It's a treasure hunt.  Alix: I always start with a breakdown of the script, a map of where the character is heading emotionally and then comes the research. 
What's your approach on the show? Do you have any favorite characters to costume? Audrey: Sophia [Amoruso]'s candid snapshots from the mid-2000s truly formed the bedrock of my costume design for her fictionalized character in the show; her vocabulary of style is so clear, cool, and strong. Inspired by that intensely personal research, I was then able to create costumes for Britt Robertson, who portrayed Sophia.Ayanna: I love working with Molly and Issa, of course. I like designing for Y'lan [Noel] because he's a producer, but he doesn't dress the way you would necessarily think a typical producer in the music industry would dress. I also like dressing Frieda and Joanne and getting to add all the little different nuances to their characters. As far as Issa's character, she works in Leimert Park in the Crenshaw district [in Los Angeles], and I live not too far from there, so I know the area. I imagine that her character shops at some of the stores in the neighborhood. There's jewelry that she wears on the show that I actually got from Kenya, but it looks like the jewelry they sell in that neighborhood. The other thing we like to do is put Issa in a lot of vintage T-shirts that highlight a part of the culture. For example, we started shooting a week after Prince died and Issa wears a Prince shirt in the first episode, and in the episode that Debbie Allen directed she wore a T-shirt with an A Different World painting on the front.  
Are there any clients or directors you want to work with in the future, or any movies/films that you admire for the costume design? Audrey: I'm a fan of both Andersons: Paul Thomas and Wes. Vastly different styles, love both.Alix: Anything that Sandy Powell or Milena Canonero has ever done. Orlando made me want to be a costume designer.Ayanna: I would love to work with Chris Nolan, Martin Scorsese, Barry Jenkins, and Ava DuVernay. I really want someone to write a story about Jamaica in the '70s; there's so much I could do with that. I'm also a stylist when we're not shooting, and as far as styling clients, I would love to work with Usain Bolt. He's tall, slim, and looks great in a suit. As for female clients, I already have my dream client: Issa.
Do you have any advice for someone trying to break into the industry as a costume designer? Alix: Start as an assistant, work your way up. I learned so much from working under really talented designers.Audrey: My advice is simple: Say yes to exciting opportunities, especially when it feels like a big leap or challenge. And also identify the creative teams you admire, and try to work with them. Put yourself out there. Then bring your best game, always. Be impeccable with your word. Trust and support the talented costume department that helps you realize your designs. Have fun, and remember on the toughest of longest days that you get to design costumes for a living.