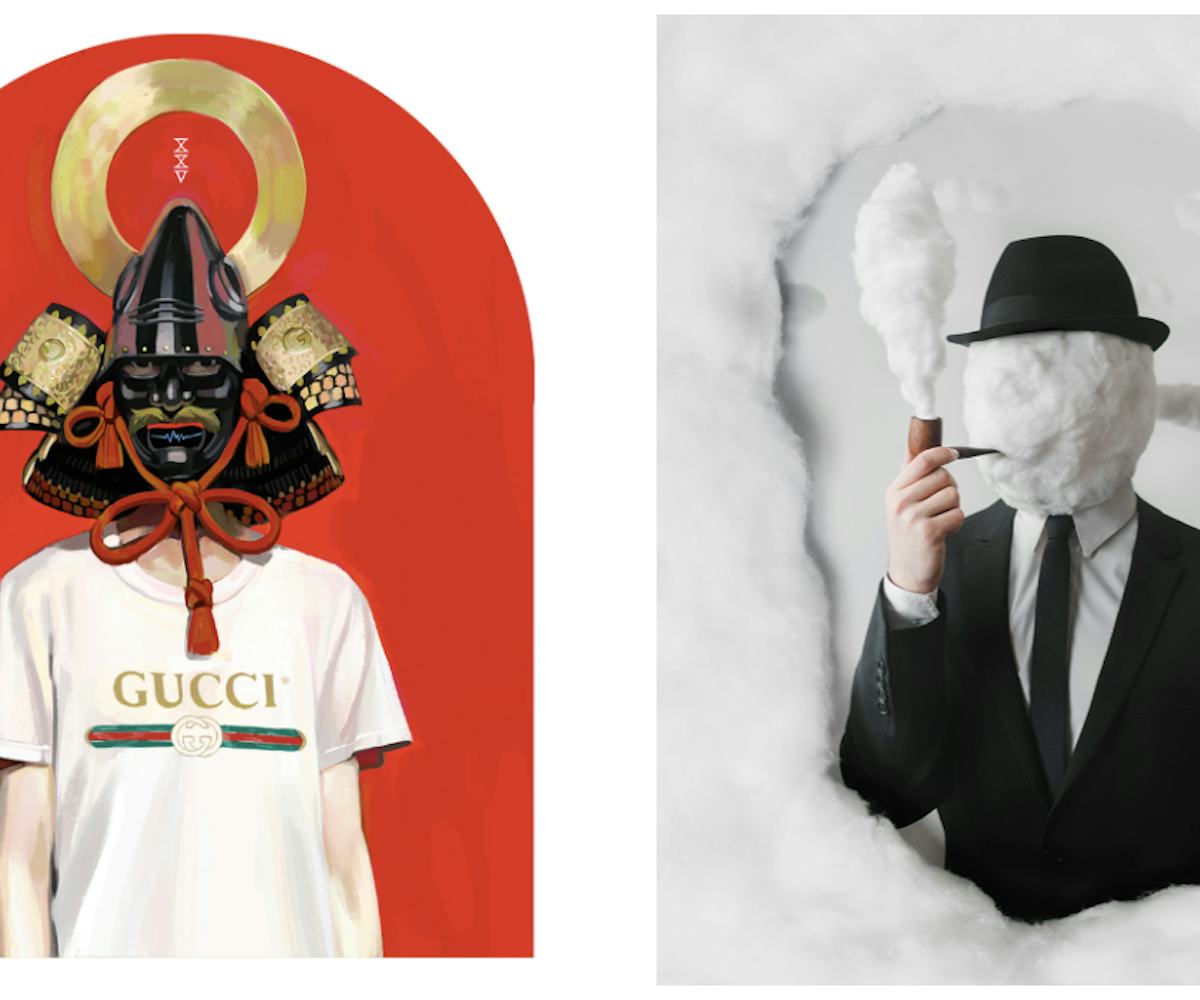 Photos courtesy of Gucci, Marcus Møller Bitsch
How To Dress For The "Post-Modern Surrealist" UNICEF Masquerade Ball This Year
Magritte, but make it Gucci
UNICEF Next Generation's annual Masquerade Ball is fast-approaching, but we've got you covered if you're looking for some last-minute costume inspiration. The theme of the year is "Post-Modern Surrealism," and while this sounds iconic, it's kind of difficult to figure out what to wear that fits within those guidelines. Thankfully, the ball's creative director, Matthew Herman, created an entire Pinterest board dedicated to outfit inspiration for the year's theme. Think René Magritte, but Gucci-fied.
The most important thing to remember? You don't have to stress about wearing a traditional mask to this masquerade, and, in fact, alternative ways to cover your face are encouraged. Bring out the irony of post-modernism and the irrationality of surrealism in your look, and you're gold. 
Below, we took a few of our favorite costume ideas from the Masquerade Ball's Pinterest that you can easily recreate. And if you're in Los Angeles on October 25, grab some tickets to the event here. It's for a good cause, so you have an excuse to go all-out for this.
Basically any Gucci campaignIf we learned anything from the Masquerade Ball's Pinterest board, it's that recreating any Gucci campaign is pretty much fail-safe. We're particularly fond of this look, which features a Darth Vader mask.
Recreate it with: Gucci, White Classic Logo T-Shirt, $480, available at SSENSE; Target, Star Wars Darth Vader Costume Mask, $4, available at Target.
Uniform by Marcus Møller BitschThis spin on René Magritte's "The Treachery of Images" brings even more irony to the piece, which itself was a mindfuck. Recreating this recreation would be on another level. Plus, this look is basically a pillow for your face (just make sure you leave holes so you can see and breathe).
Recreate it with: Wildfang, Empower Tux Blazer, $168, available at Wildfang; Jacobson Hat Company, Plastic Pipe, $11.67, available at Amazon; Swisspers, 140 Count Hypoallergenic Super Jumbo Cotton Balls, $2.58, available at Walmart.
Painted Plaster Mask by Rene MagritteIt's like Magritte foresaw this ball: This mask is a great piece of surrealist art to recreate, with a post-modern and ironic spin.
Recreate it with: Make Up For Ever, Flash Color Palette Multi-use Cream Color Palette, $99, available at Sephora.
This look from Rollercoaster MagazineMaking face paint (and some slicked forward hair) your mask for the evening will make everyone give you a double take.
Recreate it with: Free People, Waffle Knit Turtleneck Top, $40, available at Macy's; Loup, Maroon Simone Jeans, $168, available at Loup; Custom Body Art, Maroon Face Paint Painting Makeup, $5.96, available at Walmart.
Walken by Lynn SkordalThe meaning of "four eyes" gets literal here, and with a little DIY, you can turn some sunnies into this optical illusion. Plus, an ode to Christopher Walken is always the way to go.
Recreate it with: Madewell x Karen Walker, Banks Sunglasses, $200, Madewell; Joah Beauty, I'm So Fly Felt Tip Liquid Eyeliner, $7.99, available at Joah Beauty.
This look from the Anita Zmurko-Sieradzka runwayIf you're looking to bring a layer of horror to the theme, shield your face in fake hands.
Recreate it with: Keepsake, Dreamlike Dress, $205, available at Shopbop; RDEXP, Durable Wooden 8" Jointed Mannequin Model Right Hand, $11, available at Amazon.