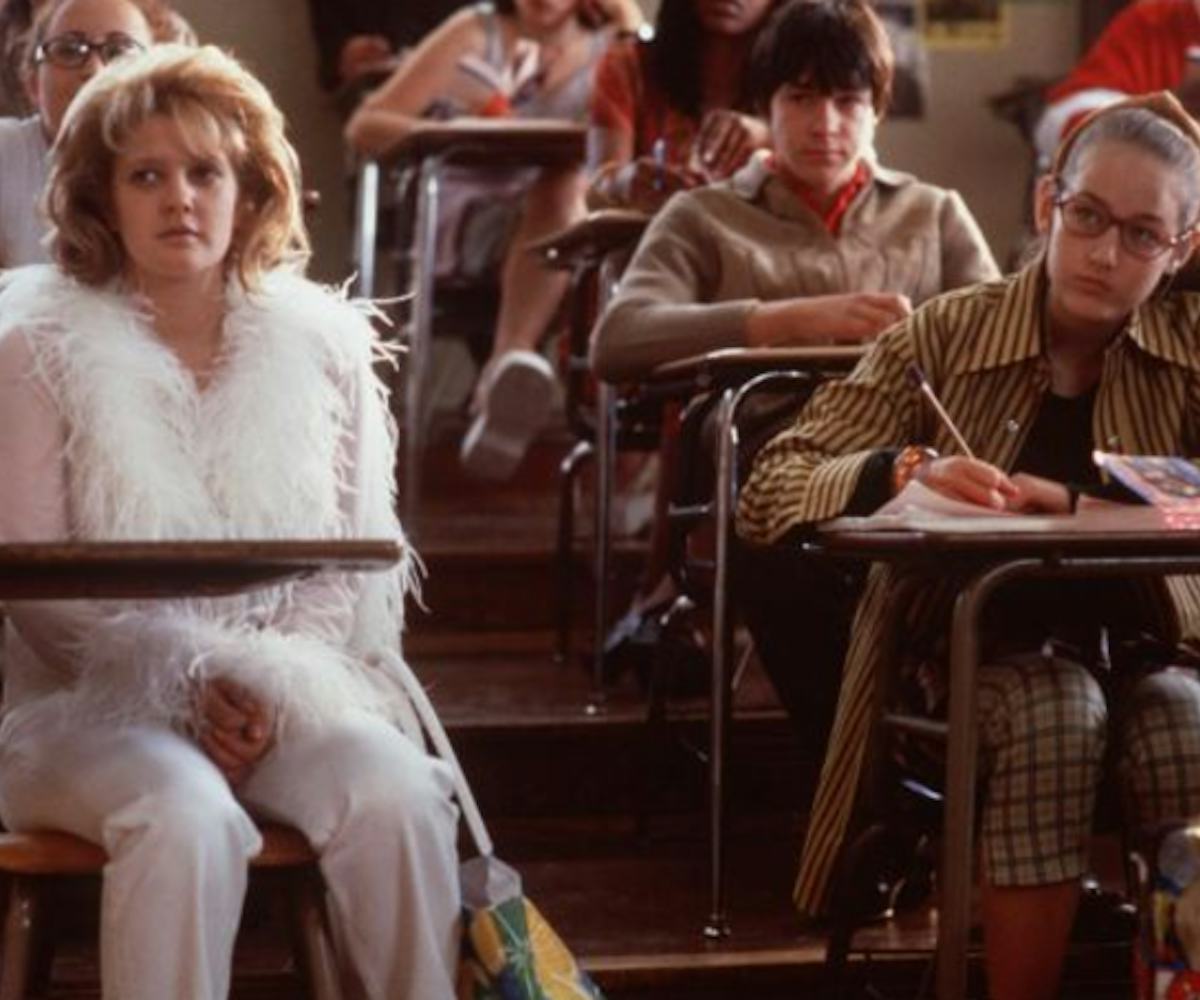 Costume Party: 'Never Been Kissed' Is Peak High School Fashion
Can we sit at your table?
Now that we're officially in fall, it's the season of back-to-school fashion. High school hallways have long been a site of cinematic costume fantasy—versions of the clothes we might've worn every day, with exaggerated elements as a means of conveying the social hierarchies.
Never Been Kissed, directed by Raja Gosnell (whose considerably less charming and stylish other credits include Beverly Hills Chihuahua and The Smurfs) puts a novel spin on the timeworn high school formula. In it, Drew Barrymore plays Josie Geller, a 25-year-old newspaper copy editor who, for her first big assignment, goes undercover as a high school student for an article on teen life.
This being 1999, such a job requires some garish attire. Josie shows up for her first day undercover in a sheer white blouse with marabou trim. Dressed in an all-white outfit paired with a pale lip gloss, Josie (once known in her own high school days as "Josie Gross-ie") has glamorous aspirations, but her social awkwardness gives her away—and, of course, she ends up spilling something on her pants.
Going back to high school is an uneasy transition for Josie. As we see early on, in her adult life, she favors business casual attire and oversized granny sweaters that blend in with her cozy home furnishings.
Meanwhile, the fashionable high school girls she meets upon her return wear borderline-sickly pastel outfits with crop tops that would surely be a dress code violation in the real world. Josie gradually attempts to adapt, wearing a little black Versace-inspired dress with a bondage-style neckline and a sensible baby doll cardigan on top for good measure.
The cardigan is what makes the outfit here, with its suggestion of timidity reflecting Josie's actual feelings. We also see her wear this cardigan with another outfit, one that feels more in tune with who she really is, adding a touch of verisimilitude.
The good girl-bad girl motifs of high school film fashion are cliché, but Never Been Kissed has an advantage given its costume designer, Mona May, who also outfitted Clueless and Romy and Michelle's High School Reunion. With these credits, May clearly knows her marabous and bright colors. She's fully aware that sartorial exaggeration serves a purpose.
In a flashback of high school Josie about to go to prom, the sad truth of her "date" standing her up is made even worse because of the absurdly poufy and shiny pink dress Josie is wearing. She's trying so hard but ends up looking like she's wrapped in tinfoil. The dress doesn't just induce winking nostalgia, but also empathy for our protagonist. We want to tell her that things will get better—she'll meet nicer guys and wear more flattering dresses. And she will!
In an obvious plot development, adult Josie does finally get kissed, and her outfit, though simple on the surface, encapsulates her transformation into a more self-assured young woman.
No longer wearing marabou or a baggy sweater, she now wears a sweet, flattering, dusty pink dress with a low, ruffled neckline. The color and ruffle are vaguely reminiscent of her prom dress, but this look is more subtle and comfortable. Like many high school movie characters before her, Josie has tried dressing to fit with the crowd. But it's when she rebels against that, and finally wears something sweet and unfussy in a color that she likes, that she gets her long-awaited happy ending—including that kiss.