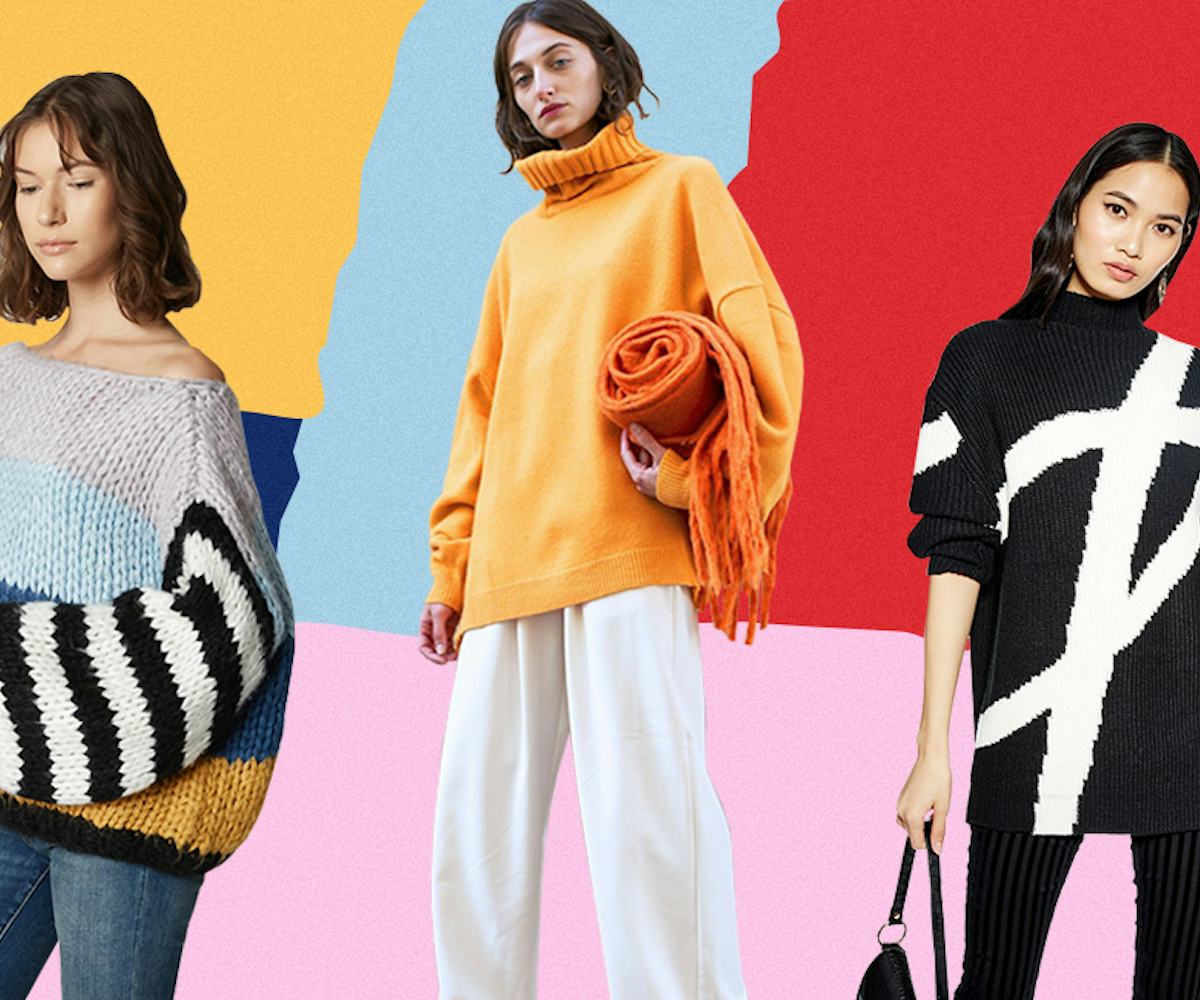 16 Sweaters To Help You Achieve Peak Coziness This Fall
For the days you don't feel like leaving the house but have to
When September first rolled around, we were pretty amped to step out in our Fall 2018 finest, be it flowy maxi dresses paired with killer cowboy boots, or an in-your-face leopard print pantsuit. But now that it's November, and the excitement surrounding fall has worn off? We're pretty much content leaving our house wrapped in a giant blanket.
Let's face it, it's pretty much a fact that as the temperatures drop and days become shorter, darker, and generally gloomier, leaving our house—let alone throwing on a cute outfit—becomes especially tough.
With that said, there's nothing more comforting than slipping into a cozy sweater on a bleak and dismal day (and one that's actually cute)—that's why we rounded up 16 of fall's best offerings to swaddle your upper halves in all season long. From chunky cable knits to the softest of cashmeres, you'll not only want to wear these while hibernating, Netflixing, and ordering Seamless from bed on a Saturday afternoon, but they'll also become your go-tos whenever you have to head (ahem, drag your feet) to literally anywhere that's not your couch.
Check out our picks, below.
BlankNYC, Sweater in Mixed Signals, $98, available at BlankNYC.
Frankieshop, Oversized Orange Turtleneck Sweater, $95, available at Frankieshop.
Pretty Little Thing, Pink Oversized Colorblocked Jumper, $30, available at Pretty Little Thing.
Topshop, Graphic Monochrome Jumper, $80, available at Topshop.
Tibi, Cozette Alpaca Cropped Pullover, $350, available at Tibi.
Loéil, Roulette Knit, $148, available at Loéil.
Paloma Wool, Dark Mauve Vega Sweater, $120, available at Bona Drag.
ASOS Design x LaQuan Smith, Off Shoulder Cropped Sweater in Faux Fur, $87, available at ASOS.
Stelen, Stacey Oversized Fuzzy Sweater, $88, available at Need Supply Co.
Stine Goya, Candice Feather-Embellished Knitted Sweater, $390, available at Net-A-Porter.
T by Alexander Wang, Double Layered Long Sleeve Turtleneck With Twist Detail, $395, available at Shopbop.
Pixie Market, Green Long Cardigan, $99, available at Pixie Market.
Line And Dot, Fuzzy Alder Sweater, $88, available at Line And Dot.
Toga Pulla, Mohair Jacquard Pullover, $575, available at Opening Ceremony.
Zara, Double Breasted Jacket, $69.90, available at Zara.
Reformation, Cashmere Boyfriend Sweater, $148, available at Reformation.
NYLON uses affiliate links and may earn a commission if you purchase something through those links, but every product chosen is selected independently.