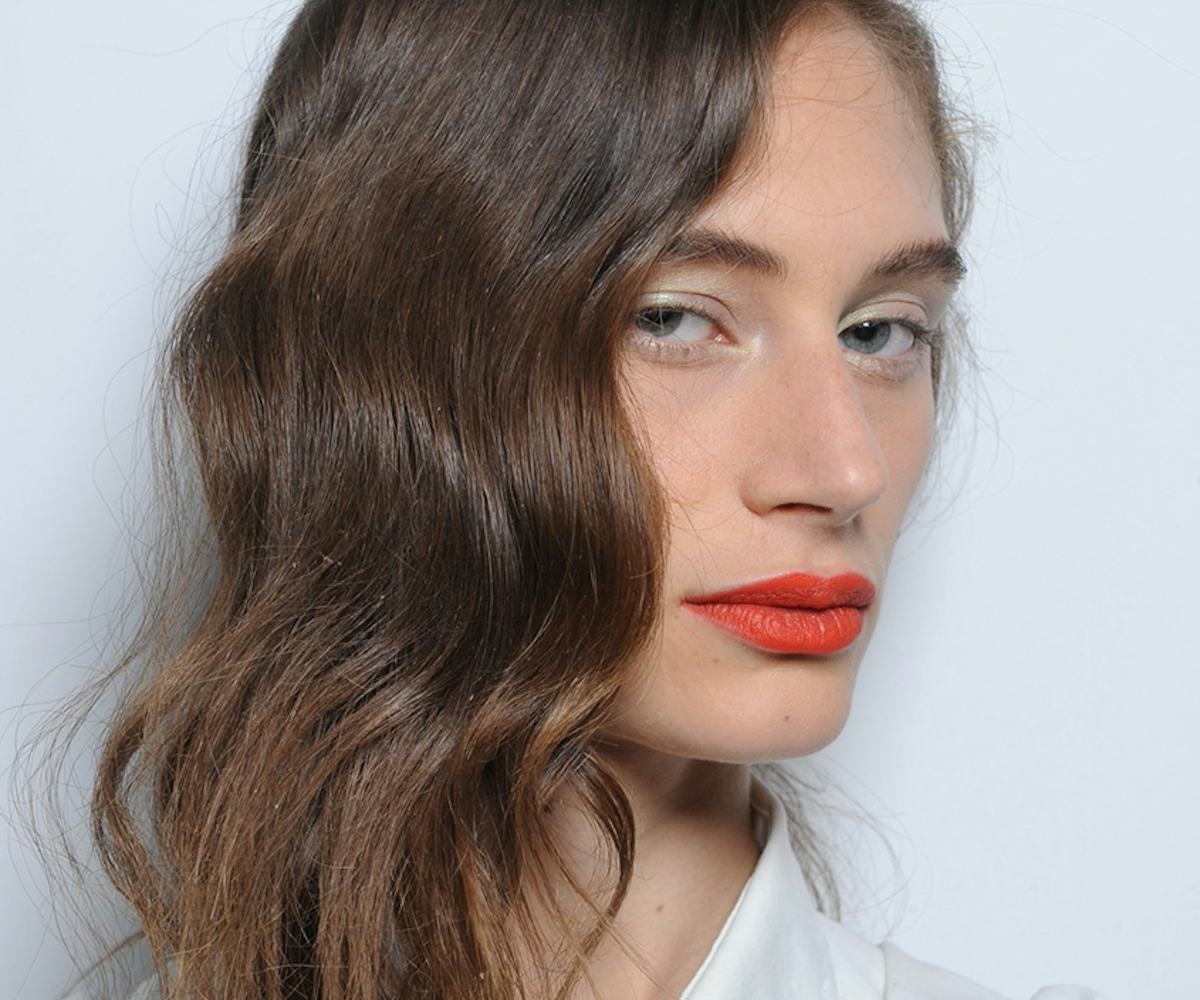 the face: creatures of the wind
get minty fresh with nars and kerastase.
When your collection features intricate embroidery, quirky patterns, shiny metallics, and a Western feel, where do you pull inspiration for the hair and makeup? Creatures of the Wind co-designers Shane Gabier and Christopher Peters decided their eccentric creations called for equally quirky references: makeup was inspired by Eugene von Breunchenhein's stylized photos of his wife and hair somehow found common ground between screen siren Veronica Lake and a child at the beach.
Kerastase stylist and legend Odile Gilbert, who's been working with Gabier and Peters since the line first showed in 2011, needs very little direction, so it was no surprise that her screen-siren-meets-water-baby 'do fit seamlessly with the clothing. "It has a beachy feeling but is sophisticated and feminine," says Gilbert. The former was expressed in a low side part and face grazing pieces, while the latter was realized in a roughed-up texture and piecey waves. After a brief discussion between Gilbert and the designers, the hair stylist tweaked the initial style by pumping up the volume in the back and gathering it into a low pony sans elastic. 
Nars makeup artist James Boehmer took the obscure artist reference and translated it into green-tinged opalescent lids and shiny orange lips. "I didn't want it to match the clothing, so nothing reads metallic," says Boehmer. "It's about the brightness of the eye and shine of the lip." A first pass at the eyes was deemed slightly too defined, but then Boehmer nailed it with a sheer wash of Nars' Iceland Eyeshadow Duo that encircled upper and lower lids. "It's pretty, but not too pretty. It has a weird element, spooky almost," explained stylist Emma Wyman.
Key Makeup:
Nars Radiant Cream Compact Foundation Stick Concealer -- $38
Nars Duo Eyeshadow in "Iceland"  -- $34
Nars Semi Matte Lipstick in "Heat Wave"-- $26
Nars Lip Gloss in "Triple X" -- $25
Makeup How-To:
Apply the green-ish side of the "Iceland" Duo to the lid and along the lower lashline, then use a fluffy brush to buff it in until it's completely diffused. Line and fill in lips with "Red Square" Velvet Matte Lip Pencil, then layer "Heat Wave" Lipstick over it, and top with "Triple X" Lip Gloss for a super shiny finish. 
Key Hair Products:
Kerastase Mousse Bouffante -- $36
Kerastase Powder Bluff Dry Shampoo -- $36
Kerastase Lacque Couture Hairspray -- $35
Hair How-To:
Apply Mousse Bouffante to damp hair, then rough dry with hands. Use a one inch curling iron on random top section, twisting pieces with your fingers to break up the curl. To get the beach texture, spray from roots to ends with loads of Powder Bluff dry shampoo, then set it with hairspray. Create a far side part on the left side, pull a section of hair on the right side over your shoulder, then take a piece of hair from behind the right ear and wrap it around the loose hair in the back, and pin it to create a loose ponytail.