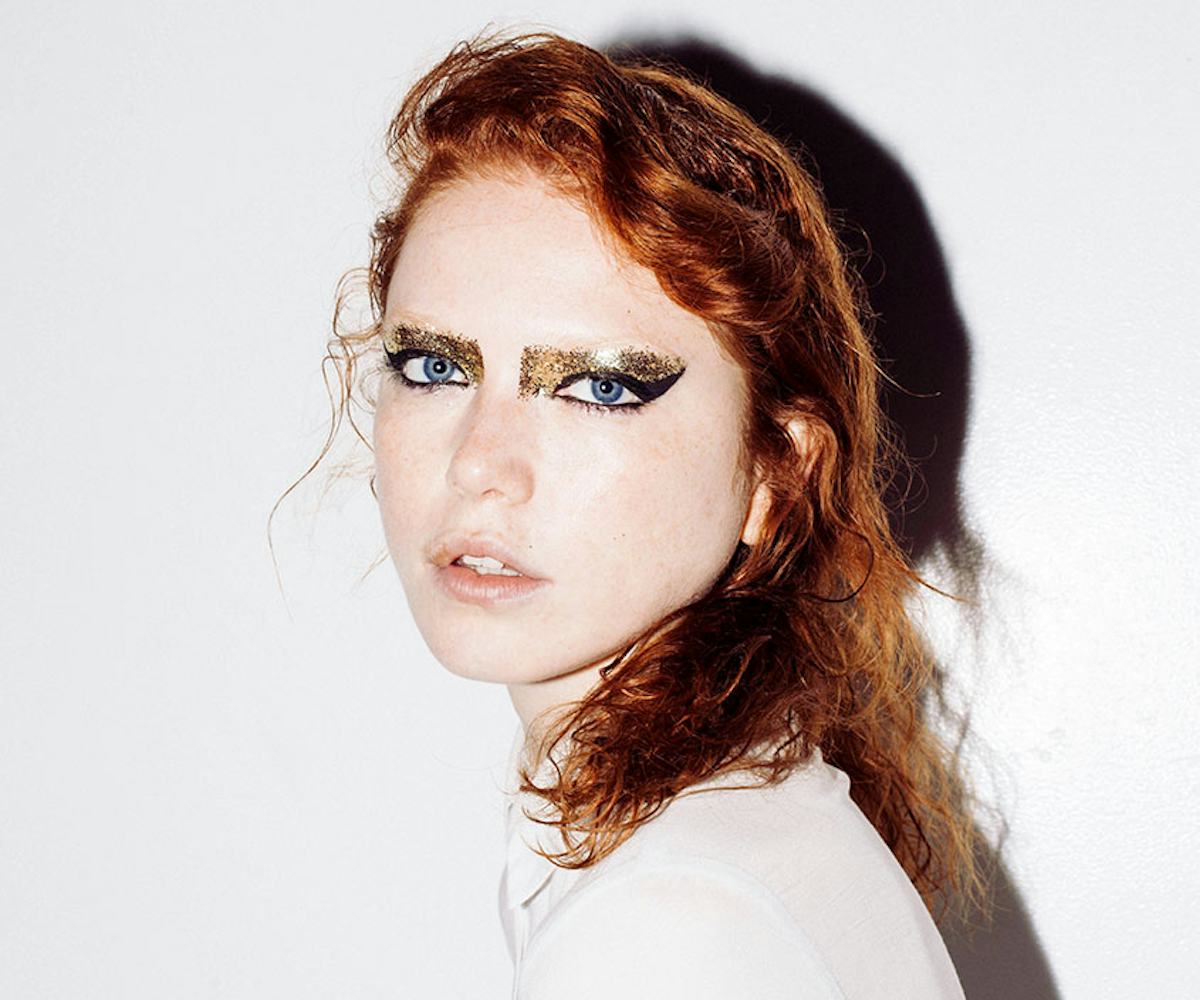 Photographed by Natalia Mantini
creatures of the wind delivers hippie-meets-punk romance
We'll always feel nostalgic about the '90s. Pretty dresses paired with recklessly cool hair will never fail to capture our hearts, and as every Dr. Martens-loving girl knows, a thick coat of eyeliner can do a lot to toughen up your look in the prettiest way, ever. So for Creatures of the Wind's spring/summer 2016 show, NARS makeup artist Aaron de Mey and Bumble and bumble hair stylist Anthony Turner teamed up to create beauty looks that any riot grrrl would love.
Makeup inspired by Siouxsie Sioux relied on extreme cat eyes and the occasional swipe of shine. "I like the luxury of the gold glitter mixed against the black eyeliner," says de May. NARS Black Valley Eye Paint created a sharp, bold wing on the eyelid while Black Moon Eyeliner Pencil was used on the lower lash line for a softer, more blurred look. "I almost want it to look like they've done it themselves," de May says. "I don't want it to look precious."
While the makeup looks packed in the drama, Turner opted for a more relaxed hairstyle, working with disheveled textures and a lived-in vibe inspired by Camden girls. Bumble and bumble Thickening Hairspray gives major volume while Surf Infusion creates a messy, almost oily feel. "You get that surf-y texture, but with a sheen," says Turner. After bangs are shaped in the front, hair is divided into two sections and knotted, before being secured by bobby pins.
Paired with prim patterns and feminine dresses, Creatures of the Wind's pretty, punk beauty inspiration makes for some some angsty-cool looks. And we're reaching for our eyeliner already.
Keeping brows, skin, and lips simple helps this bold-eye look take the main stage.
Varying levels of smudging keeps eyeliner from looking too uniform.
The occasional red lip adds a pop of color.
Concealer and moisturizer keeps skin clear and youthful.
Hair inspo straight out of a punk concert.
Stay gold.
Geometric glitter evokes Siouxsie Sioux at her best.
Major Joan Jett vibes.
Girl gang looks.
A bobby pin helps bangs to stay in their romantic swoop shape.
NARS Nihiwatu Velvet Lip Liner helps create the perfect bright-red pout.
Metallic eyelids are framed by a thick coat of eyeliner.
A simple top and an exaggerated-makeup look pair like a dream.
The secret to the perfect yellow mani: One coat of Butter London Cotton Buds and two coats of Cheeky Chops.
Use a brush to paint on eyeliner with precision.
A little glitter never hurt anyone.
Flashback Friday with these retro vibes.
Runway makeup you can actually DIY.
#squadgoals
A little gold glitter goes a long way.
Let your wings soar.
Fringe envy.
Just add lip balm.
Finish off a perfectly imperfect hairstyle with a spritz of Bumble and bumble Classic Hairspray.
Go goth with two coats of Butter London's Union Jack Black nail varnish.
Skip mascara to emphasize a dramatic eyeliner look.
Frame your face and soften the look with intentional fly-aways.
Swooped bangs give a girly touch.
Dare to be disheveled.
Go big or go home.
All eyes on you.
Bobby pins are a girl's best friend.
Concealer keeps things fresh.
A deep side-part and a little sculpting turns into faux side bangs.
Just swoop it out.
Sharp liner never gets old.
Casual cool.
Looking pointedly.
Shine bright like a diamond.
Keeping things simple.
Messy hair, don't care.
Earn your wings.
Rock it out.