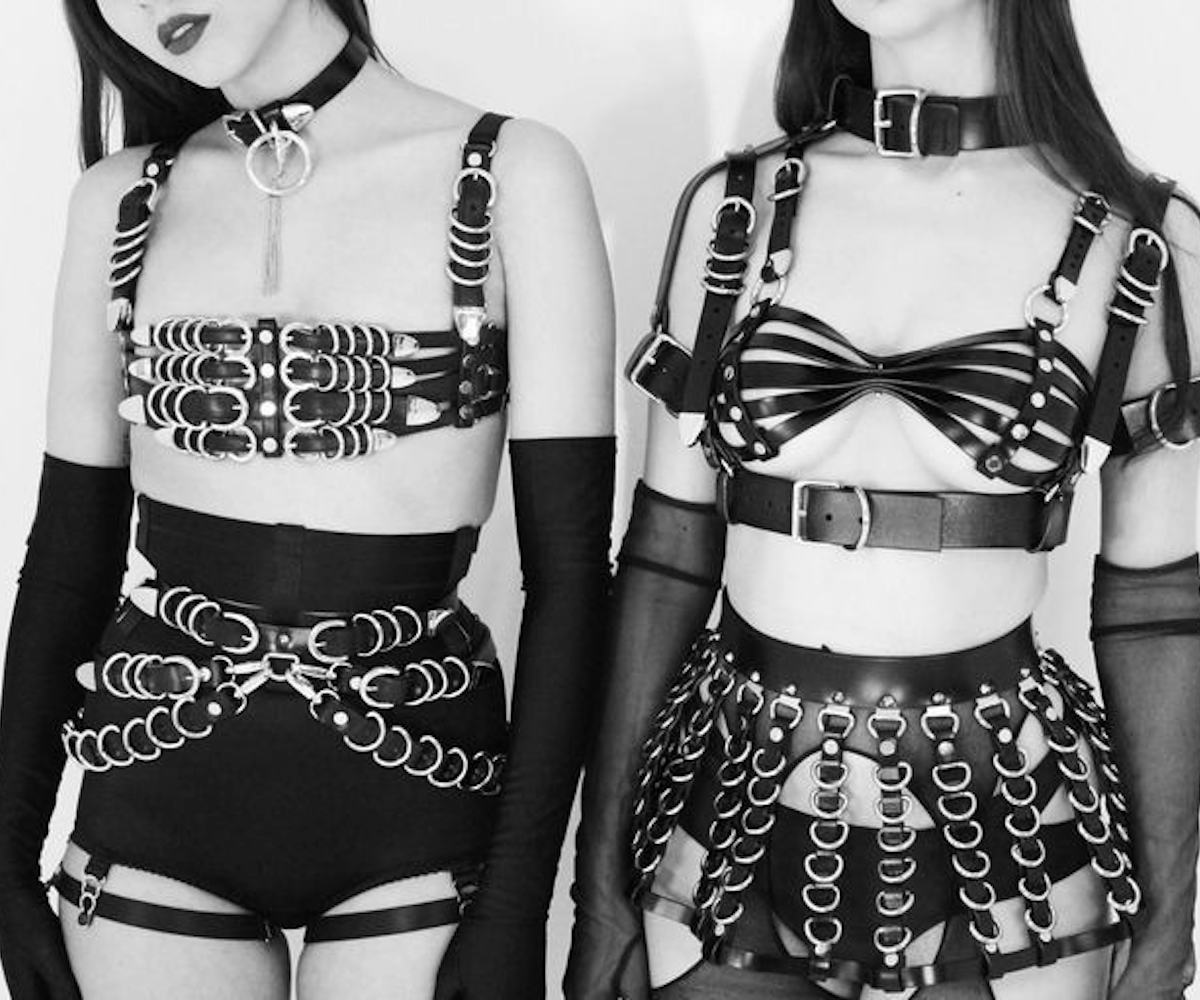 photo courtesy of Yeha Leung
Meet The Lingerie Brand That Merges Fashion With Fetishism
Creepyyeha is all about female empowerment
At first glance, Creepyyeha's Instagram account might give you the impression that its content is strictly fetishistic—after all, the brand's page is full of female bodies decorated and caged by unconventional materials like leather, vinyl, chains, and metal. However, Creepyyeha isn't as outré as it seems, because, underneath its racy exterior, is a brand aiming to empower women by collapsing traditional ideas about femininity, sexuality, and fashion.
Creepyyeha is the brainchild of Brooklyn native Yeha Leung, who designs and creates custom alternative lingerie and accessories by hand. Creepyyeha's style can be described as BDSM-influenced, though Leung says her products aren't exclusive to this adult scene and are intended for every kind of woman. As such, Leung's work has made its way into the mainstream, with celebrities like Rihanna, Nicki Minaj, FKA twigs, and Violet Chachki all wearing her pieces. "Twigs was actually the first one that I worked with ever, and it was really exciting to me because I was just starting out, and she believed in my work," Leung says.
Leung has always been imaginative and from a young age recognized that she had a passion for creating things. Leung's artistic influences stem from a mix of shock aesthetics, including horror films (namely Asian) and Jean Paul Gaultier's collection from Madonna's Blonde Ambition tour, which was once considered controversial.
A few years ago, Leung was sourcing materials in Manhattan's Garment District when she discovered a leather store, and while she had no prior experience working with the material, she decided to buy some and experiment with it. This moment sparked Leung's love for leather and the overall concept for Creepyyeha. Leung says, "I just figured it out on my own. I made chokers and harnesses here and there, and then I just decided that I wanted to create a full look."
Leung shared photos of her creations on her blog and became overwhelmed by the positive feedback, including requests to purchase her pieces. From there, Creepyyeha manifested into something bigger than Leung anticipated.
"I think [Creepyyeha] resonates with people that are seeking something real. The tides are turning for independent labels," she says. "Even though there will always be a place for commercial brands, I believe people are seeking originality more than ever."
Designers rarely model their own work themselves, but scrolling through Creepyyeha's Instagram reveals that Leung does so with the majority of the items she creates. "Everything that I make, it's because I wanted to wear it. It's never because of someone else. I make it, I wear it, because I feel comfortable and I feel the best in it," she says. As a result, Leung expresses an appreciation for her craftsmanship and adorns herself with the materials that transcend the fetish world to become avant-garde works of art. "The power is beyond the product, just the fact that I am able to create and play freely with so many different materials empowers me," she says.
In the images, Leung expresses an undeniable confidence in her body, sexuality, and herself. Her eyes fiercely stare at the camera, conveying a dominance that subverts the gaze of the voyeur.
Leung describes herself as shy, and when she speaks, her voice matches this humble demeanor through its soft and sweet tone. Contrasting her personality with the images on Instagram is like witnessing night and day, but this balance of seemingly opposing qualities is exactly what Creepyyeha is all about. Leung's pieces blur the boundaries that restrict women's sexual power, as her fashion disturbs traditional expressions of "femininity." This gives women the ability to manifest a type of agency that comes from within, as opposed to one that is granted from the outside. "A lot of people think it's just for bedroom wear. I see on my comments, they're like, 'I wish I had a boyfriend to wear this for,' and I'm just like, 'You really don't need someone to wear it for, if you like it, you should just wear it,'" she says. "At the end of the day, you're just decorating your outer shell."
As a brand that is entirely motivated by female power, many of Leung's designs are created in tribute to some of the women she has worked with. "For every project/photo shoot that I do, I try to create a new look for that person alone, because every model is my muse… I name all of my pieces for girls that wear it first or I'm inspired by," Leung says.
A recent example of this is Creepyyeha's latest chandelier collection, which consists of pieces crafted with crystals. The idea came about when Leung was preparing to do a shoot with her friend Katerina. Leung looked at photos Katerina previously did with a chandelier in the shot and immediately felt a spark. "I was like okay, she looks amazing next to this chandelier, I have to create a look around that," she says. "I found the muse, I found an inspiration behind it, and that's how I created the crystal set, that's why it was named after her."
Creepyyeha is a brand that genuinely centers on women, is inspired by women, and celebrates every kind of woman, especially those who are marginalized. Leung says, "I always try to showcase a lot of women of color, and a lot of Asian women especially." While she gains immense influence from the diverse women she collaborates with, the female presence ultimately responsible for stimulating Leung's ambition and drive is her mother.
Leung grew up poor, and as a child, she often accompanied her grandmother to collect cans in the street for cash. Leung's family struggled, but eventually, her mother started a business and pulled her family out of hardship. Leung admires her mother's strength and feels motivated to expand Creepyyeha in honor of her. "I look up to her so much, and it makes me want to give back to her, by being successful myself," she says.