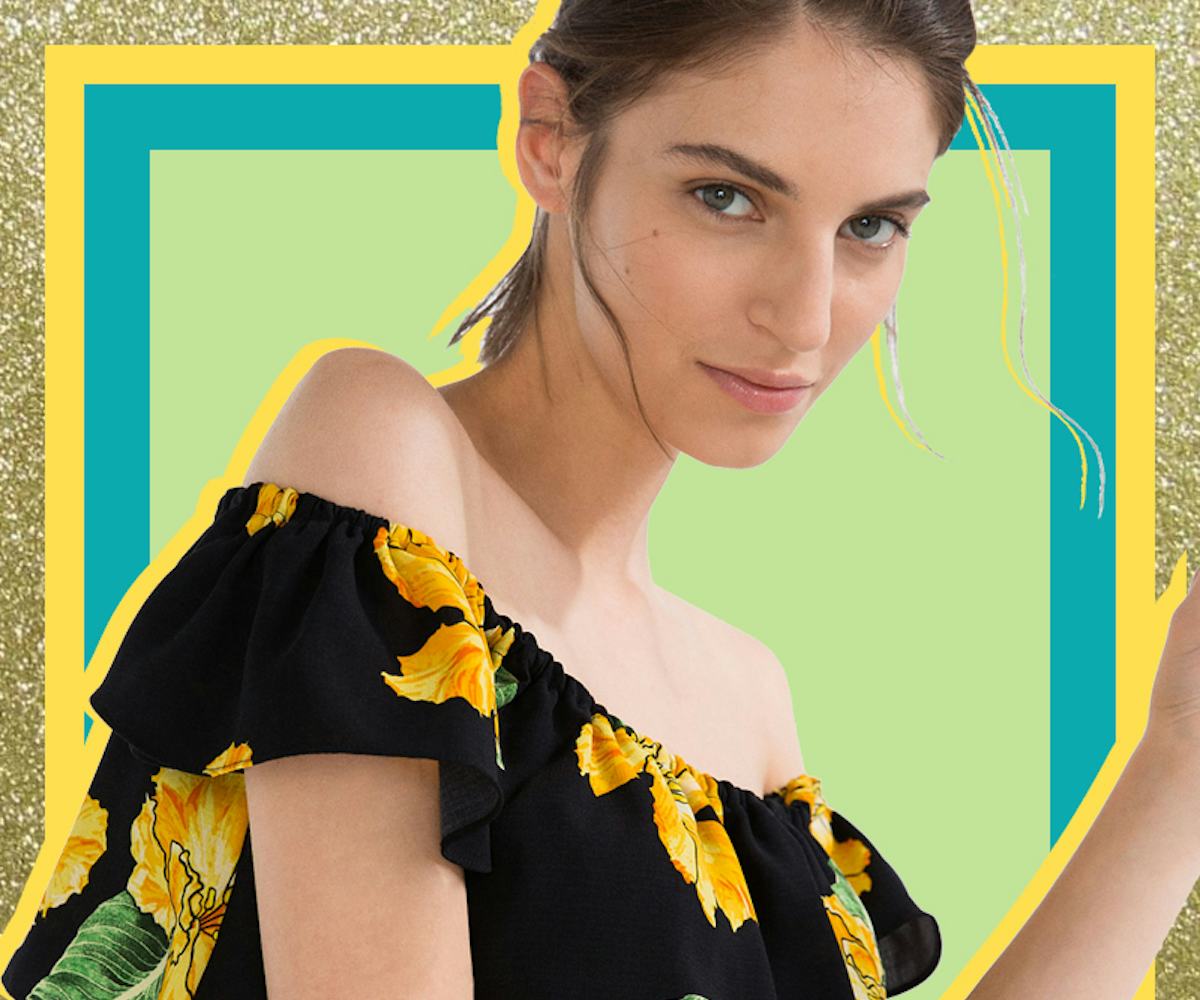 The 25 Cutest Crop Tops Of The Season
From bustiers to peplum styles, bare a little midriff this spring
While they have pretty much become a wardrobe essential at this point, the words "crop top," can still instill fear in us sometimes. But the fact is, crop tops can be super flattering—for all body types, at that. Whether you're looking to try a boxy, slouchy silhouette or an ultra-sexy bustier, it's all about balance and proportion. If you're wearing a loose top, pair it with a fitted pencil skirt or high-waisted skinny trousers. If your crop top is fitted, a fuller skirt would look best.
It's also important to find cuts that work for you—on both top and bottom. If high-waisted silhouettes on the bottom are flattering to your body type, almost any crop top will work. Petite body types can pair a cropped top with a mid-length skirt to give the illusion of elongated legs while those with bigger busts can opt to wear high-neck styles. But, just how everyone's body is different, different silhouettes will work for different people. It's all about feeling comfortable.
From fitted bralettes to loose and sheer numbers, we rounded up 25 of the season's cutest crop tops, and we promise, there's something in there for everybody. Click through the gallery below to take a closer look at our picks.
Forever 21, Tropical Floral Cropped Cami, $15.90, available at Forever 21.  
Koshka, Ruffle Sleeve Grid Top, $55, available at Koshka.
Blackblessed, Minimal Mesh Crop Top, $63.75, available at NYLONshop.
Samantha Pleet, Spirit Blouse, $129, available at Samantha Pleet.
Tibi, Floral Particle Cropped Top, $250, available at Tibi.
Objects Without Meaning For UO, Palm Print Cropped Top, $88, available at Urban Outfitters.
Lazy Oaf, Pineapple Crop Frill Shirt, $72, available at American Two Shot.   
Carven, Cropped Wrap-Effect Crepe Top, $340, available at Net-A-Porter.
Alice McCall, Smoeone Like Me Crop Top, $152, available at Bona Drag.
Front Row Shop, Blue V-Neck Bow Tie Crop Top, $29, available at Front Row Shop.
Keepsake, Take Me Over Top, $160, available at Fashion Bunker.
Elizabeth & James, Peplum Cropped Top, $275, available at Farfetch.
Asilio, A Face In The Crowd Crop Top, $148, available at Nasty Gal.
Motel Rocks, Lara High Neck Crop Top, $45, available at Motel Rocks.
Reformation, Blanka Top, $58, available at Reformation.
Pixie Market, Blue And Red Ruffled Off The Shoulder Crop Top, $56, available at Pixie Market.
& Other Stories, Satin Crop Topm $55, available at & Other Stories.   
Topshop, TALL Twist Front Crop Tee, $30, available at Topshop.
Zara, Printed Crop Top, $39.90, available at Zara.
ASOS, PETITE Mesh Crop Top With Striped Elastic, $26, available at ASOS.
Wilfred Free, Ling Bustier, $40, available at Aritzia.
Free People, Lacey Lace Brami, $38, available at Free People.
Mugler, One-Shoulder Crop Top, $695, available at Opening Ceremony.
GMAC by Geoffrey Mac, Coral Ciggy Crop Top, $65, available at NYLONshop.
NBD, X Naven Twins Hot Tropics Crop Top, $90, available at Revolve.