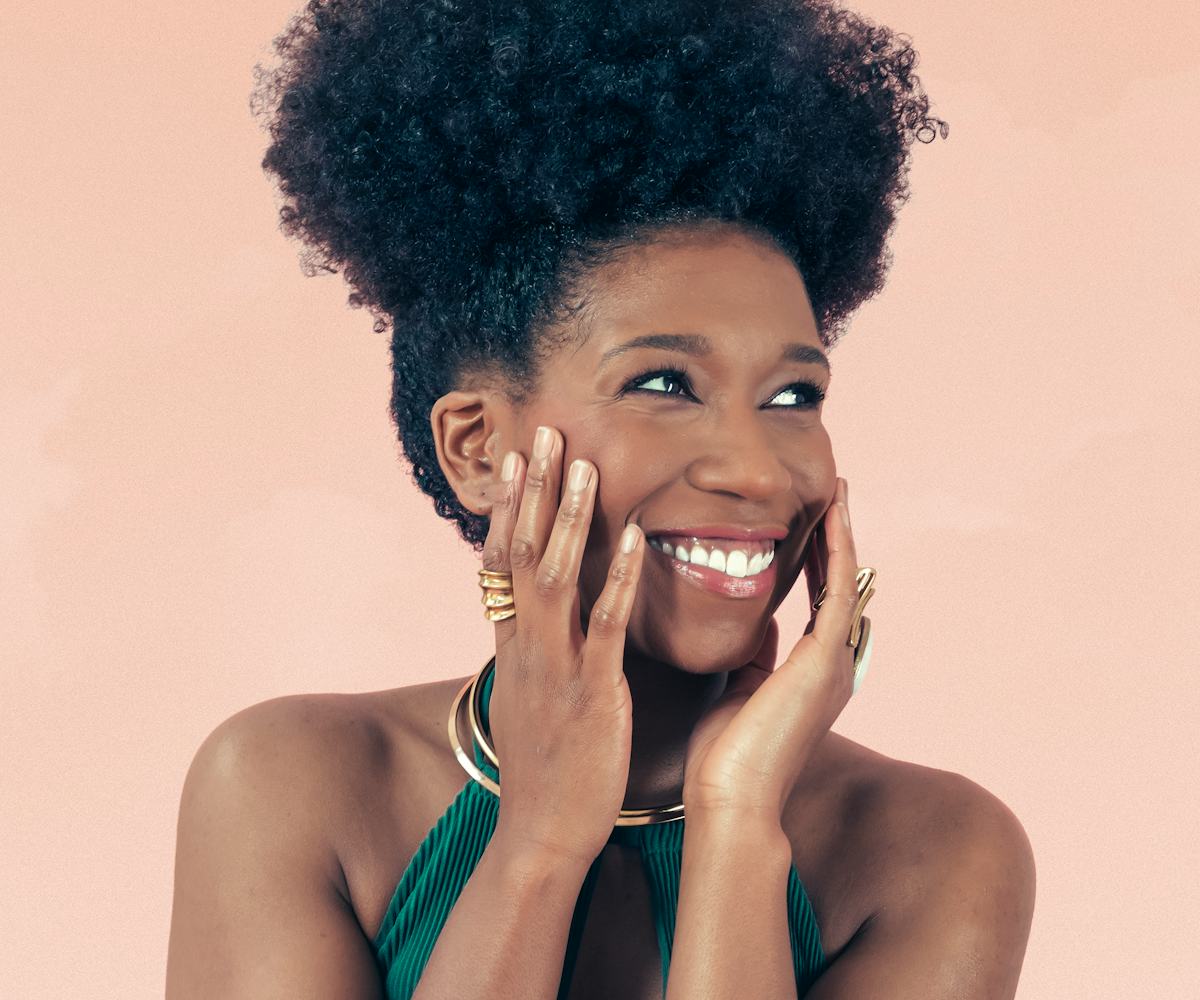 Photo Courtesy Of Lindsey.
CRWN Magazine Is The Black Girl Magic Bible You've Been Waiting For
"We want to show her and portray her in a light that's very natural and authentic"
The first thing that stands out about the recently launched magazine
is its stunning, minimalist imagery. The cover shows a beaming shot of popular natural hair vlogger
(aka Naptural85), tresses mounted on the top of her head, hands touching her face. Other than the four titular letters floating above her, nothing else is featured. There are no cover lines, no teasing of articles, no description of the magazine. It pulls you in without having to shout. 
CRWN is a natural hair and lifestyle magazine founded by editor-in-chief Lindsey Day and creative director Nkrumah Farrar. It's a manifesto for black women that, according to the website, aims to "reset the standards for black beauty" and represent them in an honest, intimate, beautiful way.
It's dedicated to natural hair at the core, yes, but it's so much more than a couple of tutorials and inspirational images. The stories range from a brown girl's guide to lip color and how hair is unavoidably political to an all too relatable tale about pre-mature love and an ode to Erykah Badu.
We chatted with Day about the project and what went into creating it. The zine is direct to consumer, so you won't find it at your local Barnes & Noble. Instead, you can purchase it on
, an independent retailer in Brooklyn, New York and, soon, on the west coast and in Washington, D.C. 
What can readers expect from the first issue of the magazine?
We're a natural hair magazine, but really beyond that, we're a lifestyle magazine for black women. The conversation starts at hair. It is a common thread whether you do or don't have hair, or whether you wear a weave. We start from that place, a very sensitive and very emotional place, especially for black women. The content really extends from there. We're talking about everything from economics and how our buying practices affect our communities to hair tips. "What's the best wash and go technique? What are the professionals saying about the myths you've heard on YouTube?" Also, [we focus on] the importance of displaying the black family, and what it takes to pass wealth through generations. It really runs the gamut.
Our entertainment section is centered around books. We definitely have a reader who is very educated, very intelligent, and we want to speak to her as such because we found that a lot of the publications speak down to this woman. We want to not only show her and portray her in a light that's very natural and authentic, in a way that she doesn't often see herself visually, but also show content that speaks to her directly. The reason everyone's responding to this new
is because we've been waiting for this type of content. We wanted to be that in magazine form.
There are a lot of blogs and YouTube channels dedicated to natural hair. Why did you choose to make a physical magazine on the topic?
My business partner, Nkrumah Farrar, is our creative director, and one of the things that really sparked it for him was, "Why are there more beautiful pictures of us on Tumblr than in magazines?" When you flip through magazines, we're often so airbrushed—and that goes across the board. Very rarely do you see natural hair portrayed, our features are contoured beyond recognition, or you're made to have the perfect hourglass, or whatever the case may be. There's so much activity in the digital space—you have YouTubers with millions of followers. It's a sisterhood; people are coming together. Never before have we been able to sit in our room and have a sister across the country or across the world walking through the tips of how to deal with our hair as a grown up. There's a huge phenomenon that we're able to share that information with each other in a way that is amplified so quickly. We just wanted to immortalize this story in print and do it in a way that was different from the traditional newsstand model, in a way that was a bit more premium and also had an elevated aesthetic. Sometimes, the aesthetic of black hair magazines is a little bit dated, we just wanted to refresh it and do it in a way that wasn't a version of something that already exists, but something fresher that feels modern to our reader. 
How did the idea for the magazine come about? 
I happened to be in a place where I was in a startup doing business development and was transitioning out and starting to consult brands. I think at the point that [Farrar and I] met, I didn't have a client yet because I was still working at my other job. When we came up with the idea, I was like, this would be a great case study. I believe in it.
I went from wearing my hair straight for 10 years to embracing my natural texture. My mom did the same thing, after being diagnosed with breast cancer. For her, it was a very holistic lifestyle change. She cut out sugar, she stopped putting chemicals on her scalp; it was that aha moment. So many of my friends I went to college with transitioned, especially those that lived in Brooklyn with me at the time. At one point, I looked around and all of my friends had natural hair, so it really struck a chord. I was like, "Okay, I can really see myself building this into something." Over time,
CRWN
got to the point where it was like, "Oh my gosh, I really have to work; this is a thing we have to put our energy into."
At the beginning of this year, it became a full-time thing, and we went from there. We've been featured in
ESSENCE
and Huffington Post and a few others outlets. We were able to get lots of great people in as writers and cover girls. We couldn't be more pleased with the reception. It seems to do everything that we wanted, in terms of really touching women in a deep place, not just pretty pictures. Someone said that they wanted to go through and hug every woman in the magazine and tell them they're not alone. Someone was like, "Oh my gosh! It's the black girl magic bible." Hearing those words has made it so fulfilling and reinforces how necessary it is to have subject matter and visuals that affirm us rather than tell us that we should change ourselves.
The ladies who are featured and those who wrote stories for the magazine, were they friends or did you reach out to individuals? 
A mix of things. One really great friend of mine, Lauren Ball, she owns a platform called
It's all about travel. She wrote a piece. I attended the White House United States of Women back in June, and I saw this woman who looked familiar. We struck up a conversation. Her name is Latham Thomas, she's on Oprah's Super Soul 100 list that just came out. She's a doula and has worked with several celebrities through their birthing process. She's an amazing woman, and she wrote a story for us about the womb and how important it is to take care of and honor our wombs, whether you have children or not.
conducted our cover interview, which was written by Lilly Workneh, a senior editor at Huffington Post.
It's not necessarily that they're the Beyoncés of the world, but they are very important people in the niche, like our cover girl,
, who is probably the biggest natural hair blogger in the space. We really wanted to pay homage to the culture versus celebrity because I think, so often, celebrity gets placed above all else. A lot of the women that you'll see in the magazine are just regular, everyday girls who are amazing. A lot of time when people talk about the influencers, they think about the people who have hundreds of thousands of followers, whereas I believe a senior editor of Huffington Post holds a lot of influence over what we read, what we're seeing, and what we're taking in. This is the work of young black people, their dollar, their time, and their energy. We're bringing it together because we know it's necessary and it needs to be here.
This can only be sustainable if we have the one-on-one connections, as well. That's really how we started: going out to a festival, putting a piece of paper in someone's hands, having conversations, and really getting an understanding of what people want to see and hear. When I sat down with [a friend of mine], she was like, "This is not a magazine, this is a tool for the healing of our people." That really struck me. When you create something, you're not able to verbalize things in that way, but that's what I want it to be. Of course, celebrities are more than welcome, but, at the end of the day, we work with the people in our network and the people on Instagram that we see and admire. We're thankful that we were able to get a lot of those names into this issue and they'll be in future issues, as well.
Do you know when the next one is due out and what you hope to include in it?
The next issue is slated for December. It's going to be our Love issue, and we're talking about all things self-love, black love, etc. As a healing tool, it's so important to love each other whether that's within our community or outside of our community. It sounds cliché, but it truly is the one thing that will heal us. We want this to be a way that people can have conversations and have things that are really constructive and progressive. We want that to be felt and that to be something where people are now, instead of talking about the latest show with the latest housewives and the drama. My business partner is like, "We want this to be in addition to the diet." There are leafy greens, there's soul food, and there's candy. We want to be that thing you need to keep it going.