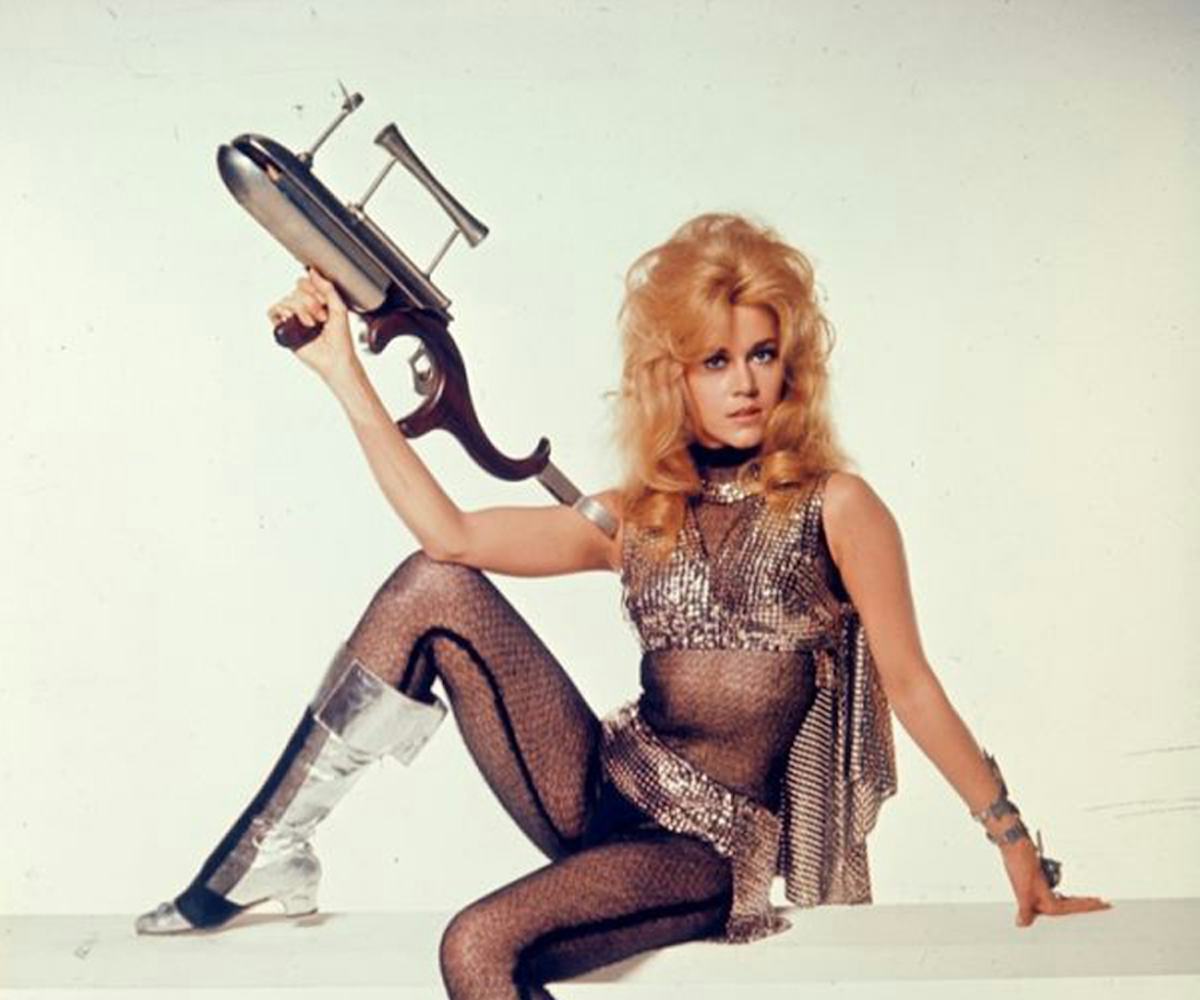 photo courtesy of Paramount Pictures
How To Steal 5 "Unwearable" Looks From Iconic Cult Films
From David Bowie's Goblin King to 'The Bride of Frankenstein'
Film is perhaps one of the greatest mediums we have to escape from our everyday life and indulge in our imaginations. Cult films are even more impactful. With their atypical plots, settings, and characters, it's easy to fall deep into the fantasy worlds they create.
We constantly find ourselves borrowing inspiration from them to create works of our own, or even just to move through the mundaneness of life. Whether we chose to adopt some of our favorite characters' sayings or attitudes or take cues from their wardrobes, there's a certain power that can be borrowed from them. But because some of our favorite films are fantastical in every which way, their costumes aren't always the easiest to replicate.
Ahead, find out how to translate five iconically "unwearable" cult film looks into outfits you can actually sport.
Barbarella
Jane Fonda's Barbarella may be "the most beautiful creature of the future," but she's so much more than that. Though the film may not seem to depict women in the best light, it showcases the inherent power of women and the importance of embracing and being in charge of one's sexuality.
For a more toned-down, wearable play on Barbarella's look, layer a silk bra top under a sheer mesh long-sleeve shirt, and zip up a '60s-inspired silver leather mini skirt. Then, throw on a metallic pair of boots and spritz bumble and bumble's Cityswept spray through your hair to finish the look.
Alexander Wang, Stretch Satin Bralette, $225, available at Alexander Wang; Out From Under, Mesh Long Sleeve Top, $29, available at Urban Outfitters; Nasty Gal, Jerry Metallic Leather Skirt, $108, available at Nasty Gal; Camilla Elphick, 75MM Metallic Leather Cropped Boots, $1049, available at Luisa via Roma; Bumble and Bumble, Cityswept Finish, $31, available at Bumble and Bumble.
The Bride of Frankenstein
Let's face it: The Bride of Frankenstein is one of the most depressing tales of loneliness and "otherness" in horror film history. It also hosts some of the genre's most memorable visual moments and costumes, the Monster's Bride being the most poignant.
In all honesty, there isn't much to Lanchester's outfit—all you need is a long white dress. The memorable and, well, typically unwearable part of her look is the hair and makeup. Start with a strong, clean brow (straight and angled upward, if possible), and follow with a deep red lip, a healthy hand of mascara, and a Kardashian-level of contouring. For a play on Lanchester's hair, create a high bun and a concoction of clear mascara and silver glitter, then run the spool in a wave shape across the side of your head. 
Lovers + Friends, Lydia Slip Dress, $398, available at Revolve; Bite Beauty, Amuse Bouche Lipstick in Tannin, $26, available at Sephora; Eyeko, Rock Out & Lash Out Mascara, $28, available at Eyeko; Tom Ford, 'Shade & Illuminate' Highlighter & Shader Duet, $80, available at Nordstrom; Covergirl, Professional Natural Lash Mascara in Clear, $4.99, available at Drugstore.com.
Who Are You, Polly Maggoo?
Easily one of the most visually stunning and memorable films of the '60s, Who Are You, Polly Maggoo? stands as a cultural documentation of the mod fashion movement. It also may very well have foreshadowed reality television. 
Since the looks in the film are mostly stiff metal dresses meant for the runway and other looks that are so heavily tied to mod, if you were to recreate them exactly, they would come off looking costumey. To interpret them in the present day, throw on a black-and-white striped knit, a leather mini, and white patent Chelsea boots. Don't forget to load on some silver eyeshadow and create a heavy cat eye with some gel liner.
Tibi, Après Ski Striped Pullover, $375, available at Moda Operandi; The Kooples, Leather Skirt, $232.50, available at The Kooples; Chiara Ferragni, 'Flirting' boots, $371, available at Farfetch; Urban Decay, Moondust Eyeshadow in 'Moonspoon', $21, available at Nordstrom; Tarte, Clay Pot Waterproof Liner, $21, available at Tarte.
Blade Runner
Pris may have been created to "pleasure" others, but she owned her powers of attraction and turned them around to help protect herself. It doesn't get more badass than that.
Pris' look is super easy to adapt into your wardrobe. Just layer a long-sleeve mesh tank over a black cami and a pair of shorts. Throw on some thigh-high stockings, over-the-knee boots, and a choker, and your outfit's all set. Tone down her iconic eye look by creating a dark metallic blue smoky eye instead.
Zana Bayne, Studded Leather Choker, $180, available at Luisa via Roma; Stuart Weitzman, Highstreet Suede Stretch Over-the-Knee Boot, $798, available at Neiman Marcus; MAC, Eyeshadow in Deep Truth, $16, available at Macy's; Out From Under, Mesh Long Sleeve Top, $29, available at Urban Outfitters; Raey, Deep-V silk cami top, $152, available at Matches Fashion; Hanes, 24/7 Lace Thigh High, $4.49, available at Hanes; Community, Flanagan short, $49, available at Aritzia.
Labyrinth
While Jim Henson's Labyrinth helped kick off Jennifer Connelly's career, David Bowie ultimately stole nearly every scene he was in. As with everything he did, he was captivating. His outlandish costume, hair, and makeup helped transform his character and differentiate him from the typical villain.
To get a variation of the Goblin King's look, grab a pair of high-waisted gray pants, and put a loose-fitting white button-up shirt over a harness bra. To make the look less costume-like, substitute the knee-length boots for subtle black ankle boots.
Vivienne Westwood, Kung Fu twill tapered pants, $220, available at Net-a-Porter; Rag & Bone/JEAN, Tie Shirt, $195, available at Revolve; Zana Bayne, Anita Harness, $195, available at Zana Bayne; Jeffrey Campbell, Cienega Ankle Boot, $145, available at Nasty Gal.