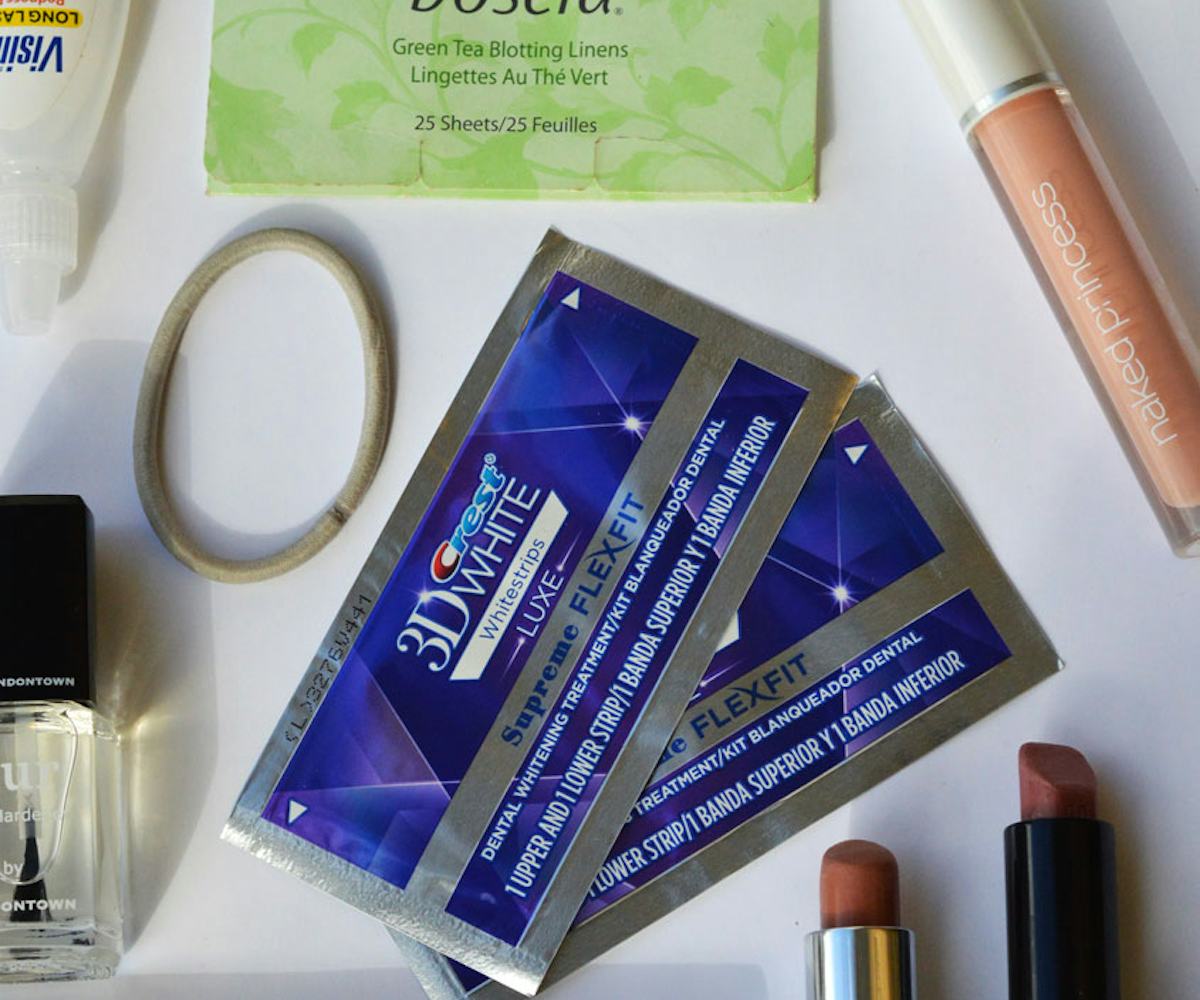 Inside Kristin's In-Purse-Makeup-Bag
NYLON x Cult of Pretty
crest 3d white whitestrips luxe supreme flexfit — the highlight for your teeth.
I had a feeling this look was coming back when I spoke with an artist backstage at NYFW in September, and she told me their SS14 makeup collection emphasized one thing – barely there. Yes, makeup to make you look like you aren't wearing any makeup. Could it be?
This year backstage, I saw even more of this 'barely there' artistry. In fact, it appeared that designers were craving naked looks over bold and sculpted faces. I saw reoccurring keywords on look sheets including 'light, fresh, natural, healthy, sheer, luminous' and observed products including natural tints, clear glosses, sheer shadows, and highlights to emphasize the beauty that already exists on these (gorgeous) girls' faces. The head make-up artist for Maybelline was backstage at Wes Gordon and said to me "I don't want to see even a tiny smidge of concealer on any one of these faces. The color needs to be matched perfectly. No girl should have visible coverage; they should only have perfect skin. We also never say no to a highlight..."
In the beauty world, things can go one of a few ways. Colors and products can create a persona -- the confident woman of power, the daring, the bold, the homage to Marilyn Monroe.. etc. Or! You can use beauty to emphasize what is already there (ie. dark brows, sparkly blue eyes, rosy cheeks, lips that are a perfect plush pink). I admit that while beauty is my life, I am not the most daring when it comes to makeup. I feel at home when I use beauty to enhance what already exists. This is why when you pour out my in-purse-makeup-bag, you will find a few things:
Vaseline, neutral lip colors, concealer, blotting papers, and always (always) Crest 3D White Whitestrips Luxe Supreme FlexFit.  No matter how pretty (made up or down) you are, EVERYONE is more beautiful with a gleaming white smile. Shooting backstage, it is easy to be wowed by all of the perfect faces. But the girls who are laughing, smiling for the camera, and showing off those pearly whites are the ones who are really remembered. At least, from my lens. Crest 3D White Whitestrips are the makeup equivalent of a highlighter for your teeth – and as you know, we never say 'No' to a highlight. 
All Images Original Cult of Pretty Photography
Backstage with Aveda at Osklen SS14
Backstage with Stila at Rebecca Minkoff SS14
Backstage with Bobbi Brown at Nonoo SS14
Backstage with Maybelline at Wes Gordon FW14
Backstage with Maybelline at Helmut Lang FW14
Backstage with Maybelline at Mara Hoffman FW14