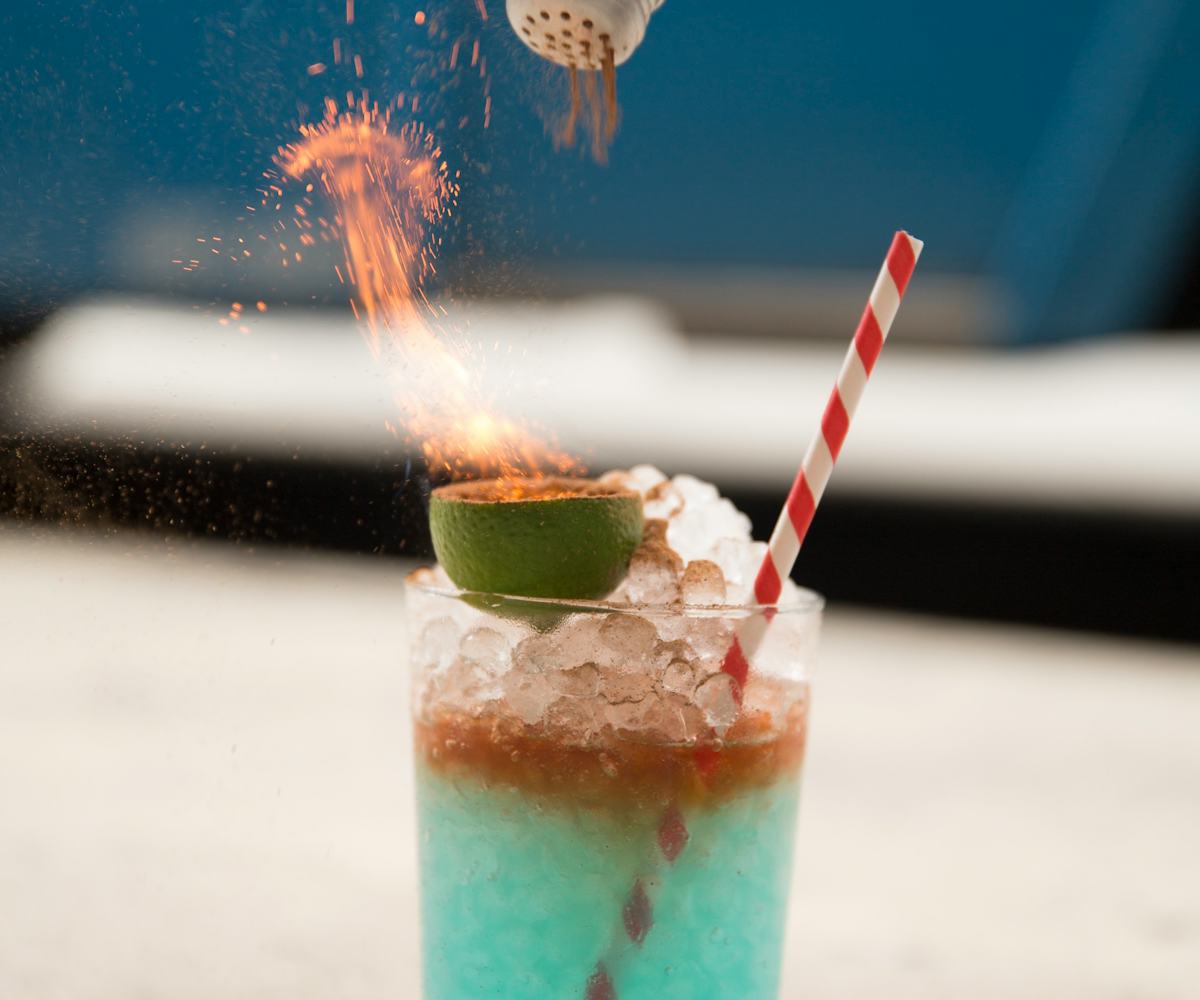 Photographed by Sonia Ostrovsky.
Here's The Perfect Drink For The Last Few Weeks Of Summer
The following feature appears in the August 2016 issue of NYLON.
Long the province of lowbrow tiki beverages, blue curaçao has historically tasted of a tropical booze cruise. Famed for its artificially electric hue, the liqueur became the scourge of the craft cocktail movement, which placed a high premium on sophistication and traditional heritage (and had little appreciation for its color play). But in recent years, the once-disparaged ingredient has seen a renaissance in the world of artisan cocktails, with respected bartenders in cities around the world looking to the azure alcohol—which takes its flavor from the wild bitter oranges of its namesake Caribbean island—for some of their buzziest creations. One such pioneer is Nicholas Bennett, who honed his skills at Manhattan mainstays Amor y Amargo and Booker and Dax before signing on as head bartender at the new Southern-tinged Porchlight in West Chelsea, where he dreamed up a popular smoky, cerulean drink dubbed the Gun Metal Blue. 
This resurgence of the blue libation is likely rooted in the craft cocktail industry's increasing appreciation for the high-low combo, a touch of kitsch and irony. But it's also, as Bennett suggests, just about rediscovering some pure and simple fun. "[Notable bartender] Jacob Briars once said that cocktails are cyclical," he explains. "Coming back from the dark ages of the '70s, we had to re-establish the practices and techniques that we became very rusty on, which is why so many cocktail programs focused on the classical techniques and ingredients. Now that outside opinion takes us seriously, we can have a lot more fun with ourselves. And few ingredients really embody that like blue curaçao." 
So here, in honor of our annual Denim Issue, we enlisted Bennett's help to further reclaim curaçao by creating a custom cocktail inspired by jeans—a tradition that's equally true-blue and humble in high places. "This cocktail is as blue as a worn-in pair of jeans," says Bennett. "It plays with ingredients that are for the working man or woman—absinthe was the drink of the proletariat and apple brandy is the real reason that Johnny Appleseed was traveling America. That being said, this drink is refreshing and should not be consumed while operating heavy machinery." 
Ingredients:
1 oz. Jersey Lightning (unaged apple brandy)
1/2 oz. blue curaçao
1/2 oz. falernum
1/4 oz. absinthe
3/4 oz. lime juice
1 emptied lime husk
6-8 dashes of Angostura bitters
1 tsp. ground cinnamon
1/4 oz. 151-proof rum
Glass: 
Pint glass or 17 oz. beer glass
Ice:
Pebbled or crushed ice
Procedure:
Build all of the ingredients in a shaker tin except for the lime husk, 151-proof rum, ground cinnamon, and Angostura. "Whip shake" with a few small shards of ice and pour into the glass. Top with ice and then dash on the Angostura. Add more ice, then place the lime husk on top, fill it with the 151-proof rum, and light it on fire. Gently sprinkle the cinnamon over the flame and watch the fireworks.