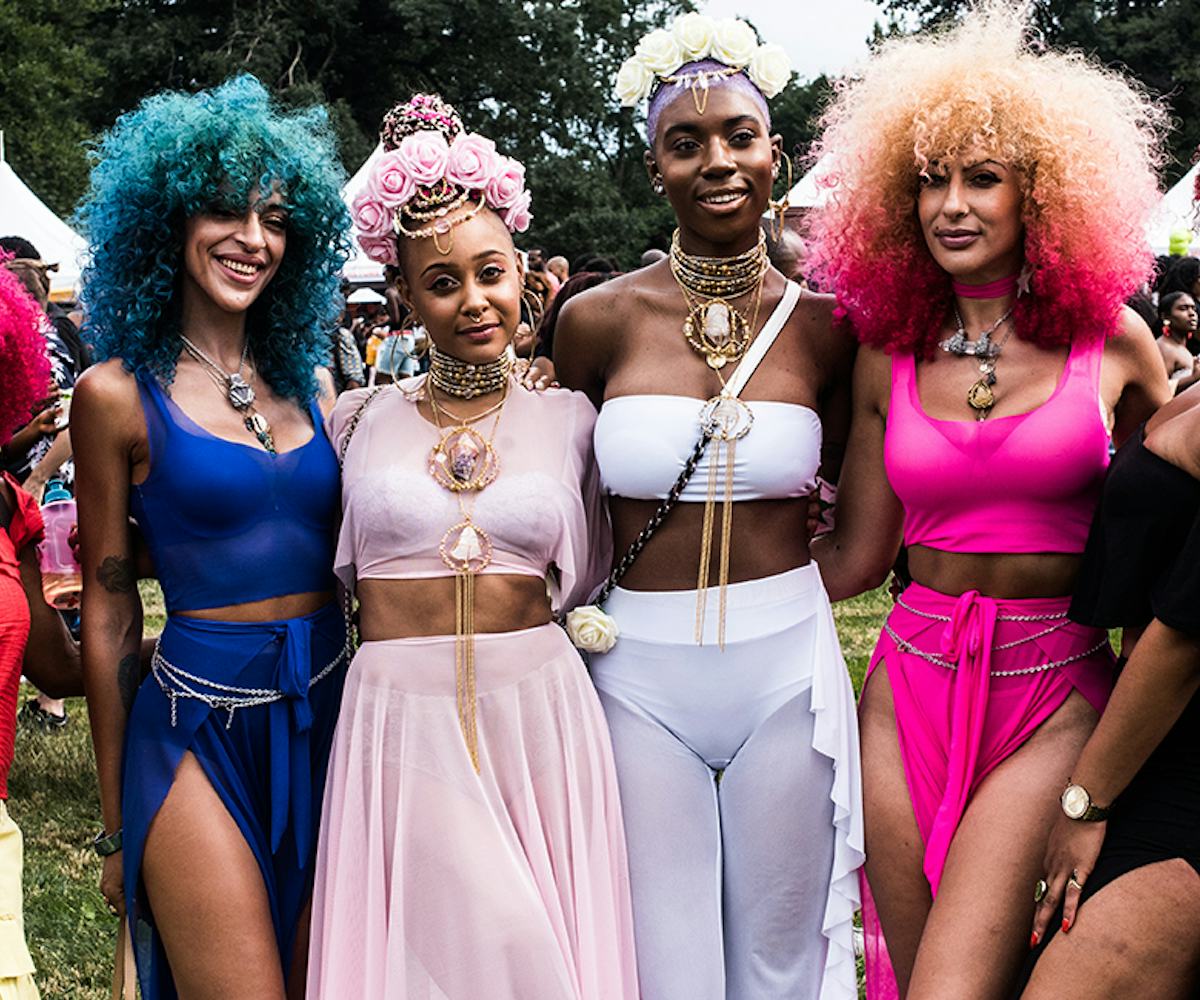 Photographed by Saphir Niakadie.
The Most Gorgeous Hair From This Year's Curlfest
More beauty inspiration than you'll know what to do with
Curlfest is in its fifth year and shows no signs of slowing down. In fact, this past Saturday, thousands of people—more than ever before—gathered in Brooklyn's Prospect Park to attend the world's largest natural beauty festival (and the best-smelling one). Lines snaked around barricades to get in, ladies waited patiently for free samples and consultations, and everybody joined together to have a good time.
Of course the main (mane?) attraction were the hairstyles. Curls both loose and tightly coiled, dreadlocks both ornate and simple, and more protective styles than we could keep track of were found in every corner of the park. Providing, as always, hair inspiration for about the next five years.
Ahead, we highlight some of our favorite beauty moments from this year's Curlfest, the place where Black Girl Magic goes to flourish.
"It's only been a year and a half since I've been natural, and this is the first time I've fully embraced it," festival-goer Shehema Massiah (second from the right) told us. "I love that women from different cultures are embracing their natural hair."
Why let your hair be the only standout moment of your look?
This is the second year in a row we're catching model Ebonee Davis at Curlfest. Her glow is still going strong.
"I've been blogging about natural hair since 2014... it means so much more than the aesthetic," blogger Cheyenne Chochrane tells us. "There is a lot of confidence and history behind why we wear our hair the way we do, and I love being in a space with thousands of women celebrating who we are." 
Add some flair to your box braids with blonde ombré and clip-on accessories.
Embrace your frizz and copy this up, up, up-do for your next style.
All you need is gel, a brush, and some patience to get this festival-goer's slicked hair look.
Think of this as a modern version of Jada Pinkett Smith's character's hair from The Matrix, complete with an updated pair of trendy colored glasses!
Whew, talk about a beauty moment. Those 'brows! Those glasses! Those lashes! That headwrap! We don't even care that we can't actually see her hair.
And now let's take an adorable daddy-daughter bonding break.
Okay, back to the curls. Here we have a gorgeous lion-esque mane from one festival attendee.
We love natural hair love.
We wouldn't mind discovering the pot of gold at the end of this curly hair rainbow.
Two curly puffs is the perfect festival hair look.
Shout-out to parents ingraining that curly hair self-love on their children from an early age.
Okay, now we definitely want curly bangs and don't try to talk us out of it.