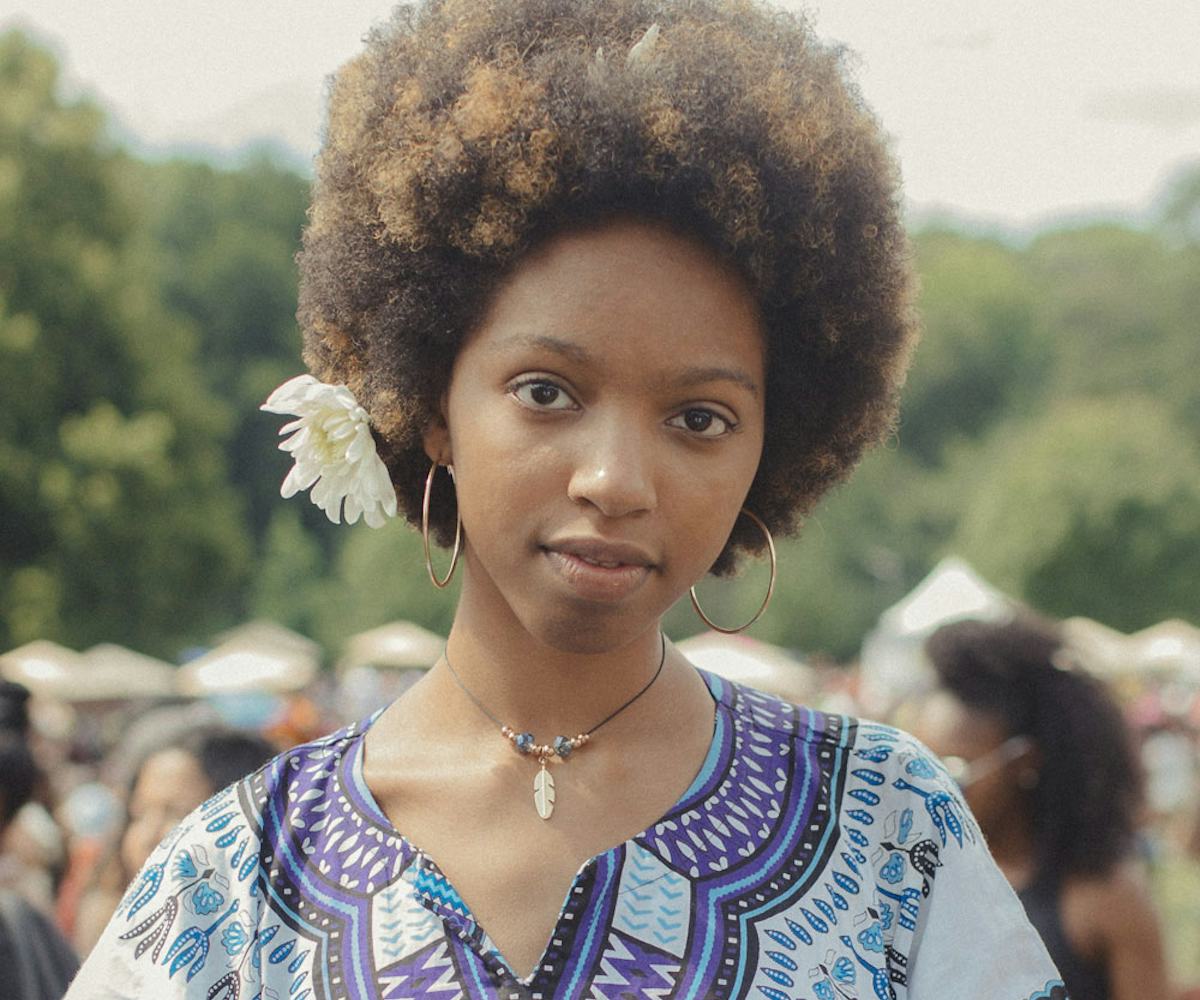 Photographed by Elizabeth Wirija
The Best Beauty Moments From Curlfest 2017
For the fourth consecutive year, hundreds of women (and men, but mostly women) gathered to attend Curlfest in Brooklyn's Prospect Park this past Saturday. It was hot in the way summer in New York City typically is, and so were the ladies who showed out in braided updos, kinky curly styles, brightly colored locs, and practically every other hairstyle under the sun. Because black hair is nothing if not versatile. 
Curlfest is more than your average festival. Sure, there's music you can dance to, booths to pick up products from, large Jenga games to stress over, and lots of spots for the ideal Insta. More than any of that, though, Curlfest is a place where natural hair is viewed as the norm; in fact, it is a place where it can be celebrated. It's a reminder that black hair truly is magic and has been all along.
Ahead, see some of our favorite hair looks from the day. 
A simple flower is a great accessory for a golden-tipped fro.
Party up top, business on the bottom.
The only Goldilocks we recognize.
The higher the hair, the doper the style.
Green box braids and purple lipstick is a combination we'd like to see happen more often.
Should we get curly bangs, or what?
Purple hair and an outstanding updo had these ladies in the running for some of the best beauty of the day.
*Bookmarks this look for the next festival*
Paging the '80s: Why did high-top fades ever go away?
Former America's Next Top Model contestant Bre Scullark is giving us her best smize. 
Black, no sugar, no cream, all beauty.
Crimped curls go surprisingly well with this witchy goth moment.
Twirl on your haters, ladies.
Braids for days.
Model Philomena Kwao looked radiant with her loose, free-flowing curls.
Solange would be so proud.
Who said ombré hair was dead?
Pro tip: Match your wrap to your skirt for an effortlessly sophisticated look.
Why settle on one hair color when you can experiment with a trio of shades?
You can maybe sit with these ladies and their enviable long-flowing tresses.
It's Carnival year round for this Alikay Naturals model.
An African-inspired braid look worth copying.
Now that's one good-looking natural hair tribe.
A cloud of curls.
Can you resist squealing over this adorable mother-daughter moment? Yeah, us either.
Art imitating life.
Giving us afro realness.
Model Ebonee Davis' tapered cut is the perfect fuss-free style for summer.
Looks like they both inherited the good hair gene.