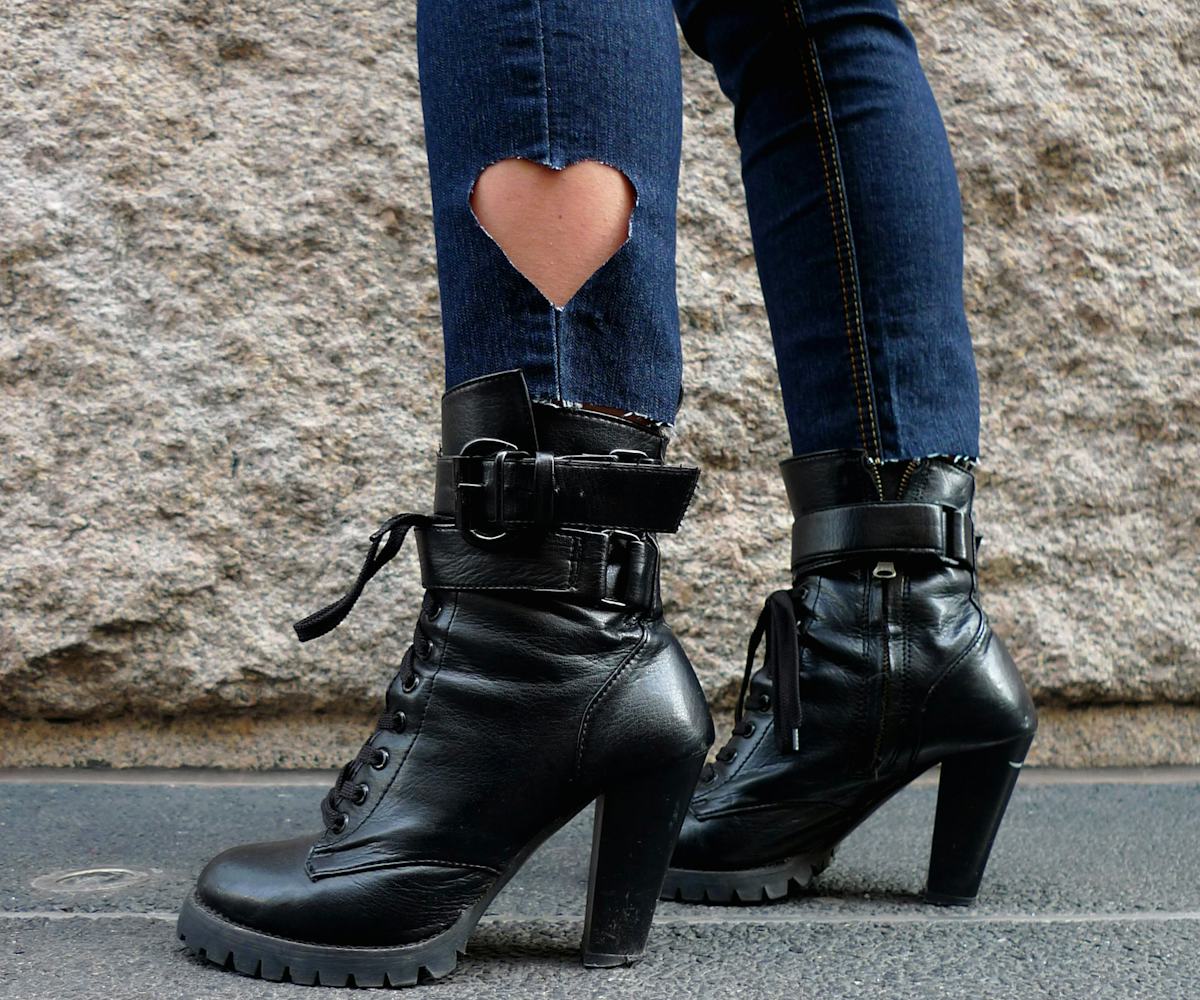 diy: cut-out jeans
a new way to show a little skin.
It was love at first sight between the NYLON staff and a pair of black cropped trousers with heart cut-outs at the ankles. We met our dream pants during fashion week, when our street style photographer, Melodie Jeng of The NYC Streets, snapped a girl wearing them outside of Honor's spring '14 show in New York. (You can see her in our street style roundup right here.)
Since that fateful day, we've been brainstorming how to make our own cut-out pants. With some jeans from Bongo and some very sharp scissors, we took matters into our own hands and DIYed three different designs: a heart, an arrow, and a zig-zag. Don't worry, we'll show you how to do it to with our handy DIY guide. You can rock your cut-out pants bare legged or on chilly days like today, add some bright socks for a little peek-a-boo action.
Check out how we DIYed our jeans in the gallery and share your own denim DIYs with us on Twitter and Facebook. 
Our inspiration image.
Heart Cut-Out Step 1: Start with Bongo jeans, scissors, and some good inspiration.
Step 2: If you're short on the short side, you'll want to measure and trim your jeans so that they are ankle-length.
Step 3: Fold the jeans on so that they are flat front-to-back and cut out a half-heart shape like you would if you were making a Valentine.
Step 4: Then lay one leg over the other and cut the second leg so that you get the same sized cut-out.
Step 5: This is what the final product should look like.
Step 6: Enjoy! Our Associate Web Editor Steff is modeling the heart with some black booties she got on eBay.
Zig-Zag Cut-Out Jeans Step 1: Start by using a Sharpie to draw the shape of the zig-zag cut-out (think Charlie Brown) about two inches from the bottom of the jeans. 
Step 2: Cut along the bottom zig-zag.
Step 3: Cut along the top zig-zag and then cut along the side seam of the jeans. Make sure not to cut the side seam itself because this is what will hold the zig-zag together.
Step 4: With your Sharpie, trace the zig-zag shape on the inside of the jean, and use that as a guideline to cut the opposite side of the pant leg.
Step 5: When you're finished they should look like this.
Step 7: We recommend you try some neon socks like our Executive Online Editor Rebecca did. She's sporting her zig-zags with some Opening Ceremony Grunge Boots.
Arrow Cut-Out Step 1: The arrow cut out is pretty easy to make. Fold the jeans flat and cut half an arrow shape along the side seam.
Step 2: When the jeans are laid flat they should look like this. 
Step 3: Our Senior Web Editor Liza paired hers with striped socks from Happy Socks and some vintage Ralph Lauren chelsea boots.