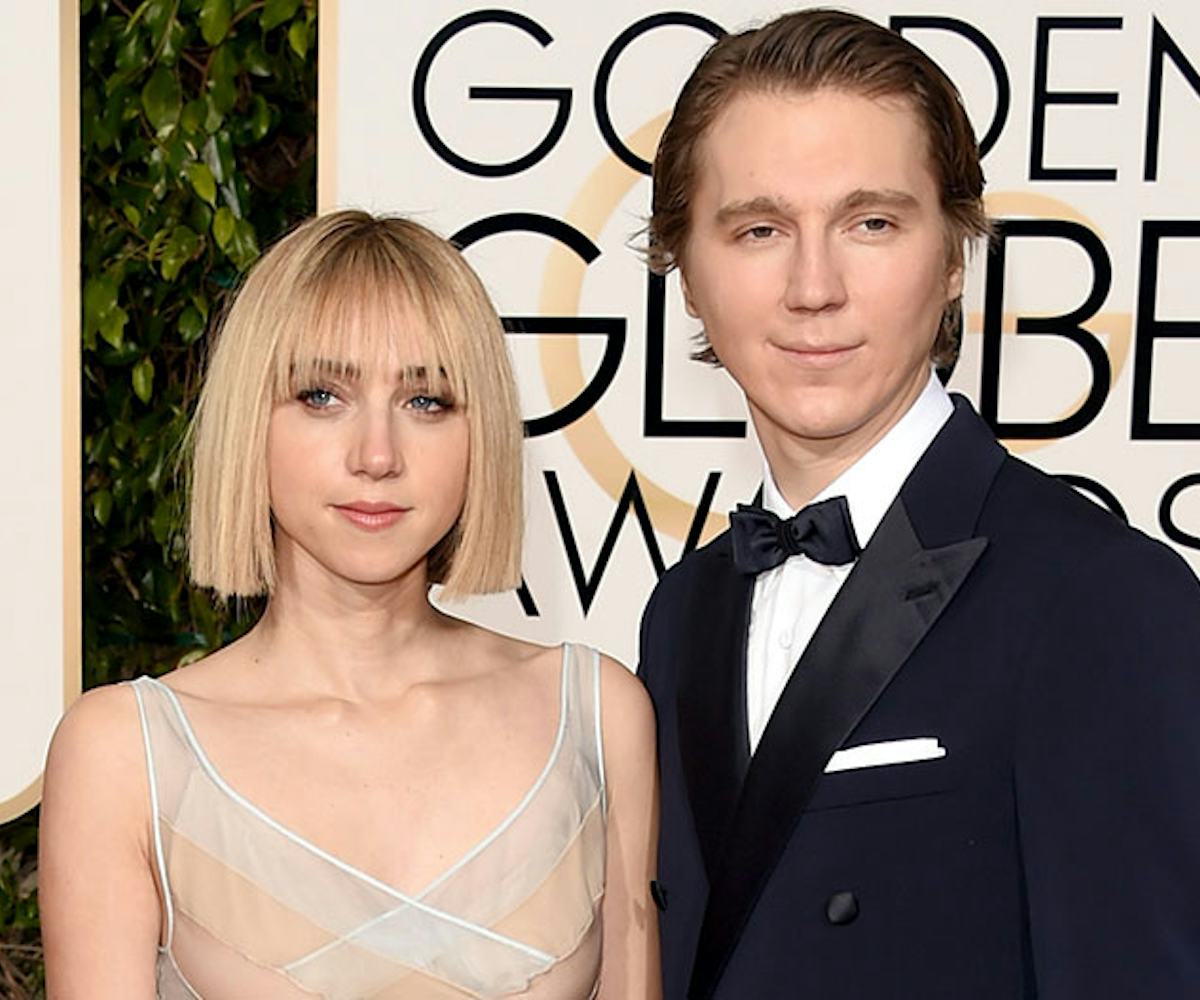 Photo by Jason Merritt/Getty Images.
The Cutest Couples at the Golden Globes
golden romances, all around
In the pressure cooker that is a big, Hollywood award show red carpet, you're going to want your biggest cheerleader by your side. Going down that long stretch of textile, dodging the same questions over and over again, and trying to see beyond the flashing lights is a feat no human would choose to walk alone, given the choice. (Okay, we admit a handful would and we commend them.) So, while some put on majestic displays of caped perfection last night at the Golden Globes, others put on delightful romantic displays. There was a lot in the air (it's L.A., what do you expect?), but love was one of the biggest. We've got heart-eyes for these following couples.
Rosie Huntington-Whiteley + Jason Statham
What better way to confirm your engagement than to show off the ring on national television? The model-actress Rosie Huntington-Whiteley rocked her rock like the goddess she is and hubby-to-be Jason Statham looked as proud as ever.
Paul Dano + Zoe Kazan
They look just darling, no?
Jennifer Lopez + Casper Smart
That dress. Those bedroom eyes. The leg. The model pose. This is power.
Olivia Wilde + Jason Sudeikis
You know you're in it for the long haul when you're totally chill with your husband rocking sneakers with a tux.
Kirsten Dunst + Garrett Hedlund
If we could set this photo to music, we'd set it to an Air song because that's all that's needed to complete this dreamy moment.
Jada Pinkett-Smith + Will Smith
The Smiths, one of Hollywood's power couples, never disappoint and last night was no exception. (Though, secretly we were hoping they'd make it a family affair and bring Jaden and Willow. Next time, guys.)
Lady Gaga + Taylor Kinney
The woman of the night Lady Gaga and her fiancé Taylor Kinney looked like they walked out of the golden era of Hollywood. Simply divine.
Michael Polish + Kate Bosworth
Bosworth's dress is glowing, not because of the material, but because of love. Duh.
David Oyelowo + Jessica Oyelowo
We're loving that David Oeylowo took the fashion risk for the night, with his shiny, purple tux and let his wife, Jessica, rock classic elegance.
Leslie Mann + Judd Apatow
Can you imagine going on a double-date with these two? Seriously. It'd be the most uproarious time—so uproarious that they'd probably make a movie inspired by the evening.
Melissa Benoist + Blake Jenner
These two low-key got married last summer and subsequently, low-key stunned when they walked the carpet last night. What's not low-key is how quickly we're beginning to fall for these former Glee stars.
Channing Tatum + Jenna Dewan-Tatum
Hot off lip sync battling, Channing Tatum and his wife Jenna Dewan traded their comical costumes in for ultra-glam and looked damn good.
Tom Ford + Julianne Moore
Okay, okay. So they're not a couple per se, but they're BFFs and, like, look how good they look together. Can you even? We can't.