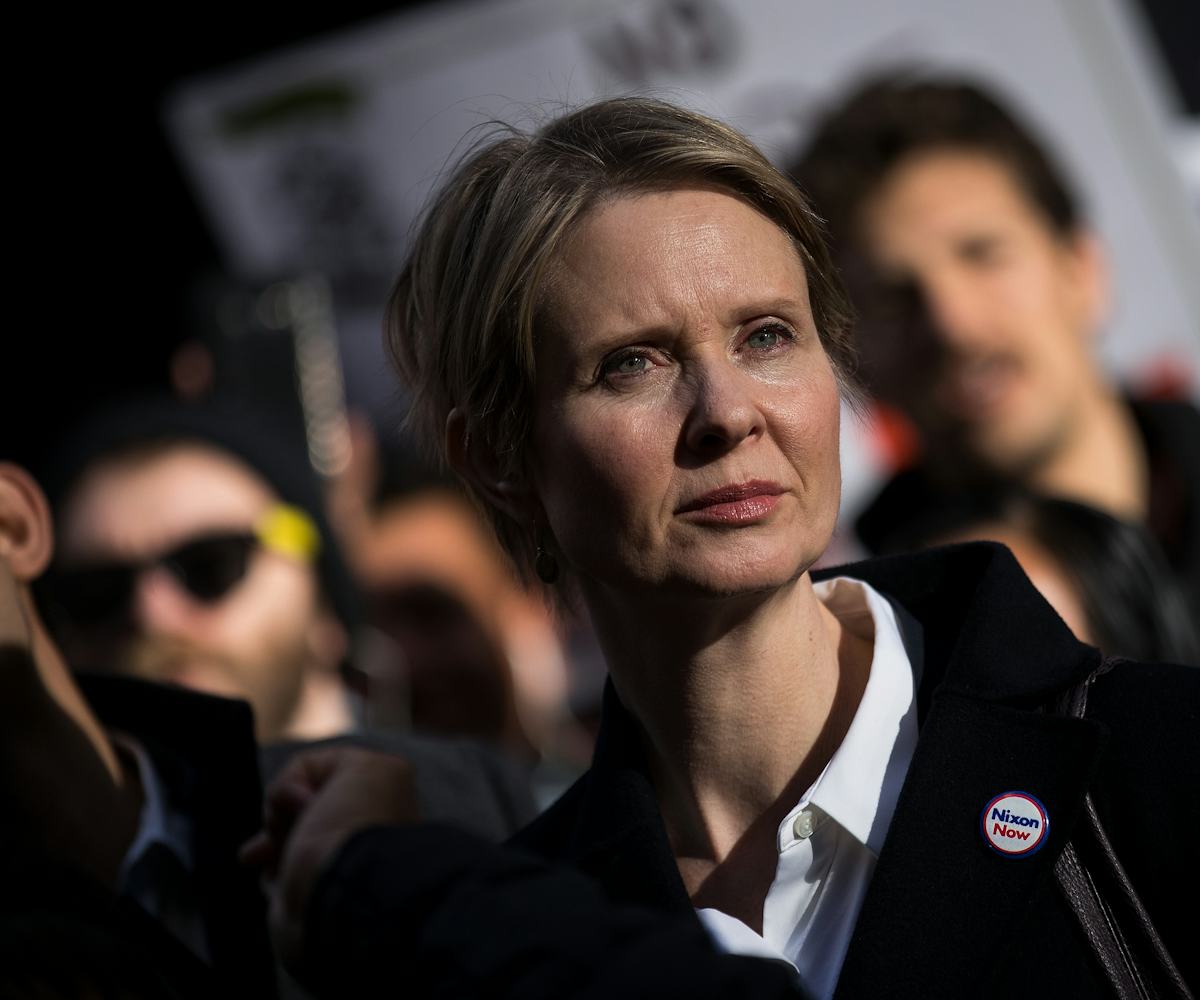 Photo by Drew Angerer/Getty Images
Cynthia Nixon And Donald Trump Are In A Fight Over ICE
Need another reason to vote for her in September?
Everyone's favorite "unqualified lesbian" and candidate for the New York gubernatorial race, Cynthia Nixon, has been embroiled in a fight with the current administration this past week about ICE, the agency responsible for recent atrocities, such as separating children from their families and failing to reunite them and ignoring pregnant detainees in need of medical assistance.
Along with many other Democrats, Nixon is a strong opponent of the agency, which she has called a "terrorist organization," and fighting for it to be dissolved. Her anti-ICE stance was denounced by Vice President Mike Pence last Friday while he was visiting an ICE headquarters in Washington, D.C. Pence described Nixon's position as "appalling," going on to say that "the American people have a right to their opinions, but these spurious attacks on ICE by our political leaders must stop." Nixon's response? "What's really appalling is how ICE tears children away from their parents." Agreed.
Of course, the White House wanted to have the last word on the matter, so it sent out an official statement in response to Nixon's clapback. Hogan Gidley, the White House deputy press secretary, evoked the 9/11 terrorist attacks as a defense of the atrocious initiatives that have been carried out by ICE. "It's deeply disturbing that Cynthia Nixon has no clue of what ICE does to protect Americans and New Yorkers every day from dangerous criminals, terrorists, child smugglers, and human traffickers."
Nixon's response to the press release addressed Trump directly and offered her own emotional memory of the 9/11 attacks. In a video statement uploaded to her Twitter account, Nixon remembers how she ran to pick up her child from school, and the fear of not knowing whether her friends and family were safe. "I remember how you called up Fox News to talk about how Trump Tower was now the tallest building in Manhattan," she goes on to say, referring to this incident. 
There's no question as to if Trump will respond (obviously via Twitter), but just a matter of when.
As always, it seems like Trump and his administration are using tactics like this to distract attention from everything else happening at the White House, from the fact that his new Supreme Court justice nominee is a clear threat to women's reproductive rights to the reality that his acting EPA chief is a climate change denier. We're all smarter than that, though, and this won't make us forget to fight against those injustices, either.
If you're as outraged as Nixon over the current administration, see if you're registered to vote and go to the polls this fall.