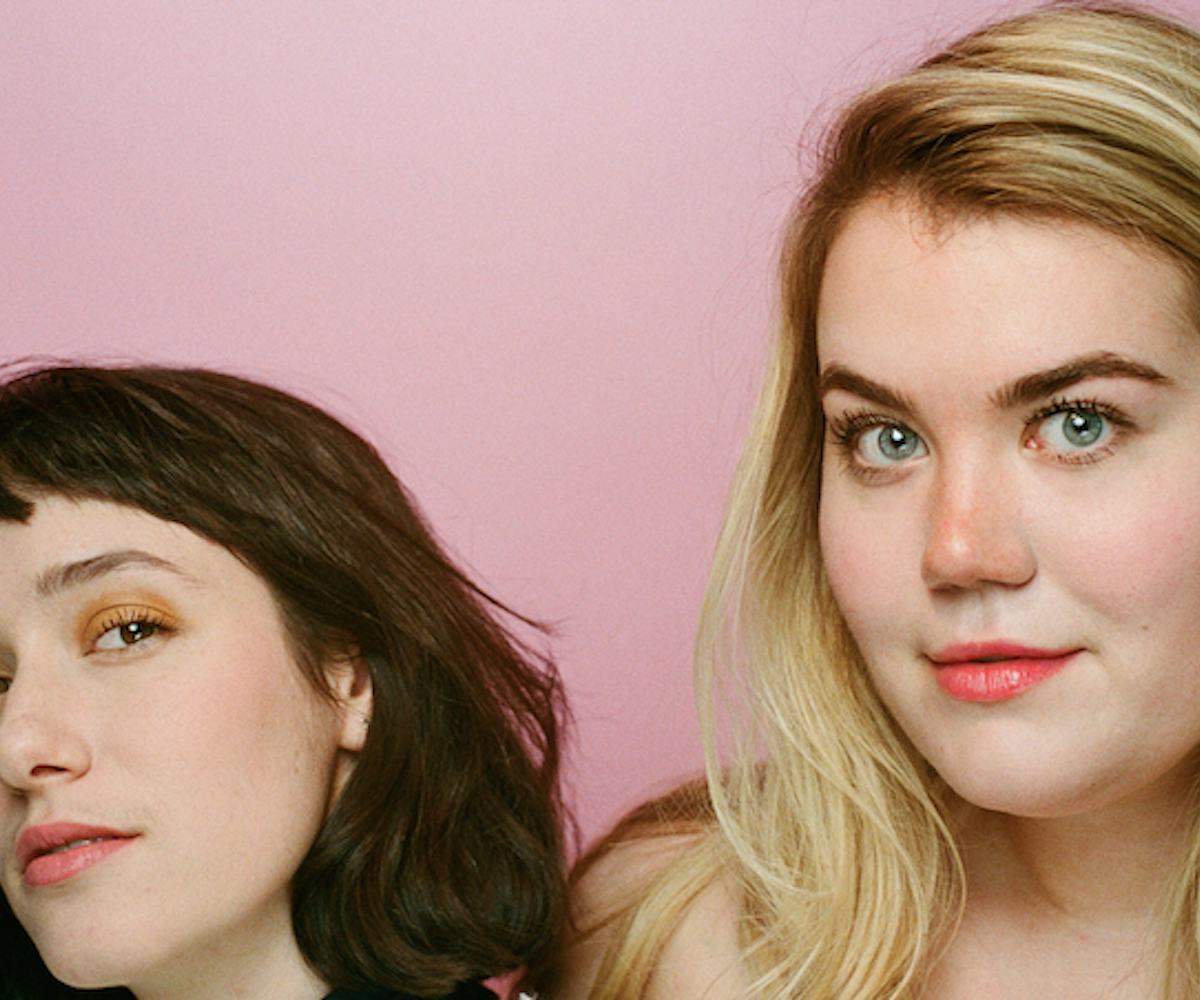 photo by Sara Laufer
Listen To The Premiere Of Daisy The Great's Stunning New EP
'I've Got a Few Friends and I Wish They Were Mine' should be heard right now
Tucked within the rich harmonies and gorgeous, swelling instrumentation of Daisy the Great's I've Got a Few Friends and I Wish They Were Mine are reflections about the grind of society and the struggles of contorting yourself to fit a world whose ideals you might not wholly accept. The EP, premiering right here on NYLON, is relatable for anyone who has ever pushed against the flow of life around them, or thought actively about their own self-invention as it was taking place.
Daisy's core members, lead vocalists, and songwriters are Mina Walker and Kelley Nicole Dugan, who met in acting school and initially collaborated on an absurdist musical about two folk musician buskers who assume the identity of a superstar pop duo. As they developed songs for their fictitious folk group, they began working on songs they had each written separately, and Daisy the Great was born. Now, the New York-based folk group blossomed to feature a bassist (Bernardo Ochoa), guitarist (Justin Danforth), percussion (Matti Dunietz), and three vocalists (Ochoa, Sophie Sagan-Gutherz, and Briana Archer), when they're performing live.
The single "The Record Player Song" is one of the EP's gems. The multi-layered vocals ebb and flow, creating a lush patchwork, and the track flits between open-ended, freewheeling chords and the intricate, tightly coiled chorus. The lyrics create a snapshot of a young, aspiring artist attempting to accelerate their personal and creative maturation in one fell, faux vintage swoop. "I've got a record player that was made in 2014/ Dyed my hair blue, it came out a seasick sort of green/ I like vintage dresses when they fall just below my knees/ I pretended I scraped them climbing in the trees," the two singers harmonize.
"I feel like 'Record Player' is really about sort of growing up and trying to figure out who you are, and feeling like a faker and like you're trying to create a human that doesn't exist," says Dugan, who started writing the song at 17 and took a year-and-a-half to finish it.
"I think us singing it now is sort of like owning that feeling, you know? Feeling like it's okay, it's normal to feel like you're a fraud. And singing about something you felt when you were 18, it's like taking ownership of it," Walker adds.
Other tracks on the project broach similar themes. "Built My Home on Hollow Ground," which Walker originally penned, is about reinventing yourself in a new place free from the entanglements of the past. "Seeking a New Pair of Eyes," a Tune-Yards-esque track that's equally ornate and jagged, deals with the frustration of the daily façade, while the driving "Lost at Sea" delves into what it's like to try and make yourself belong to another person.
The EP is an inviting blend of folk, baroque pop, and indie rock, linked by Daisy's theatricality, unique imagery, and ability to tell stories. It's also connected by an experience most all of us share: the constantly shifting, equally demoralizing and invigorating quest for affirmation and acceptance. 
"The title, I've Got a Few Friends and I Wish They Were Mine, [is about] just being obsessed with validation and feeling like that's a basis to—an unhealthy basis—to judge yourself on and to keep going for it," says Walker.
I've Got a Few Friends and I Wish They Were Mine is out via Paper Moon Records. You can catch Daisy the Great at New York's Pianos on February 17.