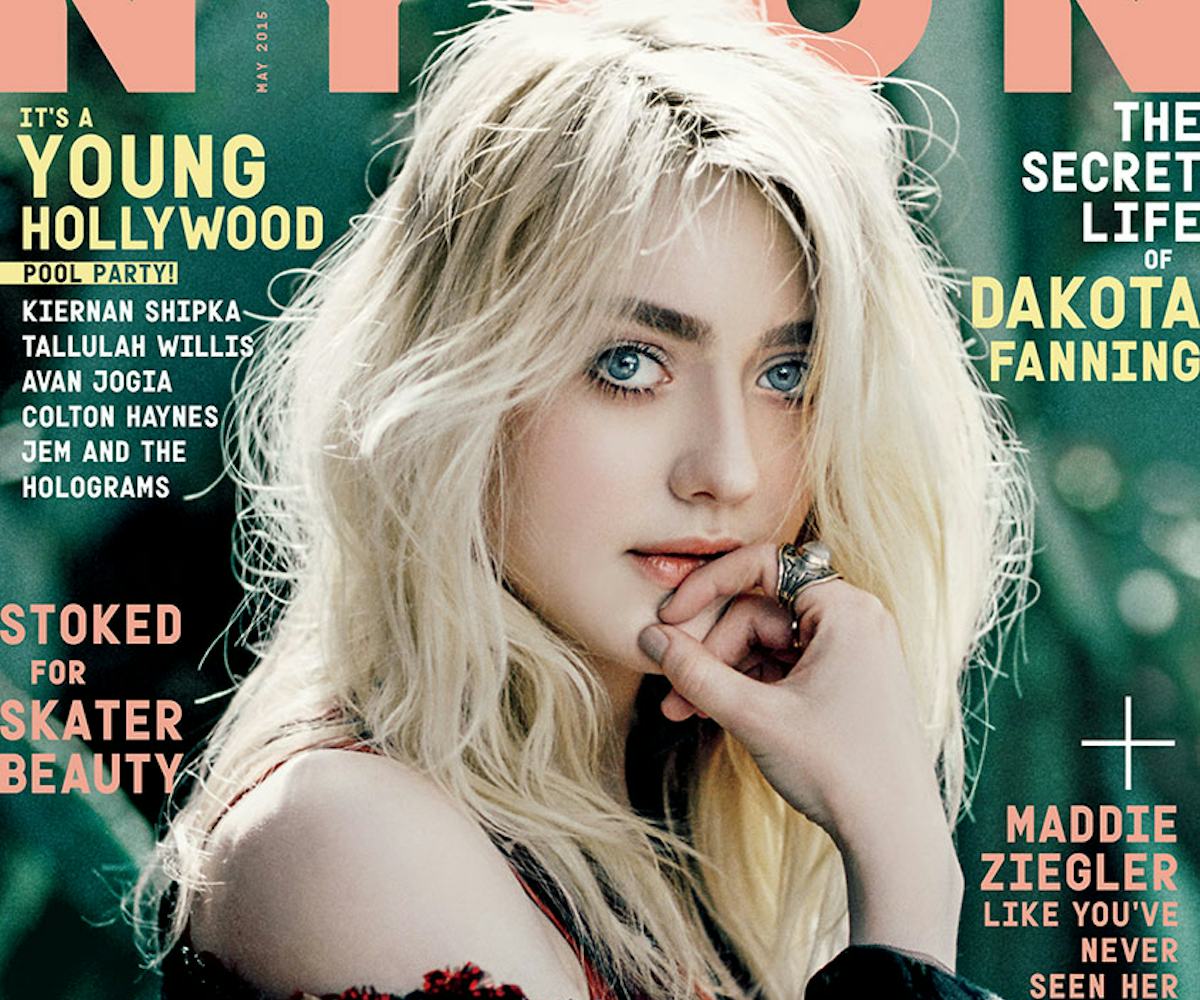 Photographed by Harper Smith
dakota fanning is wild at heart
Gripping a fistful of rainbow-flecked cake, Dakota Fanning pauses. "This feels very...not OK," she says with a laugh, glancing down at what was once a pristine, Funfetti-like surface, now defiled with craters and handprints. She cracks a smile and tosses the crumbled bits into a metal bowl, then dips her hands into a giant tub of melted white chocolate, because, hell, this is a truffle party—or so it's called at New York City's sweets mecca Milk Bar.
We arrive at the bakery's production kitchen in Williamsburg, Brooklyn, for a class on how to craft a few of their specialties. But before the trufflemaking merriment can take place, there are some preliminaries to attend to. "The Betty Boop one!" says Fanning, snagging a blue headscarf emblazoned with everyone's favorite cartoon flapper. The scarf is part of standard protocol, a tribute to founding chef Christina Tosi's signature style. Holding back Fanning's flaxen locks, it looks adorable. Meanwhile, I've fastened mine into a misshapen bow that's somehow managed to rip out all of my flyaways. "Can we get a hairnet over here instead?" jokes Fanning, noting my expression of amused defeat as she ties an apron over a pair of thick, black neoprene pants and a simple, slouchy sweater. She turns to grab a pair of latex gloves—scratch that, the sweater is straight-up backless.
Click through the gallery to read the entire story.
"I already have one of these in my refrigerator," concedes Fanning, referring to Milk Bar's trademark birthday cake, which we will be making shortly. About a week and a half before our class, Fanning became a freshly minted 21-yearold, and blew out the candles atop this same confection. But she seems pretty unconcerned about overdoing it, and there's no harm in keeping the birthday vibes alive. "At home I have all these giant balloons that my mom sent me—still floating," she adds. These days, home is a bright, feminine Manhattan abode decorated with Ladurée macaron boxes and a Hello Kitty Christmas stocking—a holiday holdout too cute to pack away. "I also have this thing that my sister, Elle, gave me that I love—it's these stacked-up old cans, but at the top there's a doll's head and these little arms," she explains very matter-of-factly as she scoops a generous spoonful of icing and smears it over a freshly cut cake round.
Fanning's been on the East Coast for over three years now, since she began attending New York University part-time. At this point, she considers herself a true New Yorker, but as one of the most recognizable faces in young Hollywood, she takes her fair share of cross-country trips. And with the recent release of Effie Gray, a period drama in which she plays the titular character, she's likely been spending even more quality time in L.A. than usual. Still, she's around here enough to have made friends with some of NYC's notoriously eccentric characters: "There's a man on my corner who thinks I'm an Olsen. He'll yell, 'Hey Olsen!' at me. It's really funny," says Fanning. "I also once had a guy walk right in front of me going like this," she says, breaking into rapid-fire, speed-bag air punches. She laughs, mushing down a layer of cake soaked in vanilla milk. "I usually have an issue with wet bread products—like, I'll never make French toast," she notes, scrunching up her nose. This time, though, she'll let it fly.
Despite her newfound Big Apple chops, Fanning is a Georgia-born Southern girl by origin. When she was about six, her clan decamped to California so she could give Hollywood a real go. "I think my family always thought, 'Oh, we live in Georgia and we're just in L.A. trying out this acting thing,'" she explains later, after we've relocated to Roebling Tea Room, a nearby brunch spot, for some food sans frosting. "Then years went by, and my mom was still saying that, and it became, like, 'Actually I think we live here now. I think it's happening.'"
The almost-accidental child star isn't an entirely uncommon narrative, but in this case it makes sense—Fanning's mother and father had no real stake in the industry. On the contrary, they were caught up in a different game entirely (and, well, literally): Both were athletes, her mom a college tennis player and her dad a minor-league baseball player. So, naturally, at first they had Fanning dabbling in sports, including a brief stint on an impeccably named soccer team, The Spice Girls, but they ultimately deemed such outdoor exploits an unsuitable path. "I'm super pale, and my mom was like, 'You would get so red! I'd be so worried about the sunscreen. You were just not made for that!'" recalls Fanning.
So after participating in a summer workshop at a local community theater, she booked her first paid acting gig—a Tide commercial—at the age of five through an agency in Atlanta. "I remember the director called me 'hero girl,' and my mom and I were like, 'Oh, that's so sweet!' It wasn't until years later that I realized they were just saying, like, 'the main one.' Say this were a prop in a movie," she says, grabbing her water and taking a quick swig. "It would be the 'hero cup.' Devastating!" she quips. Live and learn.
On-set mistranslations aside, Fanning's early and meteoric rise was certainly remarkable, if not heroic. A brief Dakota Fanning primer for the uninitiated: Her first major film role was that of Lucy Diamond Dawson, the seven-year-old daughter of a developmentally disabled man played by Sean Penn, in 2001's I Am Sam, a performance that earned her a Screen Actors Guild Award nomination (and a place in history as the youngest-ever nominee). The following year, she starred in the dramedy Uptown Girls as the hyper-sophisticated foil to the late Brittany Murphy's free-spirited woman-child. By age 10 she'd appeared opposite Denzel Washington in the kidnapping thriller Man on Fire, and at 11 alongside Tom Cruise in the alien sci-fi film War of the Worlds. At 14 she held the lead role in The Secret Life of Bees. And those are just the more notable examples. Audiences were universally impressed by this tiny towheaded girl's uncanny ability to deliver a nuanced performance. She became the exemplar of a talented child actor. 
"Oh my god, I want to hug you—I've heard so much about you!" says Fanning suddenly, taking a break from her bowl of "mock brains" (which, it turns out, are just scrambled eggs with kale and Gruyère—no gray matter) to embrace a woman at the restaurant who's stopped by to say hello. "Her mom works at my dermatologist's office in L.A.," explains Fanning later, genuinely enthused by the chance run-in. "For years I've always heard about her daughter, but we've never met. That's amazing!"
This kind of realness has long been a part of Fanning's persona. At the peak of her teenage fame, she enrolled in a traditional high school in L.A., where, as fate would have it, her campus tour guide was none other than fellow alumna and future Very Good Girls co-star Elizabeth Olsen. "I met Dakota while showing her around our school when I was a senior," recalls Olsen. "She sent me a thank-you card and that shocked me. Usually when you're in junior high or high school, you're not that thoughtful, but she was." During her school days, Fanning was a member of the cheerleading squad and was crowned homecoming queen (facts that talk show hosts love to bring up as evidence she's a "regular girl"). But like any uninitiated homeschooler, hitting the halls for the first time had its hiccups. "I used a rolling backpack when I started. It had my name on it and everything," she remembers of her nerdy carryall. "My friends still talk about that backpack. On the last day of class, I brought it in and everyone was like, 'Oh my god, there it is!'" 
Today, her little sister Elle has followed in her footsteps, attending the same school while pursuing acting. Dakota, however, says she feels no rivalry—only protectiveness and pride. "It started out very naturally. She played a younger me [in films such as I Am Sam], so it was like, 'Oh yeah, it makes sense.'" Though, like all sisters, they got into the occasional scuffle as kids. "She was really tall for her age and I was really small so it was evenly matched!" jokes Fanning. The actress's high school years marked the beginning of her transition into more mature roles, including the sadistic vampire Jane in The Twilight Saga: New Moon. Then came her role as Cherie Currie in The Runaways, which tells the true story of the namesake 1970s girl band, and features Fanning's character snorting mounds of cocaine in an airplane lavatory, among other activities. More recently, in the aforementioned 2013 comingof-age film Very Good Girls, she plays a newly deflowered teen on the precipice of adulthood, and in 2014's Night Moves she portrays a militant environmentalist with murder on her conscience. Which brings us to last month's Effie Gray, based on a true story and penned by Emma Thompson, in which Fanning plays the young wife of renowned Victorian art critic John Ruskin (played by Greg Wise), whose married life proves sexually problematic.
And yet, it does seem as if the dialogue surrounding Fanning continues to be defined by two dichotomous tropes that don't quite reflect this trajectory. Sometimes, she's "the adult child star," or even "the child star who made it," narrowly escaping the perils of early fame to become a functional, fully grown human being. Her image remains inextricably tied to the memory of the kid everyone came to know and love; her childhood always manages to be part of the conversation. "I've made my peace with the fact that there will be some people who, for the rest of my life, will believe I'm, like, nine years old," says Fanning on the subject. "I have this joke that I'm literally going to be 35, married, and pregnant and people are still going to say, 'Oh my god, you grew up so fast! I can't believe it!' And yeah, sometimes when you're 21 years old and people are still saying that, you just want to rip your hair out. But I'm OK with it. I know who I am." 
It's precisely this kind of level-headedness and maturity that's simultaneously (and paradoxically) strapped her with the "old soul" label, as if the Lindsay Lohans and Justin Biebers of the world have become the default expectation of youth. "Sure, I handled myself the best that I could and was professional, but I was also a kid," says Fanning, reflecting on her formative years. "I think that people who knew me then knew I was also exactly how kids are supposed to be. I've found that anybody who takes what they're doing seriously or seems to be a caring person gets called an old soul. And it's not a negative thing to say, but it's also not 100 percent accurate. I might not be running around being insane, but I'm also a 21-year-old who likes to be silly. Just because I don't flaunt those parts of my life doesn't mean I don't do some of that privately, you know what I mean?" Indeed, Fanning is neither a nine-year-old nor a 35-year-old in a 21-year-old body. She is a normal, cool girl, who, like all of us, is looking to find herself. And to that end, she's studying Women in Film as her college major. "I think there aren't a lot of movies that are made for women—they always want to insert something so the guys will go," she muses. "A director that I worked with, Naomi Foner, once said, 'Somebody decided a couple years ago that only 15-year-old boys go see movies.' There aren't a lot of stories told strictly from a woman's perspective."
And perhaps that was, in part, what drew her to Effie Gray, a film that has strong empowerment undertones. As the story goes, Ruskin, a super-attached momma's boy, takes an interest in Effie as a child and marries her when she comes of age, moving her into his parents' home with him, at which point he seems to lose all attraction to her, physically and emotionally, essentially shunning her. The result is a lonesome and mentally damaging existence. It might sound bleak, but the movie examines Effie's neglect as a bizarre and mysterious phenomenon, and in the end she gets hers, ultimately leaving Ruskin for his protégé, artist John Everett Millais (played by Tom Sturridge). "I mean, she got her marriage annulled and that was unheard of during that time. It's a female-driven story about a woman taking charge of her own destiny during a period when that was not very possible," says Fanning. "I think it's a misconception that it's about oppression and depression and darkness, although there are moments of that," she continues. "It's about being the master of your own plan and, ultimately, I think it's hopeful." There's also Emma Thompson's character, Lady Eastlake, a witty and autonomous woman who appears largely unimpressed by all of the male intellectual posturing that surrounds her (and whose balanced relationship with her own husband reflects what today we might deem "relationship goals"). 
Or perhaps the film was a fit because Fanning is somehow uniquely suited to embody another time period. After all, to her, the era you're born into is merely coincidental. "If you start focusing too much on trying to put on this whole Victorian vibe, it's not natural anymore," she says of preparing for the role. "Because really the character that you're playing just lives in that time." And as we chat, it seems Fanning herself would be equally equipped for life in another decade. "I've done a lot of independent studies in school on old Hollywood, because I think there was something really special then that can never be replicated because of the time that we live in, and technology," she says. "I kind of long for when there was more mystery to how movies were made. Now everyone's goal is to know everything about everything." Fanning's especially interested in the work of Bette Davis. "People say my eyes are like Bette Davis's," she says (and they're right— do a quick Google image search; once you see the resemblance, you can't un-see it). "I once even worked with a director who called me Bette. So there's always been this weird connection that I've felt to her," she explains.
This nostalgia extends to Fanning's daily life. You won't, for instance, find her on social media. "I feel like if I did it, I'd start to measure my experiences by how good of an Instagram it's going to turn into," she says. "And I don't want to be living my life trying to see it all in a square, trying to get a photo." (At this point, I feel particularly guilty about my amateur #foodporn photo shoot at Milk Bar.) She also argues that she doesn't want to waste time on what amounts to practically another job: "You have to set the photo up, you have to take the photo, you have to edit the photo, pick the right filter, format it, caption it—like, too much! There are so many more things I could be doing!"
Sure, it's not what you might expect, but perhaps what people keep reading as "adult child star" or "old soul" is in fact just her ability to transcend preconceptions about age (and even era). As her Effie Gray co-star Sturridge puts it: "Dakota is one of the most extraordinary people I know. She is dangerous. Not in the way actors are described respectfully, but in the way murderers are described disparagingly. She is brave. She is kind. She is bizarre. She fascinates me. That's why I watch films: to be fascinated. That is why I will watch her forever." Fanning's Night Moves co-star Jesse Eisenberg agrees: "She's wonderful to be with because she's an unusual person. She has a kind of enigmatic quality that makes you want to keep talking to her because she's a little difficult to figure out. Like, whatever obsequiousness young actresses often have has been kind of deleted out of her."
Maybe Fanning is truly timeless. "Being Dakota isn't a job," she says, summing up her stance on social media with a shrug. "Being Dakota just is.