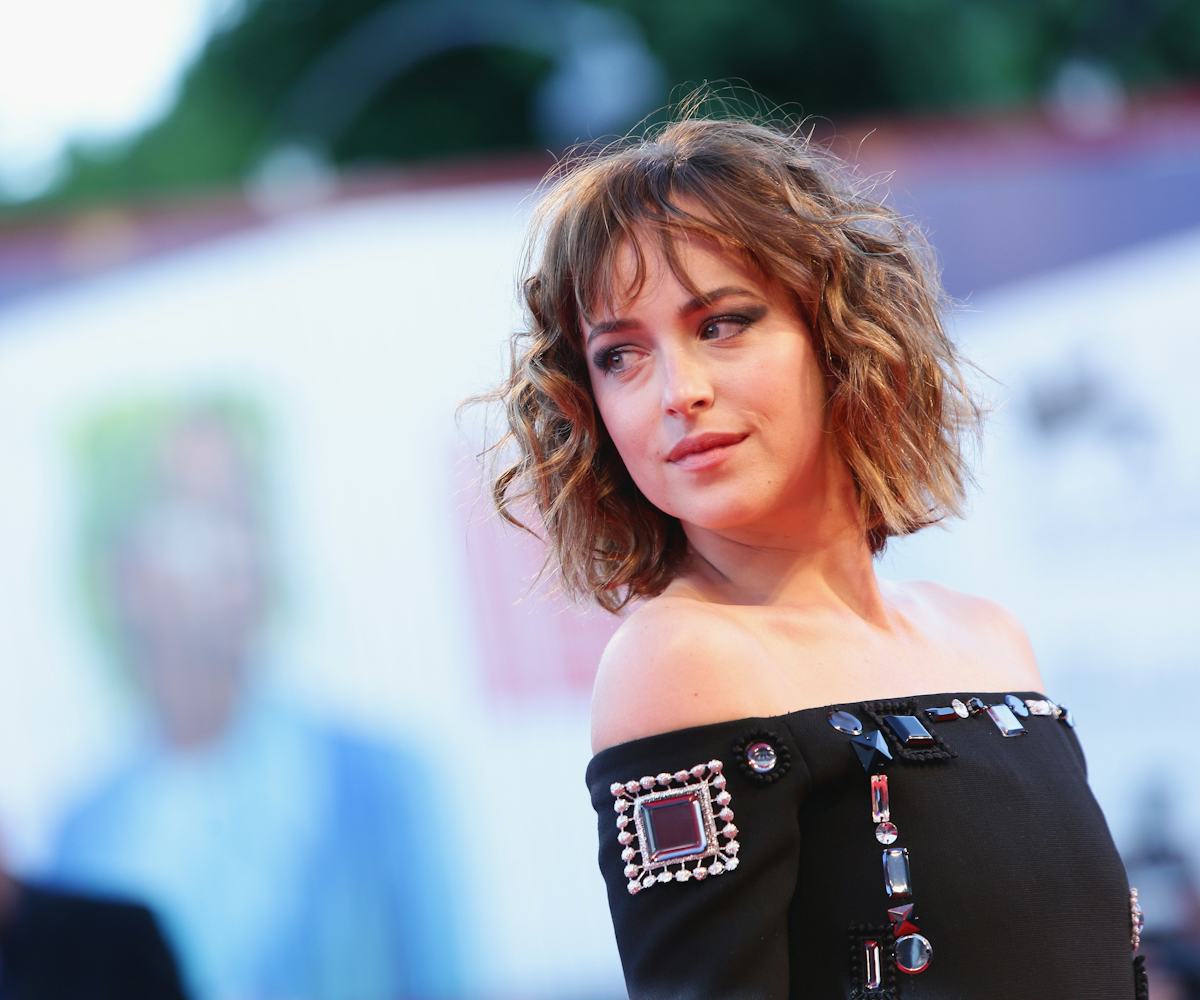 photo by vittorio zunino celotto/getty images
dakota johnson is topless for the cover of 'another' magazine
she spills on the pressure of auditions, her years in school, and her latest film
Following the intense media attention surrounding Fifty Shades of Grey, Dakota Johnson was pretty much catapulted into the spotlight for her role as the blushing main character, Anastasia Steele. As the daughter of Hollywood stars Melanie Griffith and Don Johnson, Dakota Johnson comes from a family of fame, but in her recent interview with AnOther Magazine, we get more personal insight into her person. Johnson is topless for the magazine's simple black-and-white cover, stripped down with minimal makeup. She looks raw and open, reflecting the nature of her interview for the issue.
Despite the fact that she starred in one of the most buzzed-about films of the year, Johnson admits that she still has a difficult time with auditions. "Sometimes I panic to the point where I don't know what I'm thinking or doing. I have a full anxiety attack. I have them all the time, anyway, but with auditioning it's bad," she shared. "I'm so terrified of it. I have crippling self doubt! But the things I'm the most afraid of, I run towards."
She also revealed her experiences during her years in school. "I was with my family a lot and I had a very serious boyfriend. I was into a lot of music. I got in trouble for smoking pot…" she recalls "I was more interested in spray-painting things and hanging out with my friends than I was in school." She also remembers how she was kicked out of her school play for bad grades: "I got kicked out of the play because my grades were failing. So I was like, 'Fuck the drama department,' and I studied figure drawing for three years." Luckily, Johnson decided to try acting again at some point. "At first my parents were like, 'No fuckin' way!'" she says. "But I think they knew they didn't really have an option."
Johnson spoke about her role in her latest film, A Bigger Splash, in which she plays Penelope, a character completely different than the one she'd played in Fifty Shades. "I wanted to use my body and my body language to make her the darkest person she could be, as well as making her desirable. It's such an interesting thing, when young women are hyper-aware of their sexuality," she says on playing Penelope. "That's something that struck home with me. I feel like those women really provoke other women, too. If I see young girls flaunting their bodies around, I'm annoyed if I don't think they know what they're doing."
A Bigger Splash also stars Ralph Fiennes and Tilda Swinton and is in theaters now.