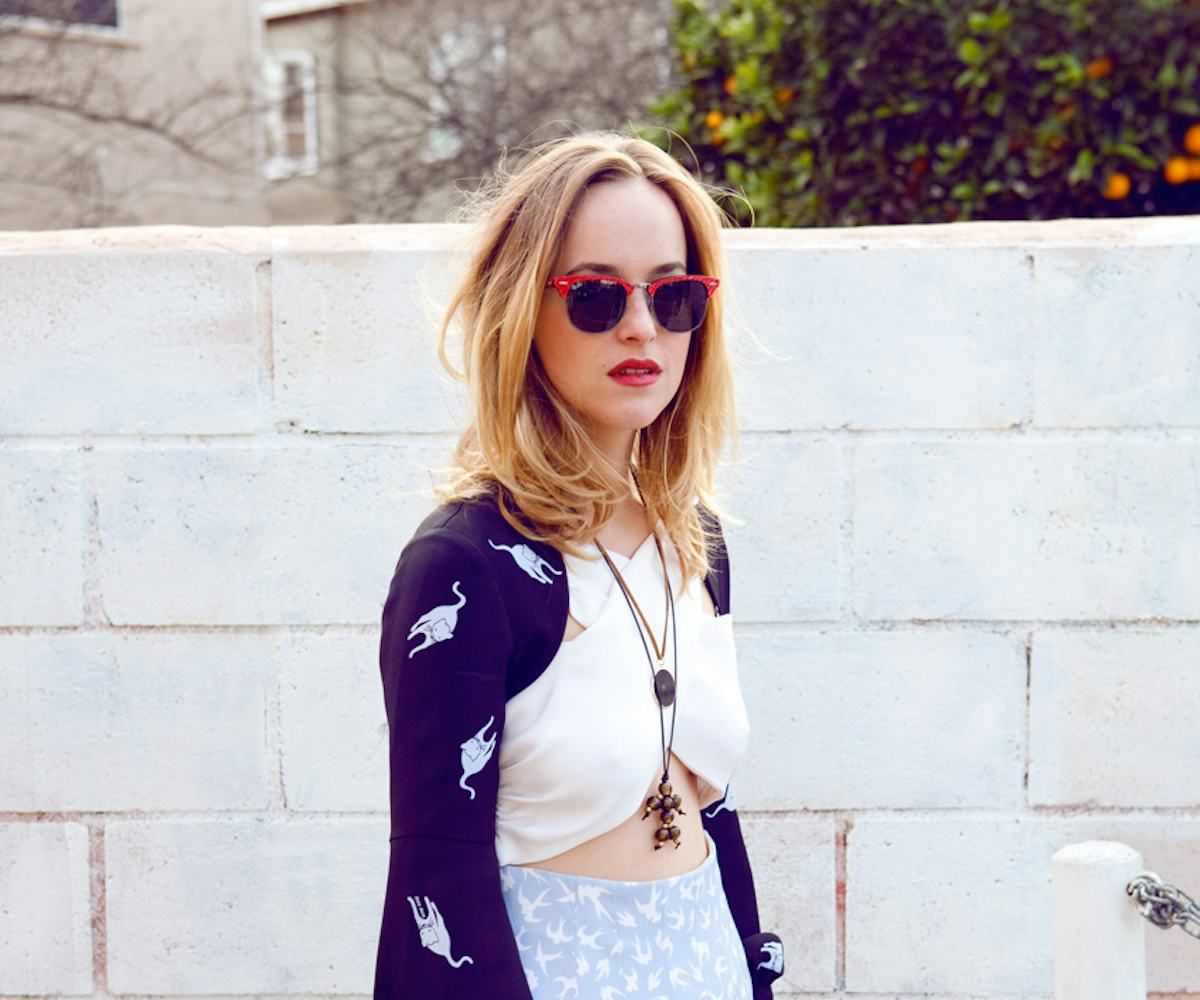 photo by brigette sire
#tbt dakota johnson from our may '10 issue
by mallory rice and francesca babb
With a certain BDSM-themed movie hitting theaters tomorrow, we thought this would be a good opportunity to revisit a feature with Dakota Johnson, one year before 50 Shades of Grey was even published, and fives years before the movie version transformed her into an instant star. 
DAKOTA JOHNSON
Age: 20
AUSTIN, TX
Sure, she's the daughter of Melanie Griffith and Don Johnson, but considering that she looks she's just stepped out of the Lolita movie poster, the camera probably would have found Dacota Johnson-who has upcoming roles in Beastly and David Fincher's The Social Network-anyway. 
I DON'T THINK I WAS EVER LIKE, "I WANT TO BE AN ACTRESS."
I grew up around it. I was more like, "This is what I do. This is how I deal with the shit that's going on inside me." 
I'VE BEEN LISTENING TO A LOT OF MUMFORD & SONS.
I like the entire album and that's pretty rare. There are usually one or two songs that I could do without. I just saw them in Sydney at the Laneway Festival. It was so cool.
NOBODY LEARNS HOW TO SPEAK RUSSIAN. 
So I'm learning. I'm using Rosetta Stone and I feel really silly when I'm using it. I'm in my house, speaking Russian to myself into headphones attached to a microphone. It's funny.
I REALLY WANT TO WORK WITH QUENTIN TARANTINO.
His movies are just really real. It's funny and it's sexy. It's the down-and-dirty, gritty business.
I'M FACINATED BY THE WAY THE MIND WORKS.
If I wasn't acting, I might be a phychiatrist. I'm interested in the actions and decisions that people make every moment. MR
Photographed by Brigitte Sire.
dress by miumiu, sunglasses by ray-ban, her own necklace and bracelet, rings by cc skye