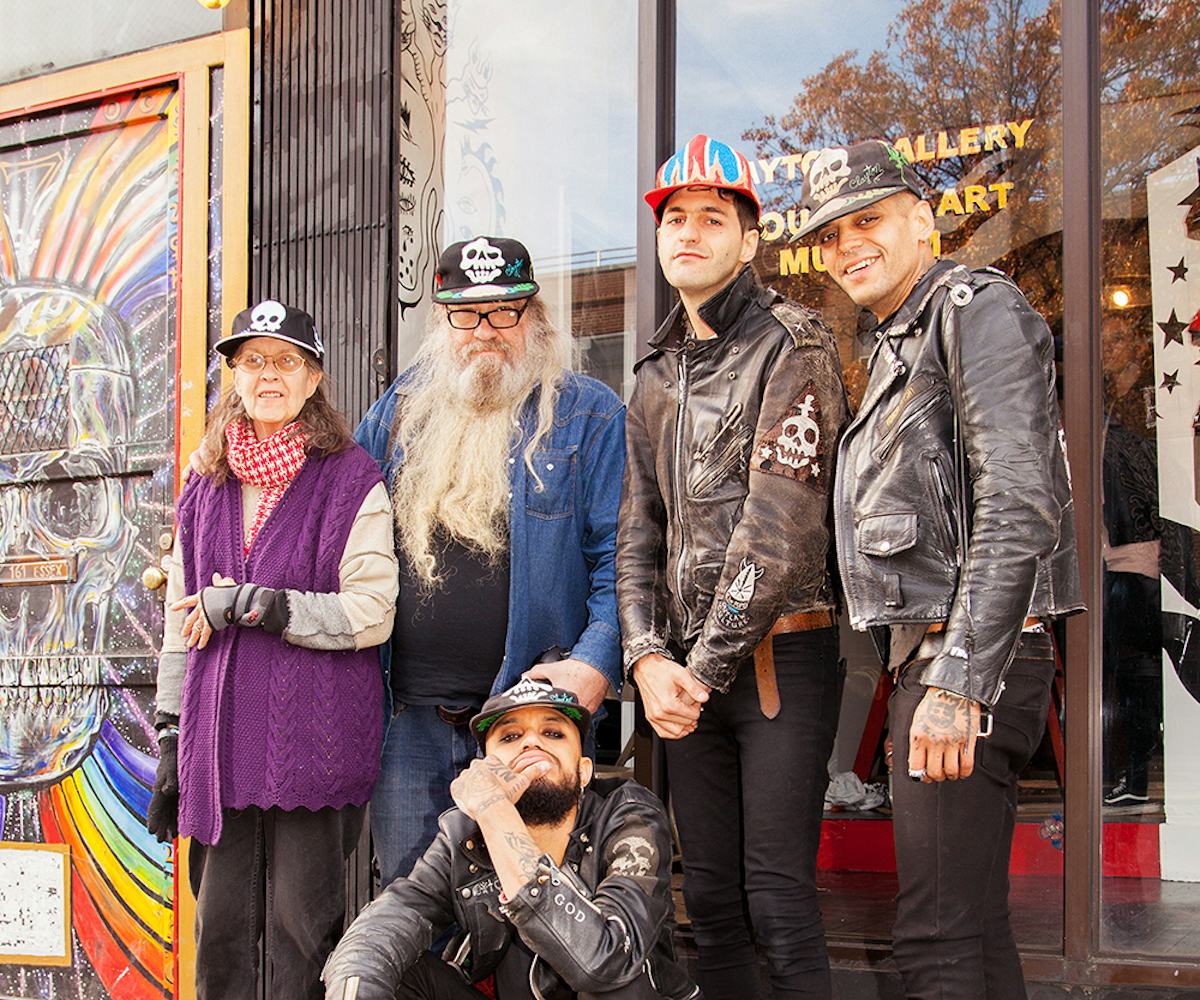 With The Help Of Rising Band DAMEHT, NYC Photographer Clayton Patterson Is Bringing Back His Iconic Caps
New York's original art outlaw
New York City photographer Clayton Patterson is to DAMEHT as Andy Warhol was to The Velvet Underground—an artistic ringleader, whose work is the perfect foundation for a band to build its brand upon. Where frontman Lou Reed and fellow band members haunted Warhol's Factory throughout the '60s, DAMEHT's Rivington Starchild, Roman Lewis, Lucas Garzoli and C.E. Santana all center today on Patterson's longtime Lower East Side home, The Clayton Gallery & Outlaw Art Museum, which he's recently reopened after nearly 10 years of being closed to the public.
DAMEHT, the "Creeper Creeper" band Patterson calls his "think tank," has worked together to revive the historic Essex Street space, and with it reissue an exclusive range of Clayton Caps, each designed after styles the artist embroidered and sold from his home during the '80s. Featuring iconic checker cab motifs and variations of Patterson's cartoon devil, DAMEHT's Clayton Caps aim to bring attention back to one of NYC's most unsung style innovators—a man whose signature all-around designs revolutionized the baseball cap and attracted everyone from Keith Haring to Matt Dillon. 
Inside the completely repainted Clayton Gallery, original Clayton Caps hang with their contemporaries like art pieces, displayed alongside a number of Patterson's other works, from colorful drag portraits taken at the iconic Pyramid Club to one-of-a-kind illustrations. Having integrated themselves so tightly in Patterson's world, DAMEHT is like another one of his authentic creations, their matching distressed leather jackets decorated with his patches and their heads dressed only by vintage Clayton Caps. All bands have uniforms, and DAMEHT's is overseen by New York's original art outlaw.
NYLON recently caught up with the rising band and OG LES photographer to learn more about their creative partnership.
Why did you first start working with Clayton Patterson?
DAMEHT: A lot of the figures we've followed have always wanted to preserve something, whether that's preserving love in poetry, film or music, or preserving the human spirit. In our case, we're wanting to preserve innocence—the feeling of naivety that allows you to get lost in what you're doing, whether that's make a cap or writing a song. That's what Clayton did during the period he was making caps. He has done visually what we're doing sonically, although we're adding a whole pop perspective. We were looking for ways to communicate concepts beyond our sound and he really captivated us, like a virus. Why create something new if someone's already done it so big? Why not attach and make it bigger?
What was the process like to create the reissued Clayton Caps?
D: We had to step aside in order to do this authentically, so Clayton was closely involved every step of the way. Each original Clayton Cap was one-of-a-kind, so a lot of these reissued designs are based only off old photographs. All the final details needed to be exact, from the brim to the five-panel style and the embroidery—the colors of the embroidery, even. It's been a long process since the first sample.
Clayton Patterson: Without Rivington and the crew, this wouldn't have happened. Rivington had the curiosity and resources to pull it off, between manufacturing the Caps to replicating my original designs. Rivington was the first person to really understand these Caps, because for everybody else, they were kind of a joke for a long period of time.
How did you revive The Clayton Gallery & Outlaw Art Museum?
D: I'm sure a lot of people walking past this location on Essex in the Lower East Side are thinking, "How do they pay for this shit?" People spend hundreds of thousands of dollars to have spaces like this now, but we just got some paint, Caps, and lights, and did everything ourselves. If you paid a designer to do this, it would've cost thousands.
What do you think this space represents?
D: I think this space externalizes the things people wish to accomplish in their existence. We did this with just willpower and skills. It's a celebration of identity, for a man who against everything has remained himself. He's had teeth knocked out for what he believes in, and there are so few people who're willing to stand up to fight for themselves, like Clayton. This is really a celebration of and for Clayton—whatever we could've done to let him know how we appreciate him. This is us saying, "You're fucking important."
CP: This is the hottest part of New York City, right now. Here we are with this new vibe and new talent. Now, with Trump coming in and bringing all that darkness, we can be a light and revive the city—bring back the positive. I think we can change the world, and start with the Lower East Side.
D: This is a successful step in a conversation we started here in New York a few years ago about Clayton being in a place where gentrification was pushing him away—making him consider going to Austria and take his art away from here. His art belongs in New York, and for us to be able to have gone through all the things we did to anchor him here is amazing.
How does this creative relationship work?
CP: DAMEHT is not just a band. When we put all the pieces together, we have a magic crucible and creative think tank, but also a band with original music and original style. The whole thing fits and that means there's a cohesiveness and compatible energy. For them to come to a person that's obscure and outside the system is a pretty gutsy move. I'm sure they could've easily chased someone like Marc Jacobs, so stepping into a project with more problems attached to it is ballsy.
D: We've found a guy that is himself every day of his life and that's all we want to be as artists. We need each other mutually and we've been a family ever since we first met.
Photos by Johnny De Guzman.