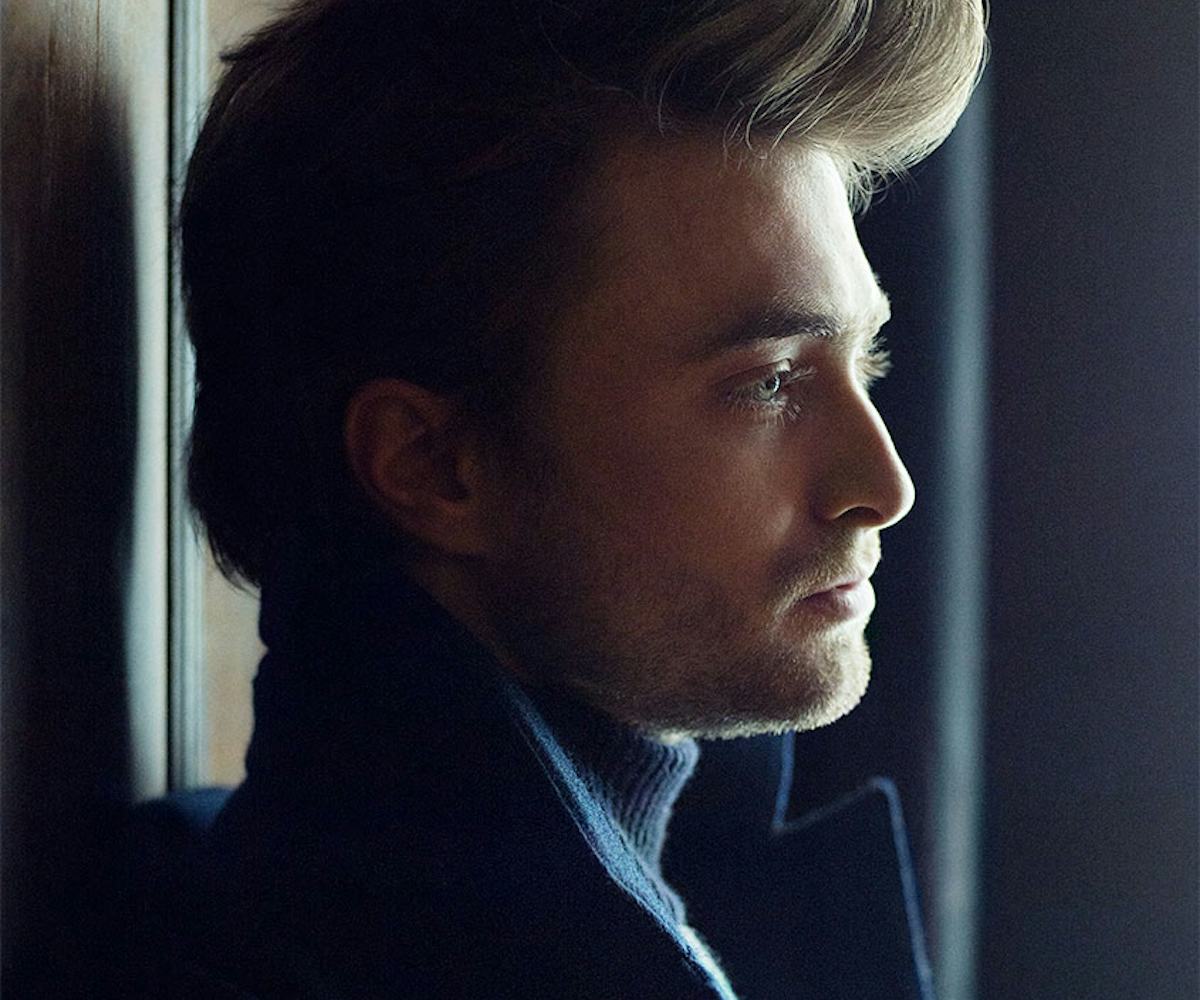 Photographed by Simon Emmett
Why You Can't Follow Daniel Radcliffe on Instagram
read his feature from our november issue
Here are four things you might not know about Daniel Radcliffe: 1.) He has 15 Instagram followers—for him, it's a private photo-messaging service for friends and that's about it; 2.) He's not immune to getting star-struck (when it happens, his default tactic is "drive-by complimenting"); 3.) He's on a Haruki Murakami kick, and, like the author, enjoys running, having pounded 90 miles of pavement this past summer; 4.) He has a newfound empathy for people with long hair, having had extensions put in for an upcoming role as Igor to James McAvoy's Frankenstein in Hollywood's most recent take on the sci-fi classic. "First of all, drying it takes half an hour and is so fucking boring," he says. "Secondly, the upkeep! If you're willing to put in the effort, I'm full of admiration, but I just couldn't do it."
The 26-year-old shares these tidbits while strolling through The Old Operating Theatre, a London museum that has kindly opened its doors to him for an after-hours tour. Surrounded by sinister-looking surgical instruments, we learn of how a coachman's too-tight boots might have contributed to an aneurysm. It's gruesome stuff, and a fitting setting as Radcliffe's latest movie has him in a mad-science state of mind. Told from Igor's perspective, Victor Frankenstein explores the young assistant's backstory as well as the infamous outcome of the duo's experiments. "I like the fact that it's a studio movie with these big sets and sequences, but there's also a cool intellectual debate going on—our innate fear of technology and the fear of people who push it beyond where we're comfortable with it going—it felt like a nice combination," he says.
Click through the gallery to read the rest of Daniel Radcliffe's feature from the November 2015 issue of NYLON.
In a plain blue-gray hoodie, T-shirt, and cap pulled low, Radcliffe is dressed in what has become his standard garb—it's the closest thing he's found to an invisibility cloak for traversing his hometown incognito. "This is me, every day," he says, pulling at the hoodie—"until it gets dirty, and then a red one." Sombreros are great for hiding one's identity, he jokes, "but then people will say, 'Who is that guy in the sombrero?' So that's a problem." He is, however, adventurous when it comes to socks—most of which his girlfriend, actress Erin Darke, buys for him. Today's pair features a stripper dancing on a pole with money falling down around her. His favorite, though, is a pair of socks with socks on them.
It goes without saying that the main reason Radcliffe has to hide is because of the one thing nearly everybody knows about him: That prior to adding roles in The Woman in Black, Kill Your Darlings, Equus, and How to Succeed in Business Without Really Trying to his CV, he played Harry Potter for eight films and a decade of his life. Of course, the boy wizard will always be a part of him, and he fully recognizes the impact it's had on his career, but Radcliffe does admit that it feels nice to be recognized as "Daniel" first—as opposed to "Harry"—in places like New York, where he's had some success on Broadway in recent years.
Still, he's famously close with many of the series' cast and crew—and not averse to the odd tomfoolery, especially with pal Tom Felton, a.k.a. Draco Malfoy. "We give each other shit via other people," explains Radcliffe. "So if I'm doing an interview, and he's about to do an interview with that person, I'll say, 'Ask him about Bryan,' and Tom will know what that means."
Bryan, it turns out, is a superfan who has taken close to 200 stage-door photos with Radcliffe, the star guesstimates. "He's an amazing example of someone who has made his hobby into a career, because he collects autographs and then sells them," he says. Radcliffe has even been tempted to buy a soccer player's scribble from Bryan on occasion. "I feel like those guys [should have] desks at the CIA—they can work out where people are going to be in ways that I find amazing," he says, genuinely impressed.
Radcliffe also speaks highly of former co-star Emma Watson's HeForShe campaign to promote gender equality: "I think it's fantastic that she's bringing attention to it and adding to the conversation. I also find it bemusing, honestly, maybe because I have cool parents with a very equal marriage and have had good role models all my life, but I thought this was done," he says. Things are improving, at least in his own industry, Radcliffe adds, noting that he'd never seen a film crew more equally split gender-wise than on the set of Swiss Army Man, which he's just returned from after 25 days of shooting. He describes the film as "super weird," "the craziest thing I've ever done," and "intoxicating." Without giving away too much of the plot, he reveals that the film includes singing and a guy befriending a dead body.
"My guiding principal is to find jobs with that kind of electric atmosphere," he says. But that's not to say his entire life revolves around work. We all know he likes to rap (see: his flawless renditions of Eminem's "The Real Slim Shady" and Blackalicious' "Alphabet Aerobics"), but sadly there are no plans for further musical endeavors. "I find it very hard to take any actor's band seriously, so I would assume other people feel the same way about it," he says.
What he is impressed by, or, rather, thankful for, is being alive today—the stark wooden table in the middle of the sky-lighted Operating Theatre a reminder of how far we've come medically. He befriends a skeleton balancing in a corner and allows a quick snap of the two of them—which is sure to delight his 15 followers. "It makes me feel incredibly lucky," he says, "that all of these people had to go through this for us to be where we are."