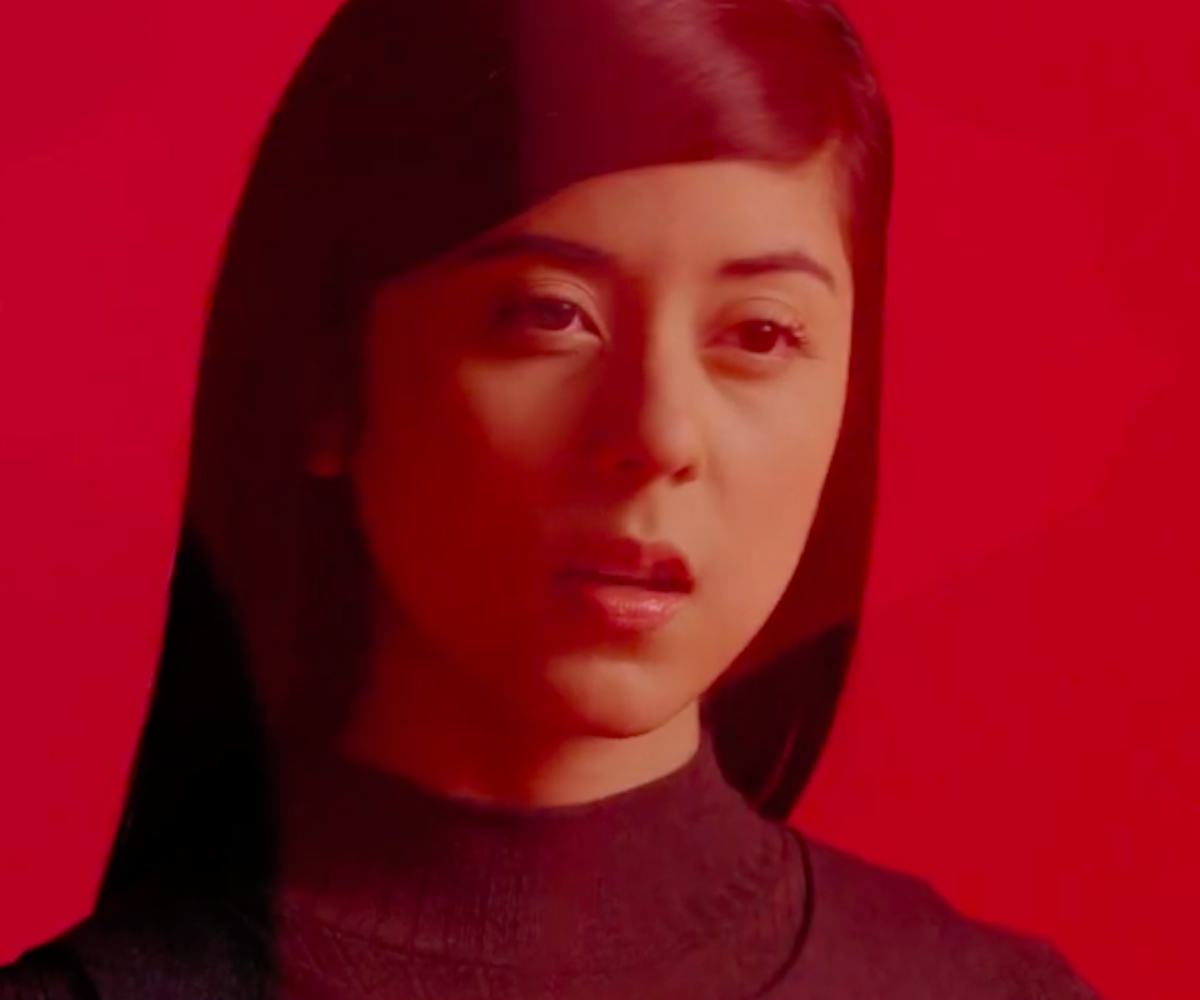 Screenshot via YouTube
YouTube Star Daniela Andrade Is Navigating What It Means To Be Vulnerable
"I want to open up where it's appropriate"
It's an unspoken rule that once you become successful on YouTube, you'll gravitate toward L.A., with dreams of taking your career to new heights. But the magnetic force of the West Coast doesn't faze singer Daniela Andrade; in fact, she has no desire to move there.
The 25-year-old singer shook her head no instantly when I asked if she would relocate, as if to show she knows that she's exactly where she belongs: Canada. It's here that she's built her following of over a million subscribers. Creators with similar numbers are on billboards, on the radio, and TV in L.A., but Andrade isn't chasing that type of fame. When she's not visiting Toronto, she's tucked away in her Montreal apartment, writing music and, most recently, producing it as well.
Andrade's delicate voice is mesmerizing, and the way she transforms a familiar melody into something uniquely her own is what has grabbed her audience's attention. 
Recently, I sat down with Andrade in a little coffee shop in downtown Toronto, where we spoke about her latest projects, "Stare At Each Other & Fall in Love" and "Lose My Mind," and why she's ready to let her fans in even more with her new music. 
It's going to be nine years since you started on YouTube. What does it feel like to be making videos for so long?
I feel old! In 10 years the internet has changed so much, so I feel like I've seen a full scope of stuff. YouTube, specifically, has gone through such a transition, and there are many more singers on the platform now. When I started, there weren't really many. I remember I used to go watch animal videos... The amount of people that upload now is crazy.
What made you want to pick up a camera?
I saw one singer, Tara Naomi. I think she's the OG YouTube singer. And I saw her record herself, and I was like, "Oh, this is an interesting thing, to record yourself." I remember my dad got a Fujifilm camera, and I just pressed record and let it run. I would hang out with my friend, we'd just press record and let it sit while we played and we'd watch it back and we'd play it back and laugh at ourselves. That's kind of how it started.
Although you're known for your covers, one of your earliest videos is an original song, so you already been writing before you started making videos?
I wanted to write my own stuff since I was a kid, just writing short stories and giving my teachers whatever I would come up with. When I was on YouTube, I started with original songs and whatever I wrote the night before and then it slowly turned into covers and I was starting to develop my audience a bit more. I guess I've been writing my own songs more officially the last three or four years though.
How did you find your confidence to put your original work out there into the world?
[Although I started with original songs], it was my Michael Buble cover that started to do really well, so when my manager came into the picture, he was like, "Oh, you should do more songs that are known." For me, coming from posting originals to doing covers, I felt like I had to let go of a little part of myself to say, "Okay, I'm comfortable singing other people's songs, and this is going to bring me exposure." But it was a strange departure for me because I just wanted to upload things that I created... it was a strange thing for me to see YouTube as, like, a marketplace.
One thing that's drawn me to your videos is that you always bring your own style to your covers. So it's interesting to hear, as a viewer, you still didn't feel like you put all of your creativity into it because it wasn't your original song.
Yeah, I became really picky about the songs that I chose. It had to be songs that I loved. Maybe there's a couple in there that I had to work with a bit harder to like too. I remember specifically a Sia cover, just because it's not vocally in my range to sing Sia. But songs like the Gorillaz cover I recorded, I used to listen to the Gorillaz a lot, so "Feel Good" felt really natural for me. So it's nice when both things meet—when I really love the song because it influenced me, and then I can put my own spin on it. But it was difficult at first for sure.
Last year you did a lot of touring and you were all over the world. It must have been overwhelming to see your dream come to life in all these countries.
There was a strange moment because Asia was my first leg of the tour, which was really interesting, because you're halfway across the world, and a lot of my shows sold out over there. So that was really emotional for me... I was like, "Whoa, my music is reaching this amount of people and they're here right now—we're gonna do this." And then in Europe, it was Paris. A lot of my audience was just really kind and supportive. It was an awesome experience. I definitely got tired; I got sick and I lost my voice for a week, so I had to cancel three shows. But I also heard that's a thing that happens to so many artists. I had to take five days of vocal rest, and then ever since, I've been doing warm-ups and stuff. Just because I didn't see my voice as a tool until it was inhibiting me from doing my job, and then my manager was on tour with me and we both can't work because my voice is gone. It's never clicked so hard before to take care of myself.
On "Stare at Each Other & Fall In Love," you sing a bit of Spanish. I know like so many of us in Canada, your parents are immigrants and you're so connected to a culture that is outside of this country; does that influence your music?
Totally, and I think I didn't start accepting it until after I was 22. I went to Honduras when I was 15, and I don't feel like I processed the culture in the way that I would now at 20-something, because I was so disconnected. I wanted to be back home for the summer, but I ended up going to Honduras, and I remember feeling like I didn't understand cousins' jokes, I didn't want to be around my older family members, I had no respect for my culture, even though I had grown up around it. So now that my parents and I are getting older, we can talk on a similar level. I can see my parents as human beings. It's just touched me so much to learn more about where they came from the struggle they had. At 25, my mom already had four kids, and she was already doing the mom stuff. They barely had anything, in Montreal, speaking a foreign language with no friends around them. Thinking of my mom at my age, carrying me, I'm like, "How in the world did you do it?" So much determination.
I noticed you just said you were a little closed off before. Is that tied to a conscious decision not to post a lot of vlogs or talking videos on your channel, and let the music speak for itself?
I'd definitely like to do more Q&As. I want to open up where it's appropriate, where I feel like I can really lend my voice to a certain topic. Just because I really like connecting with my audience, but it's just been difficult to try and see where exactly I can lend my voice. Even though a lot of people are like, "You should just vlog more!" And I'm like, "Should I?" This doesn't seem natural to me. I mostly like to focus on the music, the studio process, and touring. I'd love to bring my audience into more of that to let them know what the process looks like for me. So I do it when it feels natural.
What can we look forward to?
I'm coming out with a couple singles in the spring. A lot of the stuff that I'm making now is myself producing, which is really fun. "Stare at Each Other" and "Lose My Mind" were the first demos I made when I started producing six months ago. I feel like I'm at a spot where I can at least take out an idea from my head and put it into the program, which is so good for me because now it makes the studio sessions so much more productive and I can bring a lot of ideas to the table, so I'm just looking forward to releasing a lot of new parts of myself. Like I said, embracing my parents' roots, embracing where I come from, and trying to just be more vulnerable in this time of my life. I still feel like I'm figuring a lot of things out.