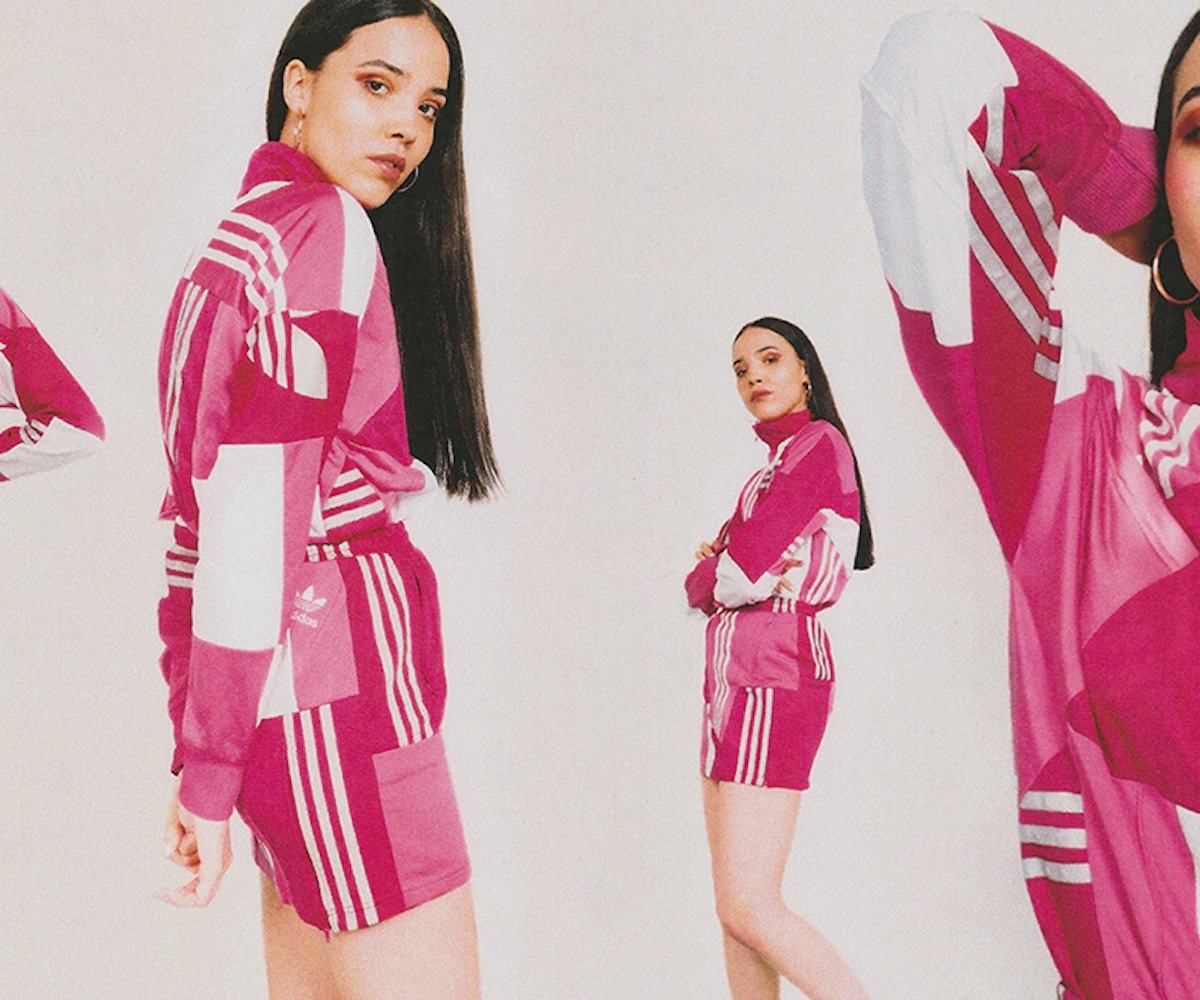 Photo by Yavez S.E. Anthonio
How Daniëlle Cathari Is Reimagining The Tracksuit
Daniëlle Cathari is staking out fresh ground in the graphics-heavy world of streetwear. The eager, hyper-talented young designer has had a consistent climb to fame since her collection with Adidas launched at February's New York Fashion Week. Kendall Jenner was the collection's muse, and the brand's iconic three stripes could be seen on tracksuits dreamed up by Cathari, representing not only a triumph in women's wear but also for women in design.
Cathari's de- and re-constructing of tracksuits came to fruition in a 1990s catalog-inspired spread that highlights their retro, angular structure, innovative and thoughtful patterns, and lucid, classically chromatic color schemes. She invites us to rethink our staples—and it's an invitation we ought to accept.
Graceful and lithe, Cathari is almost always in a sweater and tracksuit bottoms, accessorized with nothing more than a gleam in her eye and a smile as cheeky as the expressions sewn onto her clothing. I sat down with her recently to discuss the value of learning as you go and striking a balance between art and commerce.
When did you first discover fashion?
As a child, my mother made me clothes and taught me how to sew. But I was just a curious kid; I wanted to undo all these garments so that I could see how they were cut and sewed together in the first place. I'd take them apart so I could learn how to put them back together. That's how I originally fell in love with the lines, angles, and structures that make up such an integral part of my signature style today.
Where do you get inspiration from?
I'm always yearning for balance, and I also channel everything that I'm feeling in any given moment into my work. For example, for this first collection, I was going through a phase where I was trying to find a balance between being rational but also being intuitive at the same time. Now I'm trying to strike a balance between being creative but also business-minded. Balance is a thing that I struggle with all the time, and I do my best to bring that into my designs. It's always personal, and it always has a contrast aspect to it. Our lives are full of feelings that can oppose one another, and I find that the contrast between "rigid" and "volatile" forms a perfect chaos.
Do you feel like you learned more from fashion school or by navigating the process through hands-on work?
A mix of both, honestly. At AMFI [Amsterdam Fashion Institute], I got to know the whole designing and tailoring aspect of fashion because they force us to really use our hands, but they teach us nothing about production, distribution, or marketing, nothing about the business side of things. So I'd say I learned my foundation through fashion school, but what I learned through the Adidas experience gave me the tools to understand how to go about founding my own brand.
So much has changed for you in the past year, both personally and professionally. How have you handled it all?
I just feel truly blessed to be in this situation. It's strange having to suddenly be that much more conscious about each photo I post on Instagram or be careful with what I say on social media. It's also weird that now I'm spending 1 percent of my time being creative and 99 percent working on building my brand. It's so much work, it's not easy at all, and while I love it, it's a pretty good reminder that this isn't all rainbows and butterflies. It snaps me back to reality pretty quickly.
How integral would you say color is to your creative process?
For this project, before Adidas got involved, I was basically just using whatever vintage Adidas items I could find, so I didn't have much of a say in terms of color palette. But once the team came on board and we turned it into a full collection, we really wanted to bring back the classic '90s tracksuit look and that very iconic Adidas green, so we followed that style.
How involved with you in the process of the launch event during NYFW?
I was involved in pretty much everything, because when I had the vision for the collection, it wasn't just the product I was thinking about, it was everything from the marketing, to the lookbooks, to the presentation of the garments at the store, to the models who would be introducing them to the world. For the event, we did a street cast, and it was amazing. There were over 500 girls in one day, and they were all so unique and diverse. Our goal with the set was to create a contrast between structure and fun; it could be seen as either a construction site or a playground, almost like a mature playground!
I think that the collection is feminine but strong enough that you can wear one look from morning to night without having to go home to change. I think that you were able to capture women's hearts because you have a profound understanding of the lives of women today.
With the Adidas Originals collection, that was in the back of my mind and was something I considered as I was developing the line. I kept asking myself, How would a woman feel in my outfits? because that's also such a big part of Adidas' identity as a brand, making products that anyone can wear. The street casting stemmed from that; we wanted genuine, real-life girls who could show how inclusive the collection is. And it all made sense when you then saw them at the NYFW event, each one with their unique look, styling the pieces differently.
How do you want women to feel when they wear your clothes?
Armored and strong, ready for battle and survival, which we need to be today, but without giving up shape, color, and comfort. The garments can envelop you and make you feel both feminine and tough at the same time.
How far along are you in the process of building your own brand?
I'm just finding out about the whole production process right now. I also want to build a team in the future, but, for now, I wanted to take on the challenge of learning this on my own. That way later on, once I've built a team, I'll still be able to understand what's going on in different parts of the business and give my own opinion without relying too much on other people's expertise, because I'll be knowledgeable in each of these fields.
Are you feeling any pressure to launch it soon, given all the momentum you've had recently?
Not so much from other people, but definitely from myself. There's no doubt that now is the right time for me to launch my own brand; the opportunity is there for me to show the world how versatile I can be and what else I'm capable of. But at the same time, as you said, things did change very quickly for me, and once you've had a big brand like Adidas help you with all the production, distribution, and marketing aspects of a collection, it's tough going back to learning all of that on your own and navigating that process by yourself. I don't want to rush it and end up putting something out that's subpar. The other tough thing about fashion is that what you're creating today, people won't see until next year, so you're always working one year ahead.
Right, success in your field depends on being connected and knowing what's going on, what's coming next. How do you make sure you're doing that?
I stay curious. Once you lose your curiosity, you get comfortable, you get stale. Curiosity is a super-big part of me. As long as you keep that curiosity, I really believe your connections will stay fresh, your eyes will stay open, you'll discover new things all the time, and you'll have fun doing it.
Being from Amsterdam, a very diverse city but also quite a small one, do you feel like there was a framework in place for you to succeed?
Amsterdam is a super-creative and cozy city. I love it, and it's getting more notoriety in the international scene. It's obvious that it's growing, so there's a lot of opportunity to be part of that growth here. But we also have a very down-to-earth mindset, so the problem is that a lot of us are kind of just doing our own thing and end up not really sharing experiences or asking each other for advice. Sometimes I feel like that can prevent young fashion designers from feeling like they have the support to thrive, but overall, I think that if we continue to stick together and build this network of young talent across different art forms, we'll all grow collectively. Ultimately, we genuinely all want the best for each another and there's enough room for us all if we continue to nurture this bond.
What would be the ultimate "mama I made it" moment for you?
That's a really hard question…
Because you've already achieved so much at such a young age?
Well, yes, some of my dreams became reality pretty quickly, but also because for me the idea of success doesn't just stem from how big or profitable my brand becomes. I think that moment for me would be when my own brand, that I've had total creative freedom developing, is able to support me financially, but also when I'm able to feel like things are good on a personal level. I think I'll feel that way once I'm able to live off of my creations but am also able to share that success with people I care about and who care about me. That's when things would feel most complete.