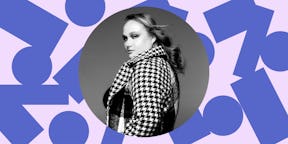 Danielle Macdonald has had a busy couple of years, but it doesn't look like she'll be slowing down anytime soon. She burst onto the scene in 2017 with a starring role in Patti Cake$, a film centered around aspiring rapper Patricia Dombrowski, who has many a stage name (Patti Cake$ is one, but there's also White Trish, Juicy Luciano, Marilyn Mansion, Jane Dough, and Killa P). And Macdonald, an Australian-born actress with nary a clue how to rap (much less in Dombrowski's New Jersey accent), painstakingly learned the skill over the course of a few months.
Between Patti Cake$ and a drop-in role in Greta Gerwig's Lady Bird, 2017 was a breakout year for Macdonald—but it was just the beginning. Her next project, Dumplin', is set to release on Netflix in December, and it's bound to be huge. Starring opposite Jennifer Aniston, Macdonald plays Willowdean, a plus-size teenager struggling with self-doubt, who decides to enter a beauty pageant to combat her nagging negativity (her mother, Aniston, was a former pageant girl herself).
Even if you're not an aspiring rapper or beauty queen, it's safe to say you'll find something to relate to in everyone Macdonald plays. That's because, hidden in each of these women is a universality, something Macdonald considers a crowning achievement. She's proud to have played "real women—flawed, strong, independent women," and works to make the ignored feel heard with her roles.
Below, we talk with Macdonald about the hardest thing she's ever done for a role, what she wants to do next, and who her own It Girls are.
What has been the hardest obstacle you've had to overcome in your career?
Self-doubt; I think that's most people's obstacle. When you take on new roles that you don't feel comfortable with, that require you having skills you don't have, it's terrifying. You really have to put in the work, physically and mentally. I worked for so many hours to learn a new skill [rapping for Patti Cake$] to just get to a point where I was confident enough to do it. There were tears, and a lot of sleepless nights, and stress, but, at some point, you just have to remember that you care more than anyone else and it's not all about you. I'm pretty good at talking my feelings out and finding comfort in my co-stars and directors who really bring you up and help make it easier to perform, 'cause acting is about relationships and listening and reacting, so it's very comforting knowing you're not in it alone.
What's the hardest thing you've ever done for a role?
Probably rap. Learning to rap for me was a challenge; performing the raps in front of a crowd was an even bigger challenge. I don't think I've ever been so terrified before on a set than when I had to get up in front of that crowd and perform.
What kind of roles do you want to play next?
I really want to do a bit of everything. I've been lucky enough to play lots of real women—flawed, strong, independent women—and I love it. They are definitely the characters I'm drawn to. I want to play characters that people relate to, characters that make different kinds of women in society feel represented. It's also fun for me to try new things, and I think it would be fun to play some kind of villain at some point.
Who was your It Girl growing up?
I was the biggest fan of Alias and Veronica Mars, so I'd have to say probably Jennifer Garner and Kristen Bell.
Who is your It Girl now?
I still love Jennifer Garner and Kristen Bell, but I've added a lot of people to that list. I love Octavia Spencer, I love what she has to say as a human, and I love her career and the variety of characters she has played.