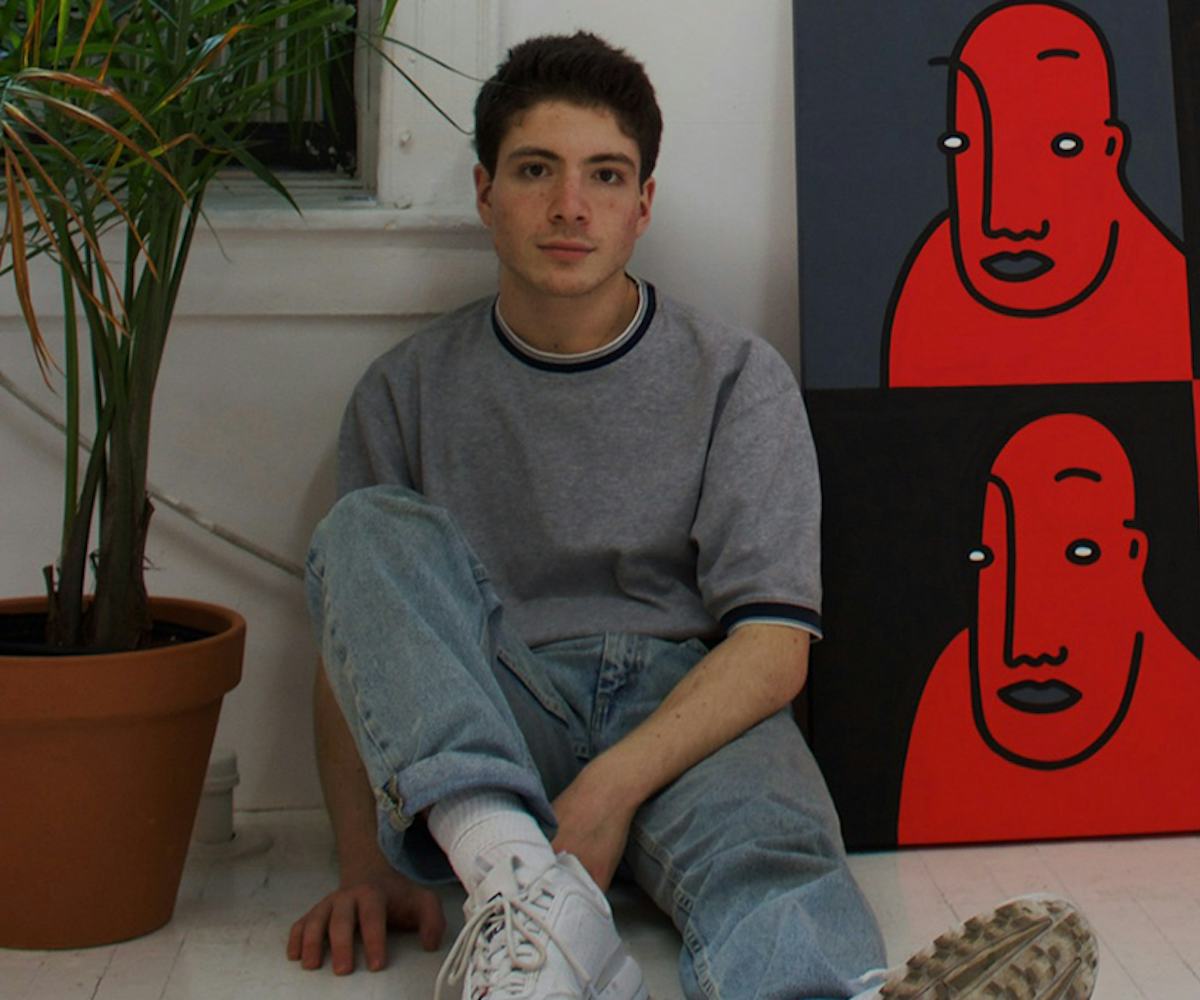 Photography by Emma Higgins.
Meet Danny Cole, The Teenage Artist Collaborating with Portugal. The Man And Cherry Glazerr
His first solo gallery exhibit, "Departure," is on view now
A single Danny Cole canvas fills up an entire room. Though the 18-year-old, New Jersey-born artist has been dubbed a minimalist, his works convey such raw emotion and rich interiority that being amid his paintings is a dizzying, almost voyeuristic experience. Cole's colorful characters are reminiscent of Keith Haring's signature creations, but where movement was central to the pop art icon's work, Cole translates his own thoughts and struggles into static snapshots of personal, private moments.
"I know that I've done something that's filled with substance when I finish a piece or a project, and I just feel like I don't even have the energy left to stand up," he says. "I just need to sink."
Cole has been making art for years, filling up journal after journal with different variations of his characters. "I would just draw in my own books and fill up a book, and when it was done, I felt like I'd thrown so much that was so personal to me into it, I would just get rid of it," he explains.
He'd never shown his art in public until last fall when he was at a party with musicians Channel Tres and Duckwrth. Once guests began drawing on the walls, Tres encouraged Cole to participate, and his work caught the eye of another party-goer who was so taken that they asked if they could make a purchase. From there, Cole's rapid ascent began, and a whirlwind of a year that includes his high school graduation is being capped off with "Danny Cole's Departure," his first solo exhibit being held at Stephan Alexander's Ghost Gallery in Manhattan. The work was inspired by a deep period of reflection on the nature of interpersonal interactions when Cole realized that his outgoing self was more of a conscious performance than he'd previously thought.
"It was a real state of dissociation, and it came from a place of taking a step back and looking at my life, because I had always been such an extroverted person. I wanted to be friends with everybody because I found such comfort in interacting with other people," he explains. "I found what I thought people wanted me to be, and I took that role, and, as a result, any sort of communication I had, it wasn't like anyone was communicating with me, they were communicating with whatever version of me I wanted to present. I realized nobody actually knows me."
The color palette of "Departure" reflects the exhibit's knotty subject matter, as bold, bright reds coexist uneasily with inky blues and steely, somber grays. More exuberant yellows and oranges highlight moments of intimacy and realization within the 10 works. Cole's humanoid figures are both alien and familiar, as the artist's universe channels relatable emotions into intimate and inviting pieces. Cole, who grew up as a musician, has little training (he jokingly references a high school pottery class when asked about his formal credentials), but says that hasn't held him back from using his art to convey its intended message.
"You can teach somebody mechanics, but I think that's the least important part about art, which is why I go for such a minimalistic approach with the stuff that I create," he says. "Anybody can sit down long enough and learn how to make the most hyper-realistic looking art, and, of course, that takes talent, it takes commitment, but I think to actually communicate through your work and to add substance to it, that's a skill that cannot be taught, and that's really all I focus on is communicating through my work."
When asked to pick one canvas that he feels best encapsulates the entire body of work, Cole highlights a piece where a single gray figure is snared between a pair of ominous floating shapes that appear as stand-ins for the world Cole found himself detaching from. The figure looks quizzically at its hands, rendered in the same shade of red as the blobs, perhaps a nod to the idea that, while we are all dealing with our own internal battles, we are nevertheless part of the very world that encroaches on others.
As with any young visual artist, Cole is active on social media, but he takes advantage of the vastly different nature of seeing a work in person versus thumbing past it while waiting for the train. Just like how "Departure" focuses on the performative nature of the public self, seeing Cole's paintings up close adds a layer of intimacy through the rich, detailed textures that add depth and dimension to the characters and landscapes.
"I love the ability to share my work, and there's no part of me that wouldn't go throw them up online for people to see, but when people see them on their phones, they pass through it for a second. They're like, 'I like this' or, 'I don't like this.' To throw yourself in a physical setting where it's actually there, there's nothing else for you to do but look at this piece and process it in whatever way you choose to process it," he explains. "The thing that makes me the most uncomfortable and the most afraid is that somebody will just look at a product of mine and think, Oh, this is cool. This looks pretty."
But many people have seen past the surface aesthetics, including high-profile artists Cole now counts as friends and collaborators. He was named creative director for Portugal. The Man earlier this year, a relationship that began when he was 14 years old and messaged the band's singer John Gourley about an '80s Woolrich parka he wore on stage. Gourley helped Cole track down the coat, and while it didn't fit, it started a friendship between Cole and Gourley that led to the young artist handling visuals for their live shows.
Having just finished high school, Cole is planning a return to the mediums of fashion and music, while also currently working on projects with Cage the Elephant's Matt Shultz, Burns Twins, and Cherry Glazerr. He's also got more collaborations coming with Portugal. The Man, saying that their partnership is "entering some real experimental territory."
As Cole's profile rises, more and more people will want to find their way into the private universe he's spent years cultivating. He says it can be tough to watch a particularly resonant piece find a new home, but that ultimately he's ready for his works to be in the world. After retreating inward to make the touching pieces that comprise "Departure," Cole is more than happy to share.
"Share the meaning, share the actual piece, share everything about it," he says.
Join Danny Cole for an artist talk on June 7 at Ghost's Manhattan Satellite Space (63 Orchard Street). "Danny Cole's Departure" is on display through June 16.