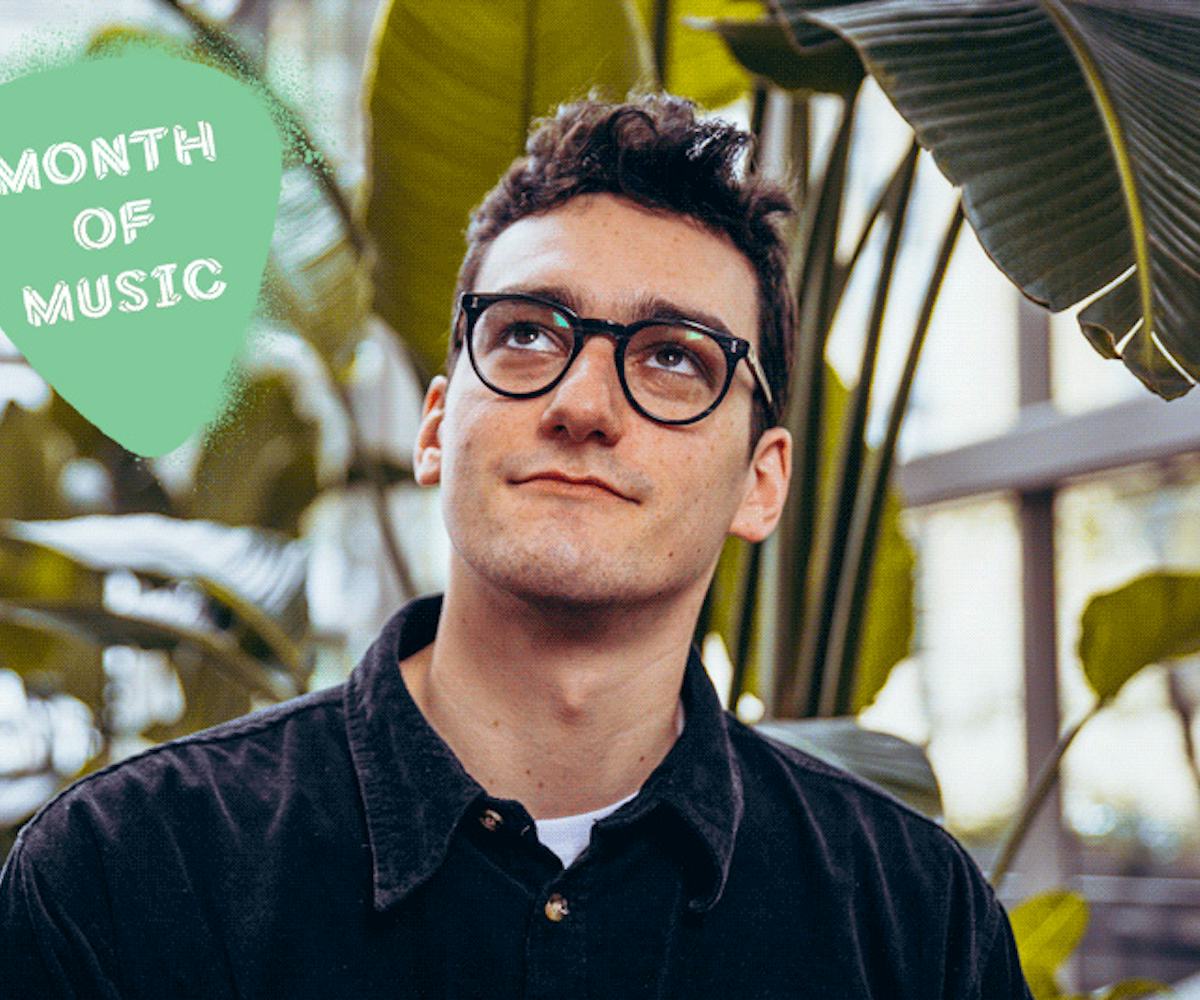 Photographed by Kara Smarsh
Danny L Harle Is The Next-Level Producer Changing Your Perception Of Pop
Champagne moments, for all
We share music because we want to connect with others on a deeper level. We want to relay and relate to a message that can't be said with just words. This April, NYLON is dedicating six days a week to introducing you to new artists and budding favorites. With interviews and GIF portraits done down at SXSW, NYLON's Month of Music is an exercise in finding aural pleasures outside of the Top 40. It's an exercise in challenging you and ourselves to not stick to one genre. But above all, it's a celebration of bold voices and sheer talent. Enjoy.
The music on label PC Music, for first-time listeners, can be a lot to handle. But nestled within its fast-paced, hyperactive productions are extraordinary moments of joy, bliss, and happiness. (Hey, it doesn't get associated with happy-hardcore for nothin'.) One of the leaders of the pack is London-based Danny L Harle. Though he's only released one official EP under the PC Music umbrella, he's arguably one of the most influential members. He and PC Music founder, A.G. Cook, went to school together and later reconnected over their shared music sensibilities. Together, they've helped pushed the genre to new, maniacal (and commercial) heights. Harle is deeply rooted in proper classical music, though; his approach is more camp than pretension. It's a mad, high-level affair, but it challenges our perceptions of pop. Can something so twisted get a wide audience to feel roughly the same thing? With Danny L Harle, that answer is yes. Just buckle up for the ride.  
What song of yours fits the following situations?
Getting ready in the morning?
My Panda Bear remix, because it's incredibly aggressive. It'll wake you up.
Me time?
"Forever." It's gotta be "Forever." That tune speaks to me. The words on top of it speak to me more.
Hooking up?
I've written a lot recently that really fits that bill. It's a shame no one has heard the ones I've got in my mind because there are some seriously good ones. What about "Without You"? I'm working towards a big project at the moment. I'll be releasing things here and there, but I can't tell you exactly when you'll hear them. It's very exciting. Some very exciting things have happened recently.
Can you recall a moment in your life—whether it's a song, a show, a video—that convinced you, you wanted to be doing music?
"Fantasy" by Earth, Wind & Fire. I've no idea why. I've never tried to take it apart musically, or anything. It's got a magic to it that is a real journey in a song. "Kiss From A Rose" by Seal has a similar vibe. I hear stuff that re-energizes me all the time. Recently I heard a track called "Taking Drugs?" by DJ Scott Brown, and I've basically had it on loop. It's got this trance-meets-happy hardcore vibe. It's unbelievable. His chord and synth lines are just like—I can't get over it.
If any artist, dead or alive, could cover your music, who would you want it to be?
Scott Brown. He hits pretty hard. There are loads of people for that. Hudson Mohawke is a bit of a hero of mine. Scott Brown is my number one.
Have you ever been starstruck?
I get sort of inverse starstruck, sometimes. My mom has an Instagram profile where she posts pictures of her wall outside her house because people always leave stuff outside her house. There's always something new every day, like a banana skin. I saw the wall when I went to my mom's house recently and got starstruck by it. I'd seen so many pictures of it but had forgotten it was an actual wall.
It happens in two ways. I found myself talking to Max Martin the other day, and I didn't get the starstruck feeling. He's such a nice and normal guy, he doesn't create an atmosphere that feels like you're talking to one of the most amazing producers in the world. Some people force you to be starstruck, due to their person and the way they are. That's an interesting vibe, as well. They put in a position where you're not allowed to be. I like a lot of obscure music and comedy, like on YouTube. I'm obsessed with YouTubers, as well. I saw one on the train recently and was super starstruck by the least famous person.
The problem with starstruck approaches is there's nothing you can say, really. Although, it is very nice when people come up to me after gigs and say, "I really liked that." That's kind of the idea of what I do. That's a sentiment that's really nice. Sometimes it's hard to tell how a crowd felt after a gig, so when people come up after shows, it keeps me from getting sad. The PC Music audience knows every song—even unreleased stuff. They'll say, "I really liked that version," even though I had made it an hour before the gig. It's extraordinary, that level of listening.
At the end of the day, how do you wind down and ground yourself?
I don't, really. I listen to hardcore music all the time. When I was younger, discovering nightcore music was a savior for me. When I needed to relax or something like that, it was music that I could escape in. If I was exhausted, it became an expression of that. It's funny how it works. When I listen to music that's very slow, I'm usually crazy-hyper for it. I really like the piece by Monteverdi called "The Monteverdi Vespers." It's basically loads of three-minute, amazing songs in a row. It's about an hour-and-a-half of little nuggets of genius. A lot of it is very slow, but when I'm listening to it, I'm on the edge of my seat, like I'm watching Transformers 3. That's not winding down. It's the inverse. I wind down to the most aggressive music and wind up to the slow, peaceful, tranquil music.
Photographed by Kara Smarsh