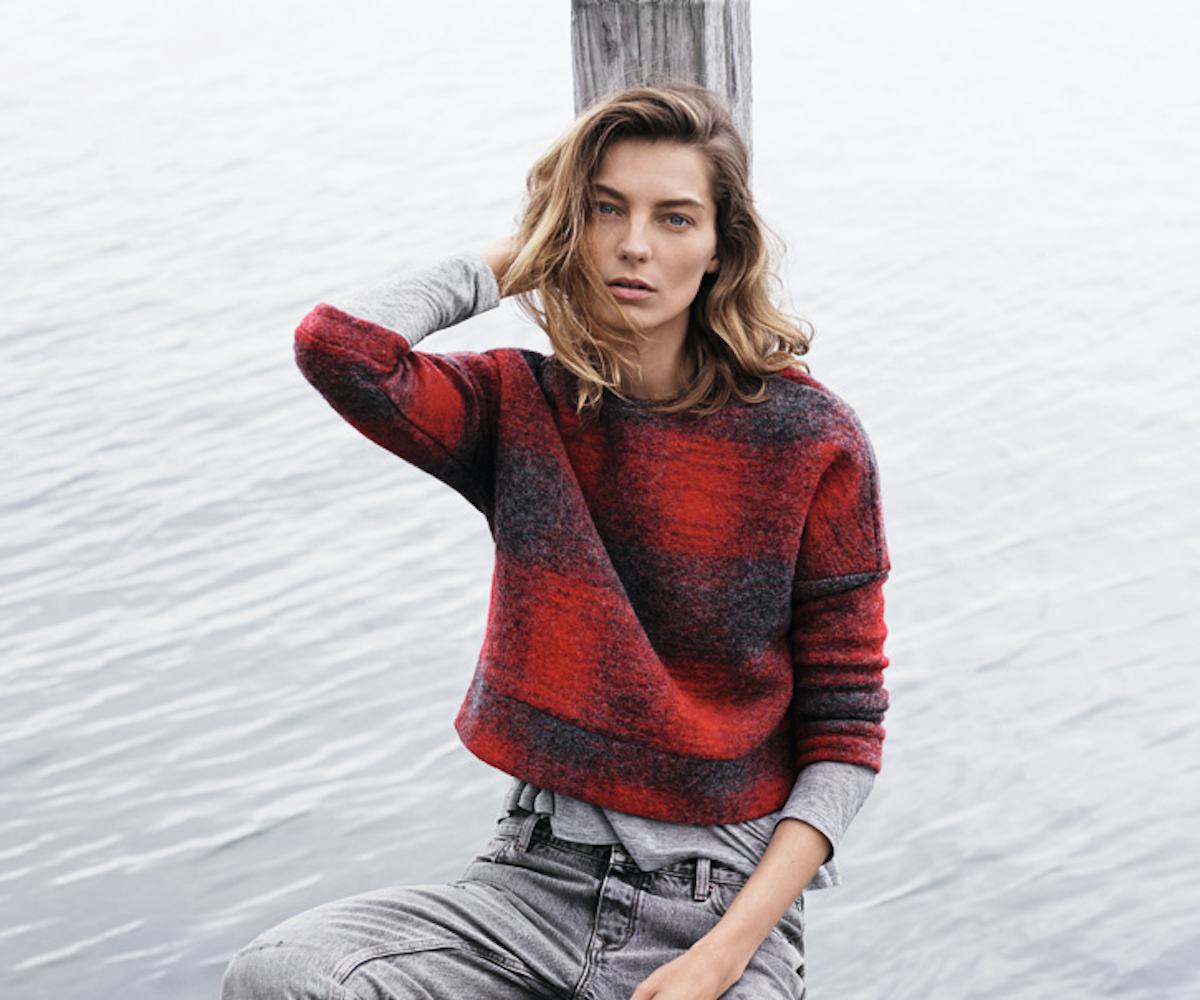 first look: mango
10 styling tips to cop from daria werbowy.
True Life: I wish were a Werbowy. Scratch that, I wish I were Daria Werbowy, otherwise known as the supermodel, skateboarder, and office-wide dream girl.
But since that's unfortunately not the case, at least we can all dress like the Canadian stunner, thanks to Mango's new lookbook. For fall, the Spanish super-retailer is rolling out tons of cozy cool-weather essentials, like chunky sweaters, leather jackets, and ripped denim. These pieces may seem like basics, but as every model-off-duty obsessee knows, the real trick lies in how you style 'em. And there's no better muse here than Daria Werbowy herself.
So take a page from Mango's book and check out the 10 best fall style tips right here. Then, start re-evaluating your closet...because September will be here before you know it. 
1. The whole "don't wear white after Labor Day" rule is so lame. Wear it all day, everyday if you want...white on white is ALWAYS right. You don't even have to worry about matching the shades--just take it from Werbowy.
2. Whether or not you decide to go all out and channel your favorite lumberjack, you can at least take a cue from this outfit by rolling up your loose-fitting jeans above your boots.
3. Skip the overdone floppy boho hat and try something a bit more masculine and structured instead.
4. Break up the lines of a Texas Tuxedo with a neutral knit. Camel tones offset the double denim perfectly. 
5. Note to self: Let your socks show outside of your boots. Second note to self: Don't forget to buy cute socks.
6. When it come to scarves, the chunkier, the better. Bonus points if it can double as a blanket.
7. Leather jackets are expensive, we get it. To extend your investment even further, splurge on a version with extra warmth (like shearling) on the inside. Your wallet might cry not, but it will be worth it--and it'll last for years.
8. Sometimes the no-makeup look--save for BB cream and maybe a swipe of mascara--is really all you need. Especially if you happen to be Daria Werbowy.
9. We already know that the fancy sweatpants trend isn't going anywhere, and there's no better time to rock it than in the fall, just as the temps start to drop.
10. For early fall, take a break from the denim jacket you've been wearing all summer long. Instead, let your trusty flannel work double duty, over long-sleeved shirts and under sweaters.