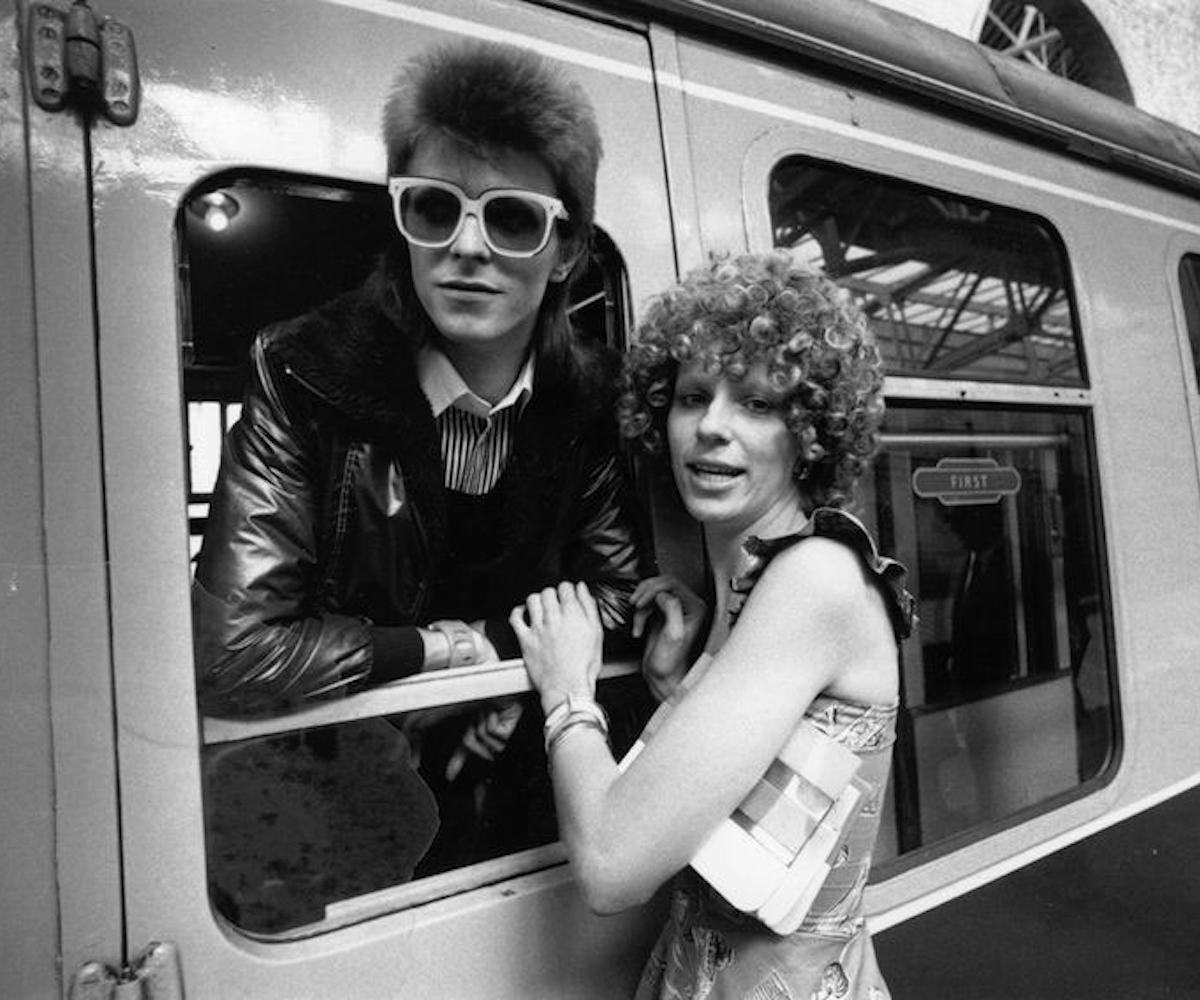 Photo by Smith/Stringer/Getty Images.
20 Incredible Photos of David Bowie You've Never Seen
With the news of David Bowie's passing still jarringly fresh on our minds, we've spent most of today listening to his songs and thinking about the truly countless ways our lives were shaped by his otherworldly, boundary-smashing art. We're all familiar with the album covers, the Ziggy Stardust makeup, the shoulder pads; but Bowie's legacy also lives on in the quieter moments captured in photographs that pop culture has largely forgotten. Click through the slideshow to see the less famous, but no less profound, images of the artist.
Davy Jones in March 1965, before changing his name to David Bowie.
The early days of Bowie's career in March, 1965, before officially changing his name.
Bowie pictured with English pop singer Dana Gillespie in May, 1971.
Bowie in Ziggy Stardust costume and makeup, backstage with makeup artist Pierre Laroche in 1973.
Bowie poses with comedy duo Peter Cook and Dudley Moore at the Cambridge Theater in May, 1973.
Wearing an elaborate jacket in May, 1973.
During a concert in July, 1973, at the Hammersmith Odeon, Bowie annnounced that he was retiring his Ziggy Stardust alter-ego.
Bowie, with ex-wife Angie, at the train station in July, 1973.
Bowie during a performance at The Marquee Club in London in October, 1973, wearing his "Angel of Death" costume.
Alongside British singer and actress Marianne Faithfull at a live recording for The Midnight Special TV show at The Marquee Club in London, October 1973.
During his Station to Station tour, Bowie performs at the Wembley Stadium in May, 1976.
Bowie sits with Iggy Pop in Germany, March 1977.
During his 1978 world tour, Bowie performed a concert in July at Earl's Court, London.
Bowie and Paul Simonon of The Clash have a drink backstage after a 1982 performance at Shea Stadium in Queens, New York City.
Bowie gets his eyes color matched for his own wax statue at Madame Tussaud's in London, September 1983.
Bowie photographed with Mick Jagger of the Rolling Stones in 1985.
Bowie duets with singer Tina Turner on "Tonight" at the NEC Birmingman, March 1985.
Bowie performing at Wembley Stadium during his Glass Spider tour in June, 1987.
Bowie with supermodel wife Iman, at the MTV Video Music Awards in September 1999.
Bowie during a Paris, France concert in October, 1999.