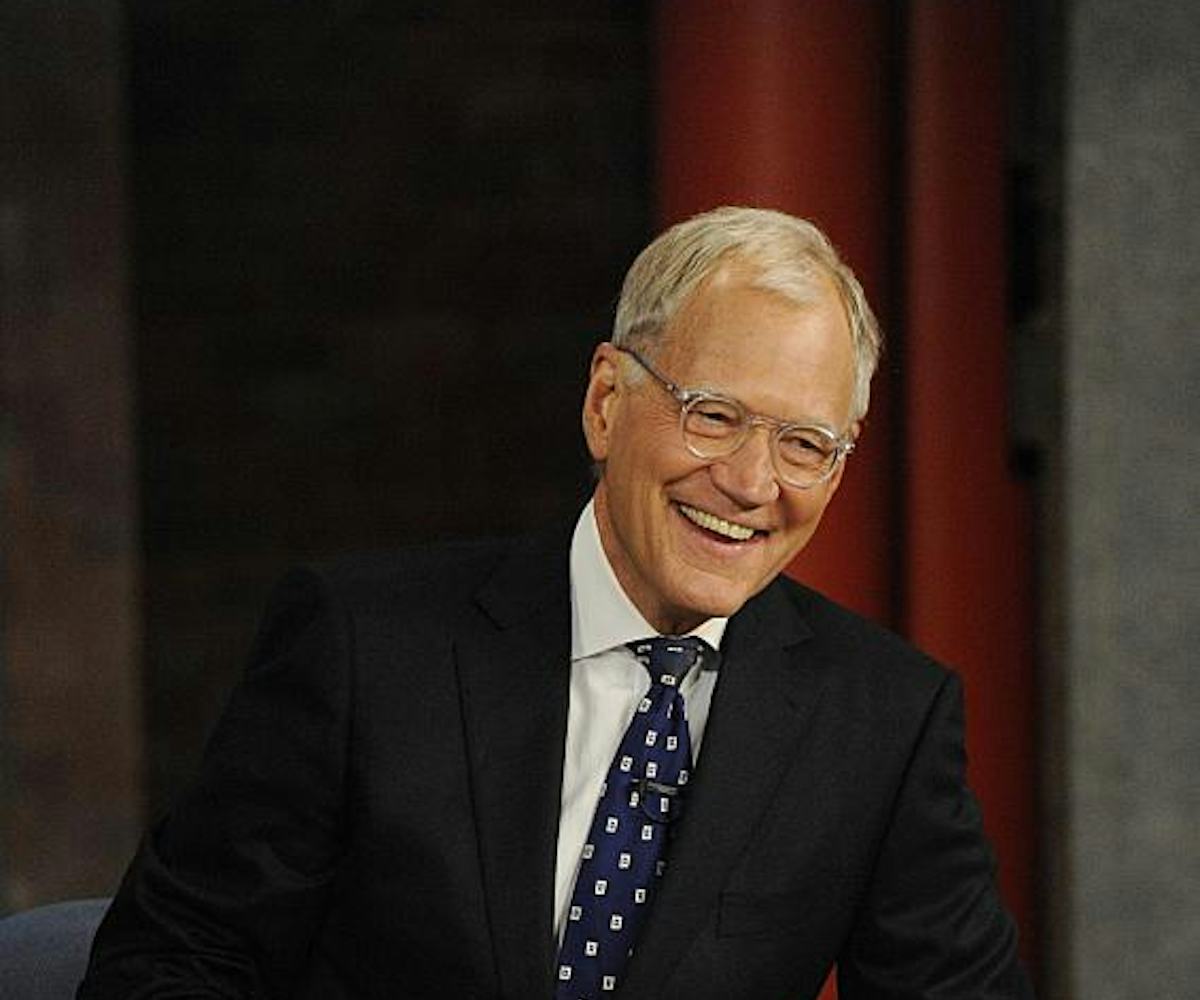 here's what you didn't see on letterman's final show
a big part of what made dave dave was missing
This was never going to be a sentimental goodbye—sentimentalism was never David Letterman's game.
What we were hoping for out of Letterman's final Late Show appearence was the same sort of brillant anarchy we saw in the weeks leading up to it: Tina Fey stripping to her Spanx, Bill Murray Bill Murry-ing his way out of a cake, Steve Martin just being Steve Martin, and so on. After those, it seemed like the only fitting farewell from Dave would be to careen off the Ed Sullivan Theater stage, through the wall, and onto West 53rd Street.
Alas, nothing did smash through a wall. Nor did anything get dropped off the roof. No pets did stupid tricks. Perhaps most disappointingly, no celebrity's feelings were hurt. For the most part, last night offered a decent bonus-sized show (with bonus-sized commerical breaks), some great archival clips, a somewhat interesting behind-the-scenes video, and some genuinely touching goodbyes. What it lacked, though, was the barely controlled danger of Letterman's best interviews and off-stage bits—something we only got to see through classic highlights. What was new felt rushed and a little bloodless. While Dave's Late Show finale didn't suffer from sentimentalism, it seemed to have serious case of senioritis.
Now, it began well—four of the five living presidents echoed Gerald Ford's old line, "our long national nightnmare is over" (self-hatred is a Letterman hallmark) and the monologue was as grinningly awkward and caustic as ever. Dave got in digs at NBC, Scientology, Hillary Clinton, and, of course, himself. In that, it could have been any other night in the last three-plus decades of his career (though a relatively good one).
Then came the Top 10 List to, literally, end all Top 10 Lists—"Top 10 Things I've Always Wanted to Say To Dave" with Letterman favorites Alec Baldwin, a somewhat lost Barbara Walters, Steve Martin, Tina Fey, Jerry Seinfeld, Jim Carrey, Chris Rock, Julia Louis-Dreyfus, Peyton Manning, and, naturally as number one, Bill Murray. It's worth a watch.
The choice of musical guests has always been a very personal, serious thing for Letterman, and he made it clear that his his last pick— the Foo Fighters playing "Everlong"—was more serious and personal than most. Good stuff. 
But besides that, tastefully emotional goodbyes to the crew, writers, and the CBS Orchestra, and a shout-out to his wife and son in the audience, Dave's last show wasn't really enough for us. But, hey, the guy's certainly earned the right to check out, so we can't really complain too much if he did so before getting on stage. We really can't. 
Now we wait for the debut of Stephen Colbert. More of a theater kid than Dave—though as absurd, honest, and anarchic in his own way—Colbert will sit down at the Late Show desk in what is already a different era.
As many have been suggesting for weeks, last night wasn't just a goodbye to Letterman. For reasons too numerous to go into here, it was a swan song for the last 50-some-odd years of late-night formatting. Thanks to Fallon, Meyers, Kimmel, and others, what comes next is already looking very different from what came before—more self-consciously silly and foolish, more dependent on viral and social distribution, and, correspondingly, less of a midnight creature.
People have been saying that late night televison will never be same without Dave. In truth, it already wasn't. Man, we miss him.