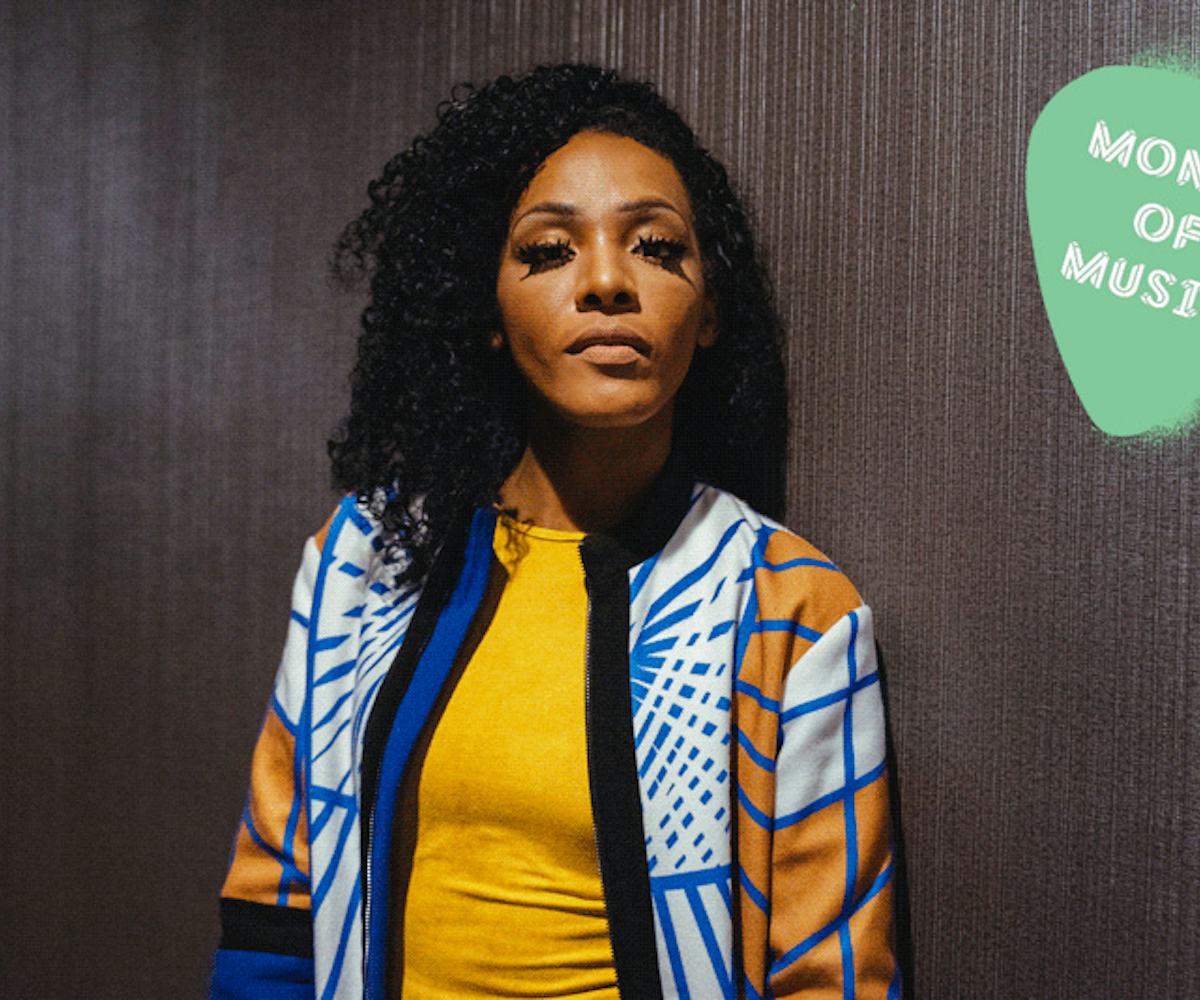 Photographed by Kara Smarsh.
D∆WN Is Doing Pop Her Own Way
We share music because we want to connect with others on a deeper level. We want to relay and relate to a message that can't be said with just words. This April, NYLON is dedicating six days a week to introducing you to new artists and budding favorites. With interviews and GIF portraits done down at SXSW, NYLON's Month of Music is an exercise in finding aural pleasures outside of the Top 40. It's an exercise in challenging you and ourselves to not stick to one genre. But above all, it's a celebration of bold voices and sheer talent. Enjoy.
Dawn Richard is getting ready to complete her trilogy. Since 2013, Richard—better known as D∆WN—has been releasing a steady stream of projects that span a variety of genres: dance, EDM, pop, R&B, soul. She's a future-thinker deeply rooted in the past. Her music is unabashedly hers. After a few years in Danity Kane, Richard's liberation has been a pleasure to watch, listen to, and experience. It's clear she's the one calling the shots. Her third and final installment, RED*emp*tion, is slated to drop later this year and is already shaping up to be something celebratory—a cosmic celebration, even. What happens after redemption, though? For Richard, new and greater heights. Behold: the dawn of D∆WN.
What song of yours fits the following situations?
Getting ready in the morning?
"Calypso." It's super high energy. It's super fast—like over 160 beats per minute. Super, super dance-y. If I can shake my ass while I get ready, that's always a plus.
Me time?
I'd have to say "Blow." There's some cockiness to it. If you're doing me time, you might as well be cocky about yourself.
Hooking up?
I've never fucked with my music. [Laughs.] I'd say "Projection." It's super sexy and a little nasty. The words are super suggestive. Everyone thinks I'm singing nice shit, but if you really listen, you'll know I'm really being suggestive.
Can you recall a moment in your life—whether it's a song, a show, a video—that convinced you, you wanted to be doing music?
Otis Redding's "Dreams To Remember." I have it tattooed on me. They're the first and only lyrics I've tattooed. His voice does something to me. My dad introduced me to a lot of artists because my tone was very different, as a kid. It was really raspy, really harsh, soulful, blues. I thought my voice sucked. When you're a little girl and you hear all these women sing these high notes, I thought, "What? Why do I sound like a bear?" My dad told me, "I think you should listen to this artist and hear how great he is." I fell in love with that sound, that tone, that raspiness. I always say he sounds like a cigar smoking, whisky drinker. Melissa Etheridge also reminds me of that.
If any artist, dead or alive, could cover your music, who would you want it to be?
Prince. And Jimi Hendrix would play along. They'd be a band, chest hair out, tight pants. It'd be great. Afros. Perms. So good.
Have you ever been starstruck?
There's only one person that has starstruck me. It was Björk. She will go down in history. No one else will do it for me. I went to see her at the Hollywood Bowl. I should not have been in public, the way I acted. It was too much. I didn't believe in that shit, but she had this thing on her head and this look. She looked like an alien. It was awesome.
At the end of the day, how do you wind down and ground yourself?
Liquor. [Laughs.] No. But really, though, a drink, a fireplace, and a good book.
What book are you reading right now?
Rich Bitch. It's a finance book. I like it. It has an interesting, female perspective on finance. I love business. I love money management. The way Nicole Lapin broke it down was layman, relatable.
Photographed by Kara Smarsh.