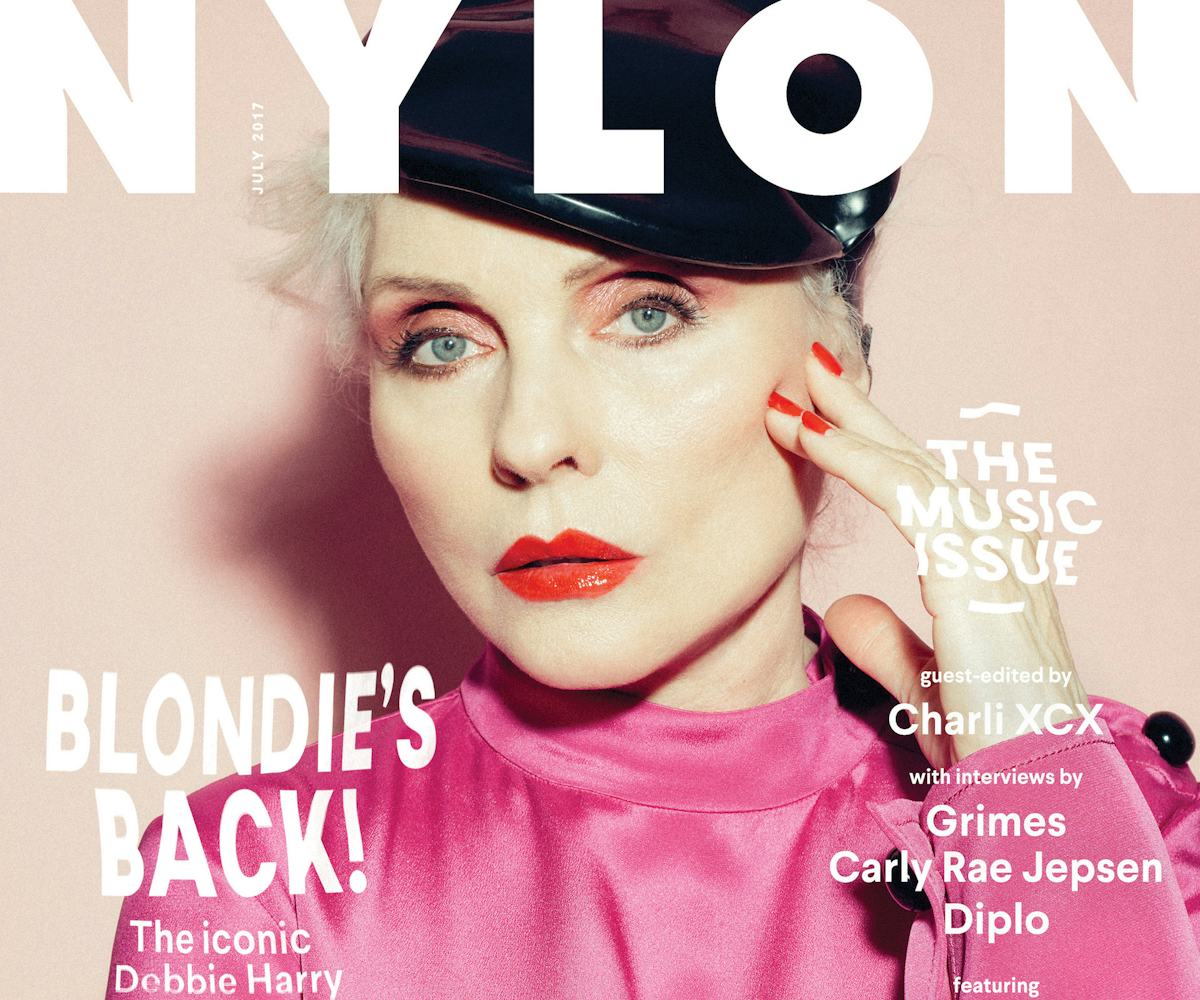 Photographed by Sofia Sanchez & Mauro Mongiello. Styled by Karen Levitt. Dress by Sportmax, hat by Danny Deluxe.
Debbie Harry Is Our June/July Cover Star
At 71, she brings her inimitable, iconic style to a new Blondie album—their 11th—and an international tour. Because what else is she going to do, retire?
The following feature appears in the June/July 2017 issue of NYLON.
Like the quintessential New York girl that she is, Debbie Harry arrives at a West Side Manhattan rehearsal studio, running late, looking glamorous, and feeling frazzled. "It's just been a lot of pressure," the singer, songwriter, and actress says of her life lately, as she deposits several overstuffed totes in the makeshift lounge area and lets out a weary sigh.
Harry and her band Blondie have a new album, Pollinator, for which they solicited songs written by a mix of peers (Johnny Marr, Laurie Anderson) and artists they've influenced (Charli XCX, TV on the Radio's Dave Sitek, Dev Hynes). As tends to happen in the lead-up to a big release, everything is going on all at once: The grueling European press tour just ended, Harry has barely had a second to hang at home with her dogs, and now it's all about what to wear at tomorrow's video shoot and getting the new material properly rehearsed and, oh yeah, figuring out what to play onstage during the upcoming world tour. Harry flings a handwritten set list—"That's the third one"—onto the coffee table and collapses into one of several grotty leather couches.
"We have over 40 years of music and only an hour to satisfy the audience and also play the new music. There's absolutely no way to do all that," Harry explains. "It doesn't compute, really." The 71-year-old singer adjusts her giant shades and unzips her thrift-store jacket, revealing a Vivienne Westwood T-shirt (a gift from the designer herself) featuring a photo of a pair of bare breasts in their anatomically correct location. "They're almost in the right spot," she jokes. "I'll hike this one up a little. Come on, girls." Then it's back to managing expectations: "I'm just going to get up there at the beginning of the show and say: 'No tears. You're not going to hear "The Tide Is High." You're not going to hear this one; you're not going to hear that one.'"
This is the version of Harry that is familiar to most: the jaundiced, bawdy punk vixen—sexy, pissed-off, charismatic, and intimidating. It's the version you've seen staring back at you, through countless photographer's lenses, since Harry and her then-boyfriend Chris Stein formed Blondie in the burned-out wasteland that was 1970s New York City. It's the version you could have been electrified by if you were hanging out at CBGB around that time. While the Vietnam War raged on interminably, Nixon was being impeached, and Son of Sam was on the loose, Harry was taking the club's stage for the first time, alongside the other founding members of the CB's arm of the American punk-rock world: Television, the New York Dolls, and the Ramones. Blondie became the scene's breakout superstars, going on to sell a staggering 40 million albums (and counting) and outlast, in many cases by decades, nearly all of their peers. But Harry occupied an uneasy cultural space: Her unabashed sexiness made her controversial in the punk world, where androgyny reigned and prettiness was suspect, but her favored hem length, hair color, and general edge (plus those strong New York vowels) made her too Pink Ladies for the mainstream. By the late '70s, however, when New York City, followed by the rest of the country, was looking for a face and a sound to both tap into the era's dirty beauty and defy its paranoid ugliness, Harry and Blondie were right there. And that's where they've remained, avatars of beautiful weirdness inhabiting their own corner of the rock 'n' roll universe for four-plus decades.
"Debbie Harry featured heavily in my childhood as a badass beauty with balls, which, of course, is what I wanted to be when I grew up," says Sia, who, alongside the Strokes' Nick Valensi wrote the synthy but gritty "Best Day Ever" off Pollinator. Newcomer Maggie Rogers, the latest Next Big Thing rock girl to be launched from the New York scene, puts it even more directly: "Debbie Harry is the ultimate queen. I mean, she's a pop icon, a punk icon, a rock icon, a dance icon, and a style icon. Just, like, how does one person shine so powerfully?! Seventy-one and still balling? Fuck, I wanna be her."
Of course, the members of Blondie don't consider themselves iconic. "We're a cult phenomenon!" half-jokes Stein, who's joined us on the gnarly couches. Harry chuckles. You know how elite racehorses prone to debilitating nervousness are often paired with calmer-natured companion animals? He's the soothing pony to Harry's high-strung thoroughbred. (I mention this as someone who has more than once fled a West Village bodega in awe after seeing Stein inside with his kids buying something exciting like soap—I consider his coolness to be paramount.) She rarely does interviews without him by her side, and you can see why. The guitarist's wry geniality works like a tonic on her.
"He's such an artist and he's so brave," mocks Stein, digging into a good-natured rant about a piece critic Bob Lefsetz recently wrote, in which he praised Drake for pushing boundaries and taking risks. "Drake has a mega fucking fan base and a mega push! Of course he can do anything he wants!" he exclaims, shaking his head. And Blondie? "No way!" Harry chimes in, finally taking off her sunglasses and smiling. "We're indie!"
Even after the Grammy nominations, multimillions in sales, induction into the Rock & Roll Hall of Fame, and consistent name-checking by the most compelling firebrand rock stars of each subsequent generation—from Madonna to Karen O to Katy Perry—Harry still feels like an insurgent, a defiant, defensive outsider. She's still a sensitive rock kid with a chip on her shoulder. "It's a trick to make this all work," she summarizes, gesturing around the room, with its dingy framed posters of past jazz greats like Charles Mingus and John Coltrane and slight stink of burned coffee. "I think we've all felt like that at one point or another, like, 'Aww, what the fuck? Why bother, you know?' But then you start playing and you're like, 'Oh yeah, this is why.'" Harry is putting herself through the rigor of releasing Pollinator, Blondie's 11th studio album, not out of allegiance to the image of rock cool she's been assigned to represent, but because making music is, as it always has been, Harry's primary means of coping with being alive. "This is what we do and that's that," she says with a shrug. "We have our survival system set in place. This is it."
That survival system was hard won. Born in Miami, Harry was adopted as an infant and raised in suburban New Jersey by Richard and Catherine Harry, who ran a local gift shop. The singer has spoken in the past about how her awareness that she came from somewhere else, from someone else, gave her permission to lean into what was already, even as a young girl, a nascent sense of restlessness. But she wasn't rebellious in the standard Behind the Music sense. Yes, she pushed against the constraints of 1960s America—she wore all black, she didn't rush to find a husband—but Harry also dutifully graduated from high school and Centenary College and was always close with her family. (Harry's mother once bragged to Rolling Stone that her daughter had only ever missed one Christmas at home, even after she started touring.) Still, New York and everything the city represented beckoned, and after college Harry moved across the river, with the usual thinly sketched but deeply felt plans to pursue the creative life, acting or painting or singing or something.
Over the next decade she worked as a secretary at the BBC and, more notoriously, as a Playboy Bunny and a waitress at Max's Kansas City, all while playing in assorted bands. But it wasn't until Stein joined the Stilettos, the girl group in which Harry was singing backup at the time, and the pair split off to do their own thing that she started to gain creative traction. "I probably would've quit many times if it wasn't for him," Harry says of Stein, affectionately.
Richard Burton famously called Elizabeth Taylor "beautiful beyond the dreams of pornography." He could have been talking about Harry. Her face was—and still very much is—powerful, the aesthetic equivalent of whatever Babe Ruth had in his swing or Henry Miller had in his pen or Serena Williams has in her serve. But when you consider the cultural landscape Harry encountered when she arrived in '60s New York City, the way she looked was a liability before it was an asset. She would eventually be cast as the Marilyn Monroe of punk and become one of Warhol's muses, but before that she was just a bottle blonde with a thing for heavy makeup in a world of Natural Women like Carole King and Joni Mitchell. Yet there Harry was, pushing 30, singing backup in a folk band called Wind in the Willows while wearing cutoffs and kitten heels onstage at many of the same Greenwich Village clubs that Freewheelin'-era Dylan had just made famous. She came to the city in search of what Stein lovingly calls "the rot"—the seedy underbelly—not to make things pretty, but in search of ugliness. "It's too civilized now," Harry says of New York. "When it was crumbling and rotten it was kind of great." Harry forged her creative identity as a grime-seeking outsider, and it has remained her way of relating to the world well after she became famous, as central to her sense of self as that peroxide shag is to her look.
That permanent-underdog self-image, and the will to survive that accompanies it, has come in handy over the decades. By 1981 Blondie were enjoying the spoils of their greatest commercial success, "Rapture," the slinky dub/disco gift from the music gods, which, thanks to Debbie Harry's deliciously anodyne rap ("I said don't stop, do punk rock") became the first No. 1 hip-hop single in America.
And their reach wasn't confined to the States. "Blondie were a regular part of the soundtrack to my teenage years," says former Smiths guitarist Johnny Marr, who wrote the track "My Monster" for Pollinator. "They were huge in the U.K., a very big pop band who were cool and smart. No one didn't like them."
But it was part of the proverbial rise before the fall. Within the next two years, Blondie discovered they were nearly broke, having been ripped off by a shady manager; Stein had been hospitalized after collapsing backstage and was subsequently diagnosed with a rare autoimmune disease; and Blondie were on indefinite hiatus. Harry has ruefully referred to the era that followed as her "ice cream years," in reference to the stress-related weight gain she was mercilessly mocked for in the press, all while contending with the fallout from her band's split, the uncertainty of launching a solo career, her partner's unstable health, and, reportedly, drug addiction. By the end of the '80s, Harry and Stein—then seen as one of rock's most enduring couples—had parted ways, though they obviously remain very close friends. Harry is godmother to Stein's two kids with his wife, the actress Barbara Sicuranza. "Do we have to keep talking about it?" Harry snipes sweetly, when Stein returns to his Drake rant mid-interview. "I'm going to become a solo artist if you don't watch out!"
In the '80s, Harry did just that, releasing three solo albums over the course of the decade (two more, in 1993 and 2007, would follow), and branching out into film, most notably in David Cronenberg's Videodrome, John Waters's Hairspray, and Martin Scorsese's contribution to the anthology film New York Stories. In 1997, Harry formally reunited with Blondie, and by 1999 they were releasing their seventh record, No Exit, to a music world in which Millennium by the Backstreet Boys was far and away the best-selling album of the year. Once again, Blondie had found their cultural sweet spot: wild and weird punk-rock kids infiltrating a blown-out, hyper-corporate musical landscape. Their first post-reunion single, "Maria," became the band's sixth No. 1 hit in the U.K., and they haven't stopped touring or recording since. In 2014, in honor of Blondie's 40th anniversary, the band released Ghosts of Download, a two-disc set featuring both new originals and re-recorded versions of their greatest hits, a fitting reflection of a group that has managed to come across as both esteemed veterans and hungry upstarts. It's in that context that Harry now suits up to present her band's latest album.
"Wardrobe," Harry says firmly, when I ask about the first thing she thought when she woke up this morning. We're still at the cavernous rehearsal studio, but have moved, at Harry's suggestion, to an even less glamorous tech room down the hallway from the lounge. Under garish fluorescent lights, surrounded by discarded bits of equipment, we now sit. "It'll be quieter in here," she says. She's been taking pictures of items in her closet, honing an onstage look for the upcoming tour. Harry takes fashion seriously. She takes all kinds of art seriously. In fact, something that made Blondie stand out from their peers even in the beginning was their cultural and creative inclusiveness, the way they recruited artists from other genres to collaborate with. In the "Rapture" video, Harry co-hosts what appears to be the coolest loft party ever with the so-called "Man from Mars" (choreographer and dancer William Barnes in a gleaming white suit and top hat) and guests like Jean-Michel Basquiat, graffiti pioneer Lee Quinones, and, of course, Fab Five Freddy (Grandmaster Flash was supposed to be there but stood them up). It remains both a filmic representation of the Blondie fantasy world—just a rock girl and a few of her artsy pals hanging out on a random night—and, amazingly, a semi-accurate reflection of how they actually operate. "I don't know if there was a moment when we said, 'OK, we're going to ask other people to give us material,'" Stein says of Pollinator, which came together around the idea of "cross-pollinating" with Blondie peers from many generations. "But that became the theme of the thing. We put out word and started getting a lot of stuff back."
Dave Sitek of TV on the Radio co-wrote "Fun," Pollinator's lead single. "We met at a festival and Tunde [Adebimpe, lead singer of TV on the Radio] and I were struck by how down to earth they are," he recalls. "I have felt an overwhelming sense of wonder about Debbie since I was a teenager. Her voice makes me want to know how she sees the world." But quickly, Sitek says, he felt like he was just chatting with a couple of fellow rock nerds. "When I got over my fan-boy attack, we got to talking about music, imagination, gratitude, photography." It's that sensibility—of the childlike joy that comes from just goofing around with your other weirdo friends—that fueled Harry's move to New York in the first place, grounded her connection to Stein, and continues to inspire her approach to life and art. It's also what animated Pollinator. But as is typical with her and with the band in general, she's loath to wax nostalgic about the past or sound even remotely self-serious when talking about the present. "I think she just liked 'Pollinator' because it sounded like 'Terminator,'" jokes Stein of the album title. "Yeah, initially," Harry agrees, laughing, then wiping her eye. "I have an infected tear duct," she says to Stein. "You've been getting into bar fights again?" he quips. "Yeahhh," she drawls. "I'm not crying enough. That's what's wrong. I'm holding back the tears." A minute or two later she tells a story about a mutual friend's cat, once rambunctious, being cured of its insubordination by a freak accident. "It's very sweet now because it went through the dryer," Harry says. "She didn't know it was in there, but she [started] the machine and then opened the door and the cat jumped out. Very affectionate, that one. I think you just gotta put 'em through the dryer."
This is the side of Harry you don't see staring back at you from behind her Wayfarers in one of those countless amazing images. Of all the rock stars I've ever interviewed, Harry is among the most impressive, the most influential, the most genuinely iconic—but also among the goofiest and least interested in her own legacy. How does she know when a song is right for the band? "You don't, really. I mean, if you like it?" Harry answers. Don't young women come up to her on the street all the time? "You know how it is," she says, shrugging. "It's pretty much the same whether you're famous or not. You hear: 'I went to school with a friend of your friend,' or 'I saw you on such and such Instagram.'" When did she last hear Blondie in public? "I heard us in a Target bathroom—it was 'The Tide Is High,'" she says with a wide smile. "Amid the sound of piss falling into the water, 'Tide Is High' seems appropriate. Tinkle to 'Tide'!"
Harry's sense of humor will serve her well in the upcoming spin cycle—the European leg of Blondie's world tour, followed by summer dates with Garbage in the States. On the tour bus, Stein, the culture vulture, will consume his usual mad quantities of television and film. "He has to be forbidden, otherwise he stays up all night," Harry says, shaking her head. She prefers "a nice chunky book." And that's where you'll find her for the foreseeable future, tucked away in her bunk on the road with her Kindle. "Right now I'm reading that Donna Tartt book The Goldfinch," she says. "It's the second time I'm reading it—I'm enjoying it more this time."
Hair: Michael Matula at Mudhoney Hair Salon. Makeup: Guy Furrow. Manicurist: Miss Pop Nails. Photo Assistant: Ivory Serra. Stylist's Assistant: Naomi Kotter. Special thanks to Splashlight Studios.
NYLON's June/July issue is on newsstands 5/30. Buy it now.