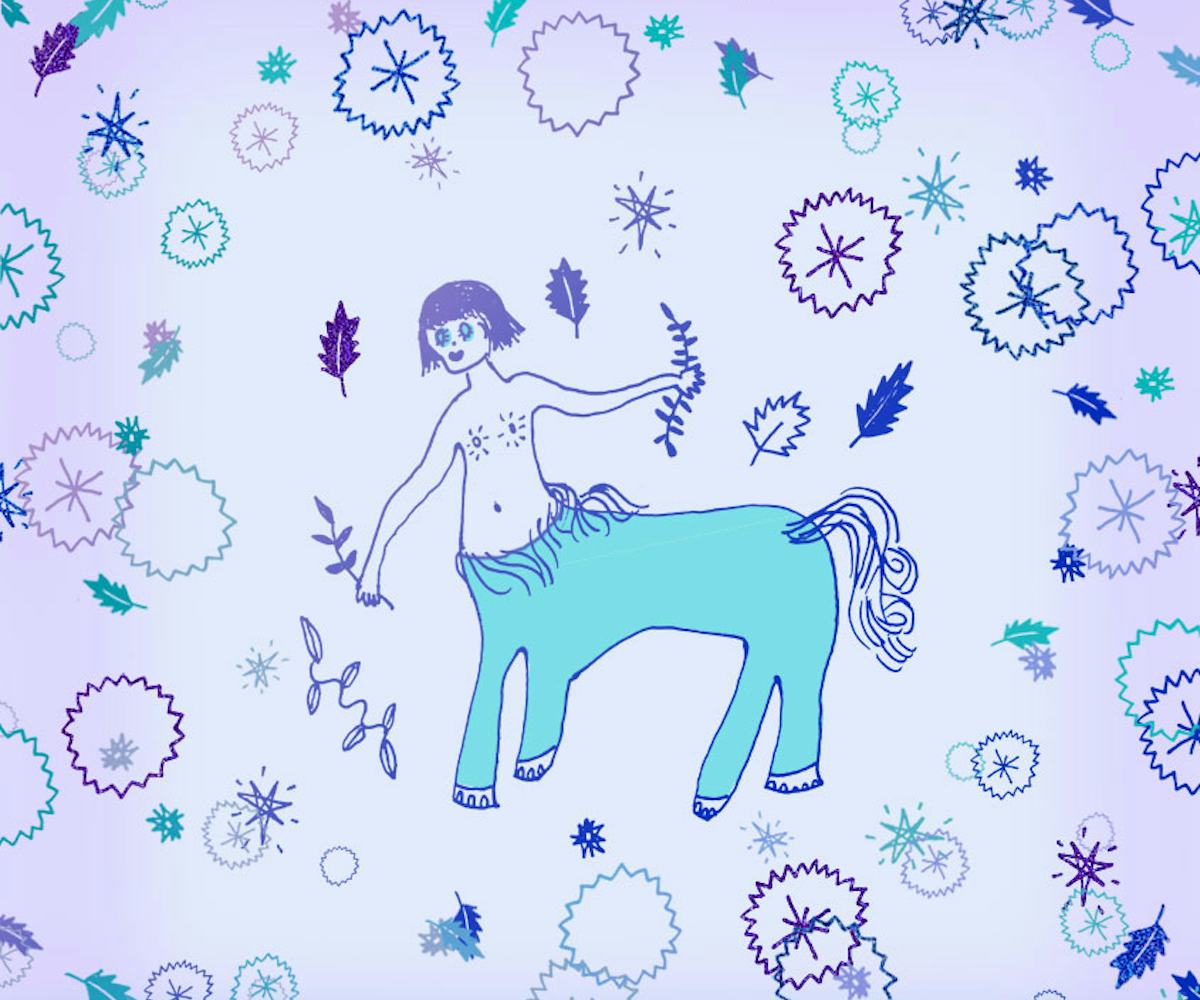 illustrations by liz riccardi
Your December Horoscopes Are Here
Happy birthday, Sagittarius!
As the year dwindles down to its last weeks, December becomes a wintry mix of work and play, a mad dash to the finish line peppered with holiday parties and high spirits. For some, it's a magical month filled with welcome distractions from drab weather and skeletal trees. This December is no different, but with sensual Venus embracing Scorpio's dark mysteries from December 4 to 30, the month is shrouded in an eerily enchanting veil.
The fresh, crisp Sagittarius new moon on December 11 is poised for romantic adventures, bolstered by a trine with dreamy Neptune. Venus' soothing angle to brooding Pluto on December 17 will send transformative energy to relationships and partnerships, either in business or romance. Friction is almost unavoidable on December 19 and 20, when Mercury enters into a prickly conjunct with Uranus and Pluto, sending communications tumbling into a downward spiral. Think twice before speaking—whatever you say now could have damaging repercussions you can't anticipate. Don't be surprised if you feel extra nostalgic for family memories, especially as the holidays come to a crest around December 25. A warm, nourishing full moon in Cancer on that day encourages family traditions—embrace the old and establish the new.
Sunny Sagittarians are all about their birthday month, but contrary to your trademark party monster energy, December begins in a low, private key. Sweet Venus will occupy your 12th House of Escape from December 4 to 30, which means your love life may become much more hush-hush than your usual speed. Partnered Sags may crave more alone time cozied up at home; December is a glistening time to hit up that secluded hideaway spot with your honey—a welcome break from holiday chaos.
Single Sagittarians could be thrown in an entirely different direction, though. Have you been hung up on some entirely unavailable forbidden fruit, or involved in a secret affair with a lover you know you shouldn't—or can't—be with openly? If that sounds familiar, you might become so frustrated and exhausted by your dead end lovelife that you decide to shed the shadows and bring your relationship status out of the closet once and for all—even if that means letting an illicit affair or unrealistic fantasy die. Facing your relationship issues in a therapeutic or counseling environment is ideal this month, but all parties need to be present and putting forth equal effort for it to work, and it's likely you'll be better off cutting your losses.
Clean out your closets now, Sag, because once Venus enters your fiery sign on December 30, the adventure is back on. (Sags are only truly "single" for, like, five seconds, anyway.) You'll be hotter than ever to romantic prospects, and a crisp, clean Sagittarius new moon on December 11 will inspire you to make a fresh, new start. A maternal full moon in your 8th House of Shared Resources on December 25 could provide the boost you need to free yourself from any debt you've accumulated.
Winter may be hibernation season, but you'd be better off circulating socially as much as possible this month, Capricorn. December 4 through 30 looks to be a promising time for swimming in a new dating pool in your social circle. Dive in! Committed Caps, though, will enjoy high spirits and group festivities together as a solid couple—one of the most enviable romantic positions of the month!
On December 11, a new moon in your 12th House of the Subconscious may inspire you to help those in need, either by championing a charitable cause or by quietly offering support to someone close. Your heart's in the right place—keep the kindness flowing. Choose your battles wisely and be mindful when talking to family members or roommates from December 19 to 20, when Mercury will be in your sign and at an abrasive angle to Uranus and Pluto. The busy month comes to a cozy close with a full moon in your partnership sector, bringing you closer to your honey than ever.
Everyone else might take a lazy approach to the last month of 2015, but Aquarians can count on being busier than ever—and especially favored by bigwigs at work. Serious Scorpio will be stimulating Venus, goddess of love, comfort, and money, and shooting laser beams to your earning power. Don't be shy about speaking up to VIPs on December 11 when a new moon falls in your friendship sector—the cosmic atmosphere couldn't be better for getting exactly what you want, even a raise or a bonus.
That same new moon will be ideal for growing your social circle, especially through humanitarian organizations and charitable causes. Consider launching social media campaigns and new websites around the new moon to maximize success and visibility, as well.
If you've been feeling flat, a super-supportive full moon in your Sixth House of Health on December 25 will put any concerns about your health to rest. Alternatively, you could finally complete a major project at work that could be the feather in your professional cap through 2016. Happy New Year!   
Put this month's cosmic cornucopia of nurturing vibes to good use by sharing your life's experience to teach others, Pisces. With Venus in your Ninth House of Philosophy from December 4 to 30, you're in a charismatic position, and if you've ever toyed with the idea of teaching a class or workshop, this month's the time to give it a shot. On the flip side, Pisces in the pupil's chair will become even more passionate about whatever you're studying.
A cleansing new moon falls in your career sector on December 11, followed by a glowing two weeks of professional fulfillment and ambition. This time period is ideal for generating new business ideas, or for simply assessing your professional progress and thinking of new goals for 2016. Exercise restraint and caution when communicating on December 19 and 20—especially on social media. Expect good news from a family member around the full moon on December 25, and enjoy an extra-sweet romantic interlude with your one and only that'll leave you feeling more emotionally fulfilled (finally).
Whether you've been expecting a lump sum payment or could just use an extra boost in your cash flow, a financial windfall is on the horizon for you, Aries. Clues and information on this winning streak could present themselves on December 11, 17, and 24, so be sure to keep your ears and eyes open on those days. The amiable new moon on December 11 could open new doors in your career, or give you the push you need to go back to school for an advanced degree.
Communicate as delicately as possible with authority figures and VIPs December 19 and 20—you won't want to trip over any brash words with Mercury in such a high-strung angle to Uranus and Pluto. The month ends on a warm, memorable note with a bright full moon in your family sector on December 25, wrapping you in a sense of security and love.
Your most important relationship—either personal or professional—will progress super-smoothly this month, especially with your ruling planet Venus touring your partnership sector from December 4 through 30. This will create even more harmony and comfort. If you're collaborating on an important project at work or school, highlight December 11 and 17 as your best days. Be sure to make time for your one and only on December 24—it's bound to be a very sweet Christmas Eve.
The friendly new moon on December 11 may present an opportunity to restart your finances, like paying off a looming debt—or even securing a better paying job. Tiptoe around December 19 and 20, two volatile days that could spell trouble if you're in the middle of a legal battle. Keep your head down and your nose to the grindstone at work on those days, Taurus, and avoid these days for pitching new ideas and holding important meetings. The full moon on December 25 could bring intense—but heartwarming—news from a sibling or close family member.
As soon as December begins, you'll notice how much more harmonious and collaborative work is this month. Thanks to Venus camping out in your day-to-day work sector, December 4 through 30 should be smooth sailing, especially with coworkers. All that team spirit and collective thinking can be a sharp aphrodisiac for you, Gemini—you might start to see one of your colleagues in a new, more attractive light. You know what they say about all work and no play, Gemini, so (responsibly) shrug those outdated taboos and let your hair down.
Geminis in committed relationships could get a fresh, new start with their partner after the new moon in your relationship sector on December 11. Steer clear of communication SNAFUs as tempers rise around December 19 and 20, especially around your friends and social circle. Much to your relief, December 25's cheery full moon will make it clear that you're the darling of your workplace, especially with the bigwigs. Ask for that raise now!
One of Cancer's greatest strengths is hiding, but you can't hide from romance this month, little Crabs. December is ripe with golden opportunities for single Cancers to meet new people, and December 11, 17, and 24 will dazzle. Make sure to mingle on those days if you're looking for love!
If you've been on the lookout for new career opportunities, mid-December is the best time to revamp your resume. Wait until after December 11's new moon in your day-to-day work sector to start sending it out—then hit it hard. You'll be pleasantly surprised by your ease in catching extra freelance work, or even landing a dream job at year's end. If you own your own business, this new moon is glittering for hiring new staff.
You'll be walking on eggshells communications-wise with a close business partner, spouse, or significant other around December 19 and 20. Whatever you're quarrelling about seems to hinge on power dynamics, control, and collaborative decision-making. It's not hard for Cancers to remember that cooler heads prevail, but be sure to think carefully before spouting off during these prickly two days. Sighs of relief all around as the month winds down with a lovely, maternal full moon in your sign on December 25. Expect beautiful energy between your closest loved ones and profound emotional fulfillment at the holidays.
You're reaping the lion's share of domestic bliss this December, Leo. As soon as sensual Venus—ruler of comfort and money, as well as love—slides into your Fourth House of Home and Family on December 4, you'll begin to feel harmony and alignment between you and your loved ones. Luckily, Venus will perch there until December 30, guaranteeing a delightfully warm holiday season. December is an ideal month for redecorating or even renovating. If you own your home, any changes made will likely pump up the property value, too.
Romantic intrigue is on the agenda after a new moon cleanses your true love sector on December 11. Be sure to mix and mingle this season, Leo—you're so good at dazzling with classy first impressions, you wouldn't want to miss an opportunity to put on a fabulous show for a few new love interests. Temper your stress levels at work on December 19 and 20 when communication becomes tense. Try to disengage with conflict and arguments—what you say now could scar your reputation. It's nothing you can't handle, Leo, but you'd do well to take the motherly Cancer full moon on December 25 to heart. Seek spiritual nourishment by unplugging from the real world.
Unlike many other signs, you'll have an edge on communication this December, so be vigilant in taking advantage of your silver-tongued talent. Venus will tour your message sector from December 4 through December 30, boosting your words with charisma and power. Writers and those in the communications and publishing fields will shine just a little brighter this month, too. Your conversation skills will be sharp, and you'll likely notice others delight in just chatting with you. If you have been harboring sore subjects to discuss with your partner or S.O., open up this month. It may sound scary, but open discussions about love and money will be surprisingly calming.
The new moon in your Fourth House of Home and Family may bring exciting (and positive!) news from a relative. Alternatively, you may feel restless in your home and decide it's time to look for a new place. The last two weeks of the month are ideal for real estate and moving, so strike while the iron is hot. December 19 and 20 may be exhausting, and you might feel overwhelmed by a power struggle, either between you and your kids (if you have them) or your partner. Fixing the situation and moving on will not be possible if you allow your ego to run the show. As the month closes, you'll be drawn ever-closer to your friends with a compatible Cancer full moon in your 11th House of Friendship. Awww.
Your finances begin to finally balance out this month, Libra, along with many other aspects, but not without their fair share of growing pains. Venus, your kindhearted ruler, will bring harmony to your earned income sector from December 4 through 30. Speak up about that raise, or put your nose to the grindstone on developing those business ideas. Take advantage of this month professionally and financially, especially near the new moon on December 11.
Writers and communicators will find December 11's new moon especially refreshing, and you may even hear some happy news from a sibling, too. However, communications will become strained between December 19 and 20, especially with your relatives. If your partner or significant other gets into a heated spat with a family member unexpectedly, mediate as best as you can, but don't become entrenched—let 'em work it out. December comes to a triumphant close with an award or recognition of achievement at work near the Cancer full moon on December 25. Revel in your success—you've earned it!
The year 2015 has been kind to you, Scorpio, and December will prove to be the grand finale of a truly fireworks year! Venus will grace your sign from December 4 through 30, turning heads and granting you even more magnetism than you already possess. You'll be feeling yourself, and others will take notice of your shine.
Confidence is a strong aphrodisiac, and you'll be able to easily manipulate the energy surge for good (instead of evil), especially near the electrifying new moon on December 11. This day is sprinkled with pixie dust for matters of the heart, while December 17 could bring a thrilling conversation between you and your honey, and single Scorps may find a close friendship transitioning into romantic love on December 24.
That same new moon will bring balance to your earned income sector, and a lucrative freelance or side gig could be on its way. Choose your words carefully from December 19 to 20, and avoid heavy drama and making ultimatums, especially if fueled by jealousy. The Cancer full moon on December 25 will put your head back into the game, professionally.