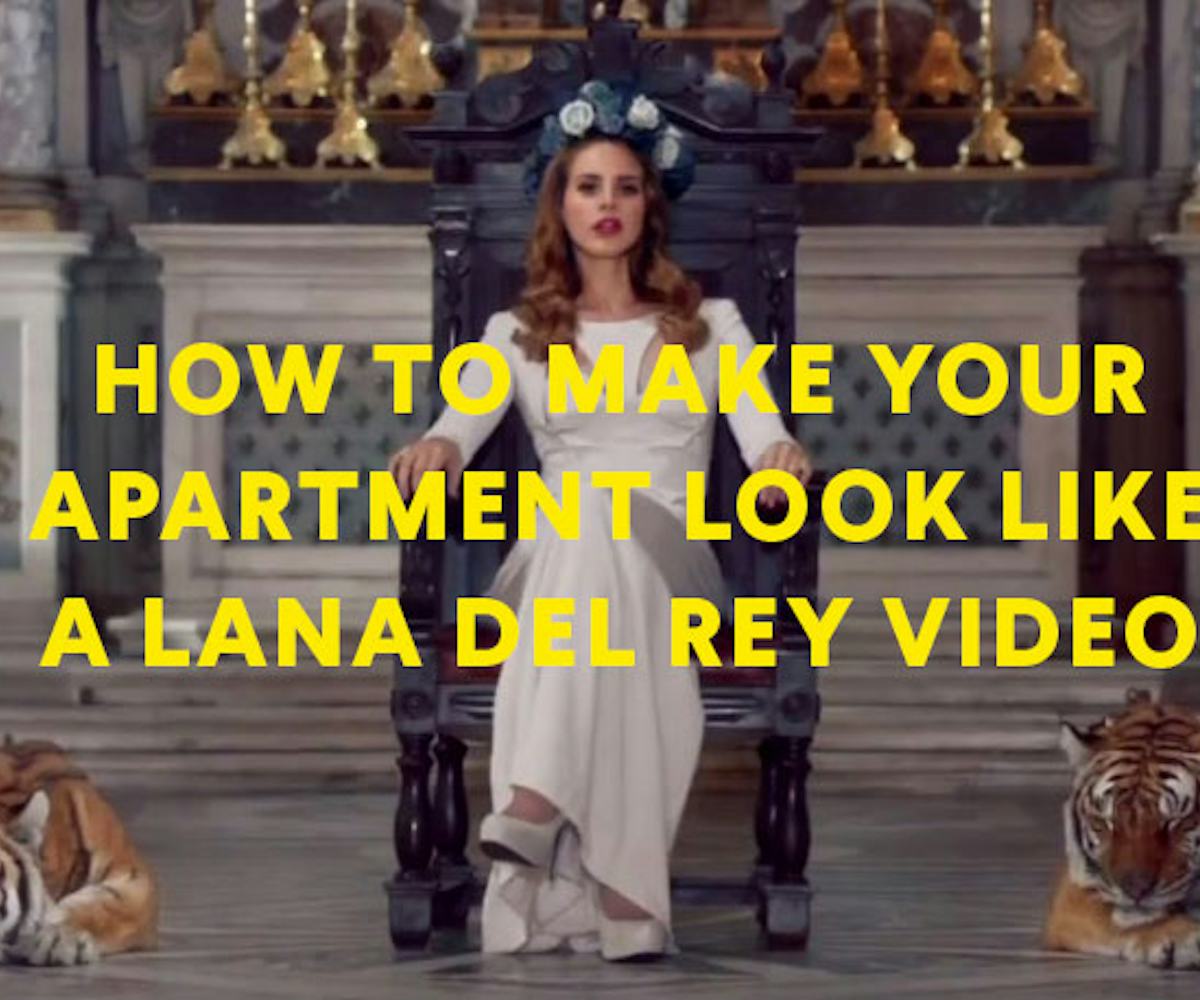 "High by the Beach," Lana Del Rey
How To Make Your Apartment Look Like A Lana Del Rey Video
The sensual power of Lana Del Rey's music transcends the auditory and goes straight into the visual. Del Rey's purring vocals reveal a world bursting with colors, with the brightest of lights and deep, velvety darkness; for Del Rey, even hell is a color. A Del Rey universe is filled with cherry reds, flamingo pinks, and eyes of blue; in "Black Beauty," she sings "I paint my house black." It's only natural for anyone obsessed with Del Rey (that's... all of us, right?) to want to make our own world's interiors a little more like the ones in her songs.
But while it isn't exactly practical to paint our whole house black or drape every single available surface with black leather or blue denim, we can draw inspiration from Del Rey's music videos, each of which exhibits an aesthetic that might shift a bit from video to video, but all of which possess a vibe that could only come from Lana. To be sure, "High by the Beach" features an all but empty Malibu home, one whose spare touches—a floor mirror here, a bronze and glass coffee urn there, those billowing curtains—is in stark contrast to the baroque interiors in Del Rey's "Born to Die," in which it's almost possible to breathe in the fecundity courtesy of all those overly lush flowers and in which actual tigers lounge at the foot of the ornately carved throne upon which Del Rey perches upon. What can we say? Lana Del Rey contains multitudes.
Of course, there are some things that every apartment which draws inspiration from Del Rey should contain. There absolutely must be American Flag iconography (whether employed ironically or not, it's an essential part of Del Rey's aesthetic), and neon is always a welcome addition; there should be references to her favorite things, black leather and blue velvet and cherry red; and some sort of nod to those bee-stung lips. And, of course, a huge bouquet of blue hydrangeas has to fit in somewhere.
Click through the slideshow below to see all the different items you can buy to make you feel like you're living in a Lana Del Rey video. If only we could all be so lucky.
"HIGH BY THE BEACH"
You don't need to live on a Malibu cliff to get the feel of this Lana video, off of her Honeymoon album. Simply pick up some extra-long, silvery curtains, plenty of watery blue accents, and a surfboard printed with a machine gun to round out the theme.
1. Glinting Pintuck Curtains in Silver, $109.95-119.95, available at Anthropologie
2. Happy Kiss Steel Pendant, $600, available at ABC Carpet & Home
3. Hanging Metal Planter, $16, available at Urban Outfitters
4. Mirrortique Color-Washed Mirror in Blue, $98-$2,098, available at Anthropologie
5. Annex Cabinet, $1,695, available at A & G Merchandise
6. Bessell Guns for Money Art Surfboard, $38,000, available at Ahalife
7. Eskayel Bungalow Celadon Pillow, $139-$305, available at Eskayel
8. Glass French Press in Amber, $85, available at Food 52
9. Flat Vernacular Extraterrestrial Settee, $4,800, available at Flat Vernacular
10. Astier de Villatte Color Wheel Platter, $170, available at John Derian
11. Tina Crespo Salt Water Cure Art Print, $29-$299, available at Urban Outfitters
"Born to Die"
Sure, you could get actual tigers to hang out in your apartment with you, but that wouldn't be the safest thing in the world. Instead, paper your walls with a tiger-printed pattern and swap that ornate wooden throne for one of the softest pink velvet. And a black leather bed with a neon sign advertising how "You Touch My Soul" is just about the most Lana Del Rey-esque bedroom decor imaginable.
1. Rachel Levit Snake, $400, available at Objectify 139
2. Rosen Textile Wall Art in Blue, $2,218, available at Anthropologie
3. Midnight I Stood by Hugo Guinness, $4,200, available at John Derian
4. Flavor Paper Elysian Fields Black on Scarlet Ultrasuede Pillow, $160, available at Flavor Paper
5. Sedition "You Touch My Soul" by Tracey Emin, $80, available at Ahalife
6. Slub Velvet English Fireside Chair in Rosewood, $2,798, available at Anthropologie
7. Premium Leather Edlyn Bed in Midnight, $3,098-$3,598, available at Anthropologie
8. Flat Vernacular Burma Vetiver, $50-$250, available at Flat Vernacular
9. Land and Sky Armoire, $3,998, available at Anthropologie
"Freak"
This song's trippy, hippie SoCal vibe can be recreated with a swinging macrame chair and a glow-in-the-dark cactus. Nods to Lana's obsession with American flags are evident in the U.S.A scratch map and red-white-and-blue rug. And while it's hard to recreate with furniture that scene in the "Freak" video where Lana literally drinks the Kool-Aid (cherry red, of course), Flat Vernacular's gorgeous pink-red-and-white fabric can be used as a decorative homage.
1. Flat Vernacular Fields Roseate Fabric for Curtains, $40-$120 , available at Flat Vernacular
2. Esaila Cherry Pendant Lamp, $117.50, available at Ahalife
3. USA Scratch Map, $34, available at Urban Outfitters
4. Knotted Melati Hanging Chair, $598, available at Anthropologie
5. Ryan Patrick Martin Glow in the Dark Cactus, $15, available at Objectify 139
6. Gur Rug, $156, available at Ahalife
7. Kaye Blegvad Female Support System Brass Hook "Twins," $40, available at Kaye Blegvad
8. Mini Cement Bowl, $9, available at A & G Merchandise
9. Monoculo Design Studio Bee Apis Wooden Wall Tiles, $480, available at Ahalife
10. Crosley x UO Cruiser Velvet Bluetooth Record Player in Emerald, $99, available at Urban Outfitters