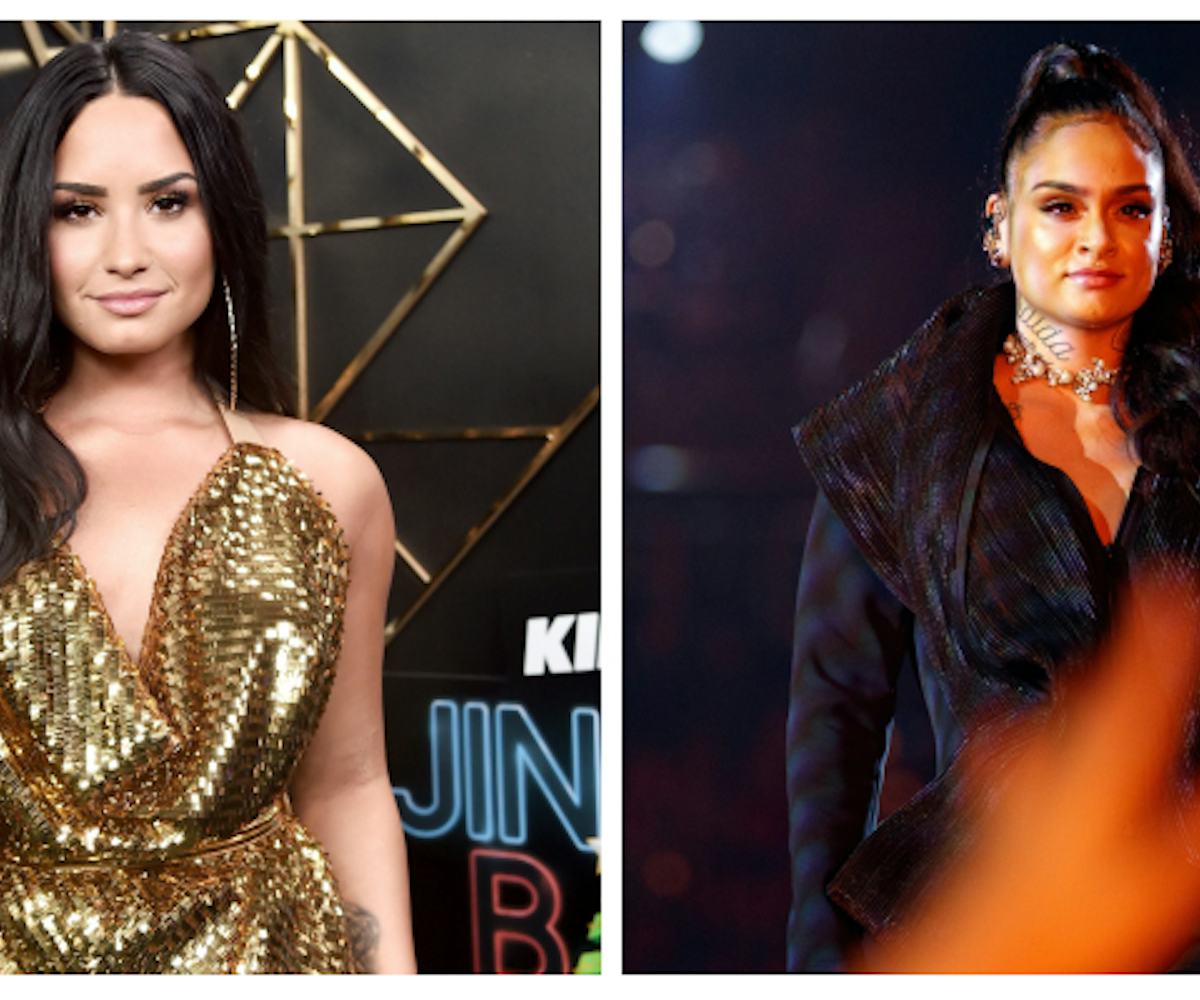 photos by Alberto E. Rodriguez; Christopher Polk /getty images
People Think Demi Lovato And Kehlani Are Dating
After the two reportedly kissed on stage
While one part of the internet continues to mourn the end of Channing Tatum and Jenna Dewan's relationship, another is rejoicing at the potential birth of another. Fans of Demi Lovato and Kehlani are speculating that the two are an item after the singers shared an intimate moment on stage during the Newark, New Jersey, stop of Lovato's "Tell Me You Love Me" tour Monday night. And when we mean "intimate moment," we mean a kiss and lots of grinding.
According to the show attendees, the moments leading up to the kiss between the two artists were flirtatious. Kehlani, reportedly, dedicated her song "Honey" to Lovato, and when Lovato later took the stage, fans claimed that she changed the lyrics in her hit "Cool For The Summer" from "got a taste for the cherry, I just need to take a bite" to "got a taste for Kehlani, I just need to take a bite." Then later in the evening, Kehlani surprised Lovato by joining her in a bed on stage during her performance for "Lonely," grabbed Lovato's face, and kissed her. Lovato then pushed Kehlani down on the bed and began to grind on her, which pretty much sent everyone in the crowd into hysteria. You can see it all, below:
Both Lovato and Kehlani took to social media to post photos of the viral moment. "Truly so grateful to have had this extremely special, talented and cool as fuck woman on this tour with me," Lovato wrote. "What an incredible fun sexy crazy night that I'll never forget!!"
"Twas a dream getting to do this tour with you. Watching you every night was a learning experience and you forever have a fan and supporter in me," Kehlani responded. "Tonight your dancers put me up to this but anyone would be stupid not to jump at the chance to hop on that damn moving bed and grab your face looooool. I love you and appreciate you, beautiful. Cheers to you, more life and success on the rest of the legs of this tour." 
Lovato also not-so-subtly tweeted out lyrics from Kehlani's single, "Honey," which further confirmed the theory for fans that the two are more than just friends.
Needless to say, everyone lost their sanity online and took to the internet to express their love for the pair's chemistry.
"Demi's note going off key as Kehlani slid up her thigh made her sound like the yodeling Walmart kid," one user wrote. 
Of course, all of these theories are just speculation, but whether the two confirm the news or not, we stan.